An Afternoon at York & Albany's Awfully British Winter Cabin
Friday 1 December 2017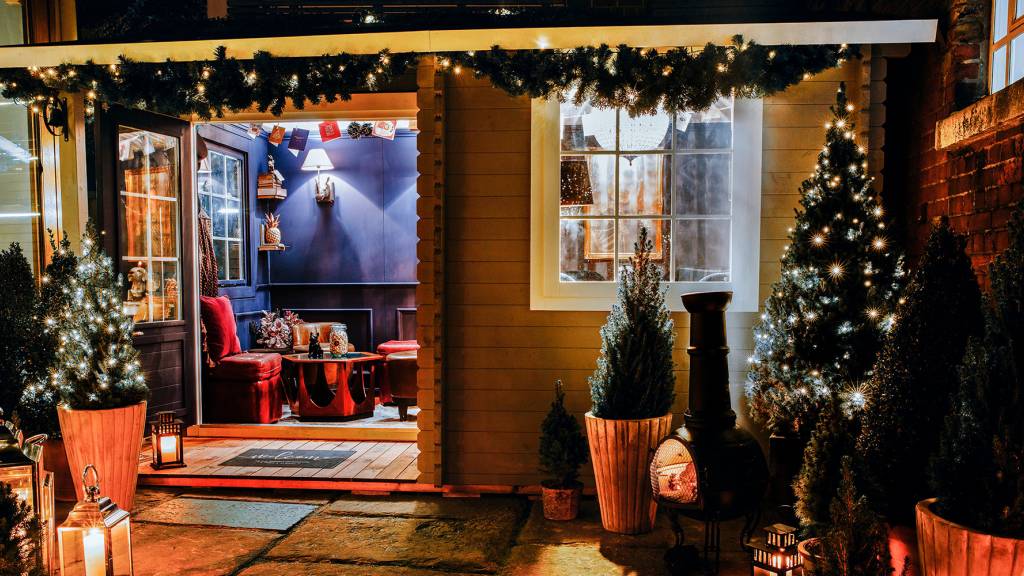 Food writer Jenni Muir and friends visit York & Albany's Awfully British Winter Cabin
All our guests knew was that they were meeting us for afternoon tea in North London, at York & Albany near Regent's Park. So it was great fun watching their anticipation turn to shock as they were led out the front door and round the back of the hotel. 
There, in the courtyard, stood a chocolate-box cabin – a life-size cabinet of curiosities, it turned out – with a basket of spa slippers and silky dressing gowns hanging by the door as an invitation to treat it as home for the afternoon.
It's the place to feel like a modern day Bertie Wooster. Everything nods ironically to grand English country houses and eccentric eclecticism: the rhino wall lamps, statuettes of body parts, there's even a set of 1930s-style driving glasses to pull on for those essential selfies.
Fortunately, your very own Jeeves is also included. Nab one of the velvet armchairs next to the mirrored tea trolley and you may well not want to leave.   
Christmas afternoon tea
Our personal butler poured glasses of mulled wine and explained the menu, a classic teatime feast of sandwiches, scones and pastries accompanied by everyone's favourite English Breakfast tea served in vintage china.
As you'd expect of a Gordon Ramsay restaurant, the flavours of the sandwiches were big and satisfying: from the eggiest chive-topped egg mayo you'll ever taste, to the lean, muscular smoked salmon folded over thick cream cheese.
Blackberry Bakewell tarts were proper scrumptious, rich with almonds, eggs and butter and sweetly zingy from the jam. We also loved the seductively soft cranberry cheesecake and super-crisp bites of boozy mince pies.
Unique Christmas party ideas
Visit in the evening or at lunchtime for Christmas finger foods including venison pigs in blankets, teacups of prawn cocktail, and chestnut and winter berry Eton mess.
This, too, is when the cocktail selection turns this intimate space into one of the best Christmas bars in London. Try the wonderful piggy twist on the old fashioned: Dewar's in Blankets – twelve-year-old Dewar's whisky infused with bacon, mixed with honey, and garnished with crispy bacon.
There's spiced hot buttered Bacardi 8-year old rum for those really chilly nights or, if you want something lighter, opt for the Grey Goose vodka and pomegranate 'Slim Santa' (there's a non-alcoholic version of this too).
Office Christmas party
The York & Albany Winter Cabin is perfect for a Christmas do, whether you're planning a reunion with old chums or a small work Christmas party.
Once guests have had enough fun posing in top hats and crazy glasses, they can decorate Christmas cookies (£6 per person) or play cards while (inevitably) polishing off the huge jar of homemade cinnamon-and-salt flavoured popcorn.
In the unlikely event that you do run out of conversation with Pete from Credit Control, the space is crammed with talking points, from decorative birds to glittering pineapples and Christmas knick-knacks. Failing that, have another Dewar's in Blankets!
Looking for things to do in London at Christmas?
This is a natch for anyone hunting small party venues in London. 'I liked its exclusivity,' said our friend Mark. 'As the cabin was set apart from the hotel, we could be spoiled in complete privacy and feel really cosy and cossetted.'
York & Albany's Winter Cabin is taking bookings until 16 February 2018. Available for elevenses, lunch, afternoon tea and early or late dinners, it's yours exclusively for groups of four to ten guests (minimum of six people for dinner Thursday to Saturday).
BOOK NOW