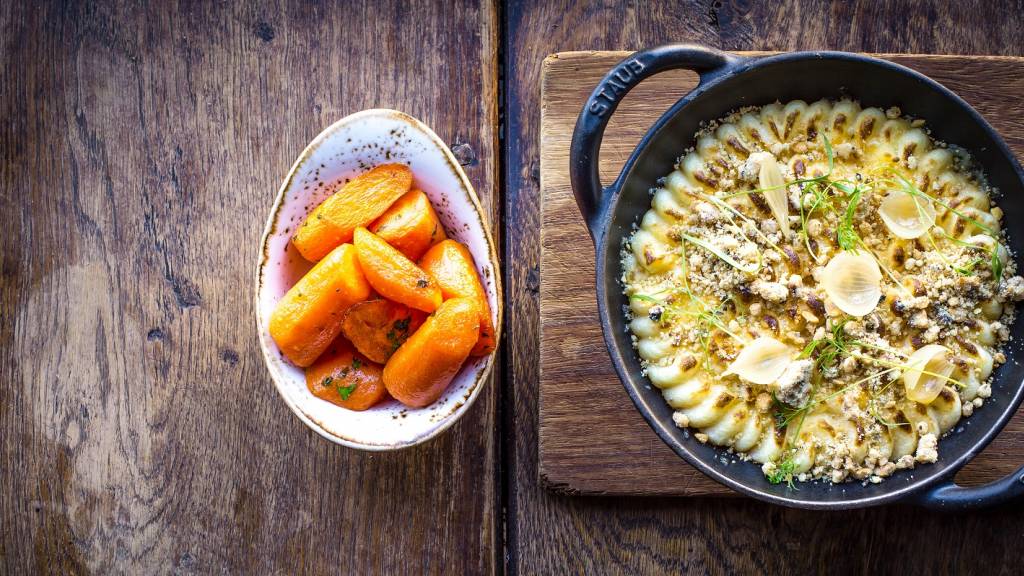 British Pie Week is back! 
So why not celebrate with a mouth-watering pie at a Gordon Ramsay restaurant? 
All this week you can enjoy a range of tasty pies throughout our London restaurants. Perhaps you're in the mood for a braised beef & Guinness pie at Heddon Street Kitchen? Or maybe a steak, onion and ale pie with shallot gravy will be more your cup of tea - so head down to Savoy Grill on the Strand! But that's not all... You can also give your taste buds a real treat with a tantalising Herdwick Lamb Shepherd's Pie at York & Albany, or head down to one of our Chelsea restaurants for a beef cheek and bone marrow pie at maze Grill Park Walk or maze Grill Royal Hospital Road. 
Grab your friends, your family, your colleagues, or your special somebody and head down to a Gordon Ramsay restaurant this week to enjoy some of the best pies in London for British Pie Week. Book your table now.
Want to perfect your pastry for British Pie Week?
Gareth Packham, sous chef at The Savoy Grill, says pastry needs to be approached like meat!
Just as a lamb cutlet is entirely different from a rib eye steak or pork shoulder, each type of pastry is different and requires different handling and cooking.
The homely sweet shortcrust in your apple pie recipe does not want to be treated like the hot water crust in a high-rise pork pie, or puff pastry in a Beef Wellington.
Shortcrust wants to be rested before cooking, to allow the gluten stretched during the rolling process to contract before the pastry goes in the oven. It is often blind baked before filling, too – one of the key ways to avoid a soggy bottom.
Gareth's top tip, when weighting the raw pastry down with baking beans, is to use tin foil to line the case rather than silicone paper or greaseproof.
'The tin foil reflects the heat back into the pastry, so it won't need to be in the oven for as long a time and therefore won't turn bitter,' he says.
The filling also effects how you treat your pastry. Many a pecan pie recipe advises freezing the raw dough for 30 minutes before filling and baking (no blind baking here). Whereas a fruit tart with crème mousseline might have the pastry case blind baked then white chocolate brushed lightly over the inside to create a seal and prevent sogginess.
Once a shortcrust pastry case or pie is fully baked and rested to a lukewarm temperature, it needs to be removed from the tin or ring promptly.
'If it's left to cool entirely in the tin, the residual heat will create condensation and make the pastry soggy,' Gareth explains.
Another key to success from the Savoy Kitchens is to use heavy black metal trays to cook pastry, rather than light metal tins.
'Heavy black trays absorb and hold the heat so it distributes through the pastry better,' says Gareth.
The Beef and Bone Marrow Pie that stars on the Escoffier Signature Dishes Menu is made with puff pastry and cooked quickly at a higher temperature than shortcrust to help the flaky layers separate.
Also unlike shortcrust, puff pastry pies need to be served immediately or removed to a wire rack to rest, Gareth says, to avoid the sogginess that results from condensation.
You can avoid soggy bottoms altogether by choosing a pie that only has a top crust. In his Chicken and Autumn Vegetable Pies recipe, Gordon recommends baking puff pastry discs separately and laying them over the rich filling.
Of course, many Great British pies don't contain pastry at all, like the comforting Beef and Stout Pie served in the bar at The Narrow, or a classic Fish Pie made with lovely chunks of fresh raw fish and shellfish.
Whichever way you plan to indulge this British Pie Week, we hope you enjoy it.