Espresso Martini Top Tips
Tuesday 1 December 2020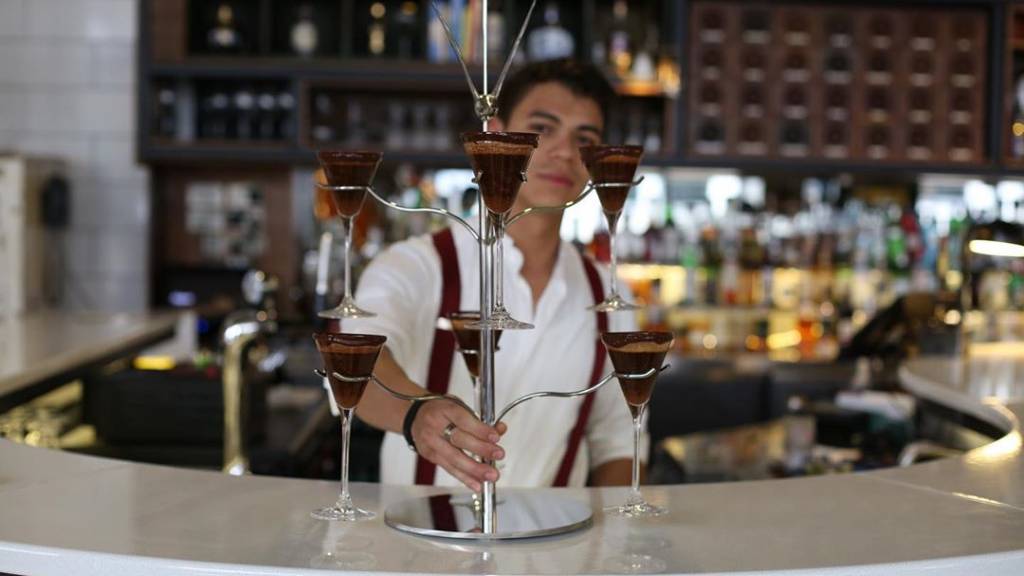 Having shaken up to 150 Espresso Martinis on a busy night at the bar, we thought Bread Street Kitchen Bar Manager, Dennis Apostolakos, and his team would be the ultimate experts on how to make the perfect Espresso Martini... 
Shaken not stirred
James Bond may not have been right about his classic vodka Martini, but for the espresso kind, it is all in the shaking. To create the signature froth on top, you need a cocktail shaker, plenty of ice and some real muscle power. Shake hard and fast for at least 10 seconds but be careful not to overdo it, as the drink will be diluted as the ice breaks up and melts.
Small batches
It's better to make 1-2 at a time in a cocktail shaker so that you have fresh ice and the correct balance each time, plus it's easier to shake than a giant blend!
Fresh, hot coffee
You need freshly made espresso for the strongest flavour as when mixed with the ice and other liquids you lose a lot of the coffee's aroma and body. It's best to cool it quickly as it's shaken with the ice and other ingredients.
The right spirit
If staying traditional with vodka, a wheat-based version (such as Grey Goose) is ideal as it has slightly sweeter notes that work will with the bitter coffee. Alternatively, something aged, spiced or smoked (such as the Barcardi Oakheart Rum which is aged in oak bourbon barrels) will bring a good balance.
Toppings
A few coffee beans make a striking topping, but you can play around with other flavours too. As an after-dinner cocktail, cocoa powder works well and is light enough to suit the delicate cream on top, or you can go full-on for pudding with a chocolate-dipped glass rim or dainty biscuits and pastries served on the side.
Flavour combinations
Let your imagination run wild! If it works for a dessert, it will probably work for a cocktail too. Hazelnut liqueur and Nutella for an Italian nocciola flavour, spiced rum and ginger for a festive feel, cocoa and marsala in a nod to tiramisu, extra cream and profiteroles to dunk…
Salted Caramel Espresso Martini recipe
To get you started at home, here's Dennis' signature salted caramel Espresso Martini recipe from the Bread Street Kitchen bar.
To make one cocktail, fill a cocktail shaker with a handful of ice and add 50ml (a double shot) of Bacardi Oakheart Rum, 50ml fresh espresso coffee and 2 tbsp salted caramel sauce (homemade or any good quality sauce). Seal and shake vigorously for 10 seconds, then strain into a coupe glass. Dust over a little cocoa powder to serve. 
Want to find out where to try the best Espresso Martini's in London? We've got an exciting selection of classic and unusual serves at Gordon Ramsay Restaurants this winter, so have a look and book a table or join us at the bar, cheers!