Extend the Weekend with World Cocktail Day
Friday 10 May 2019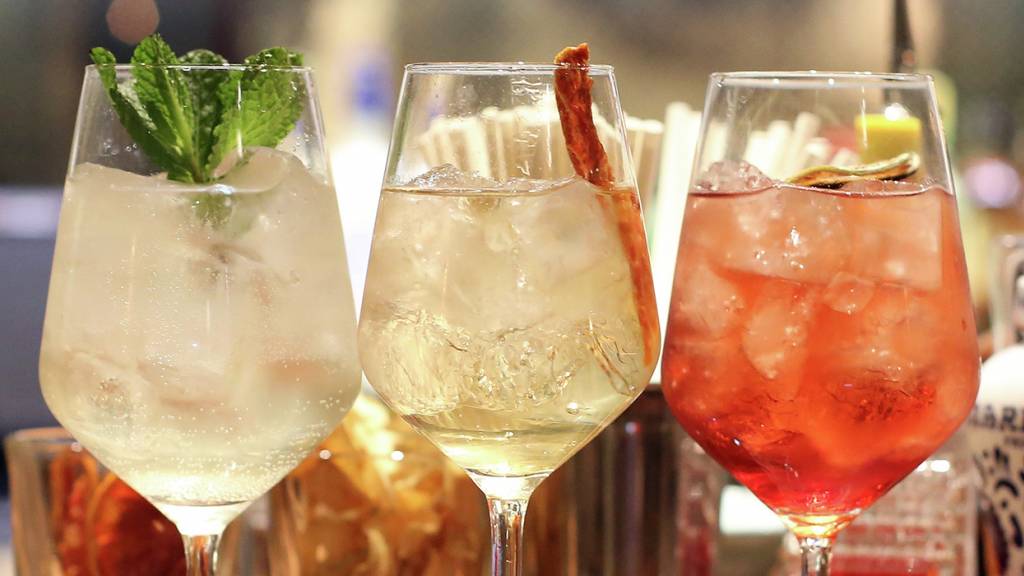 Monday might normally be the dreariest day of the week, but not this Monday! 213 years ago on 13 May, the word 'cocktail' was first published in the Oxford Dictionary, and it didn't take long for some bright spark to declare the day an annual celebration of cocktails – cheers to that!
Cocktails at Gordon Ramsay Restaurants
Cocktails are a big part of every Gordon Ramsay restaurant – we just can't get enough of them. From the Restless Spirit of Bread Street Kitchen (Patron Reposado, strawberry jam, lemon, and pineapple) to Union Street Café's 'In the Grape of Love' (Gin, home made grape and elderflower cordial, prosecco) our bartenders love creating new and exciting drinks.
The Savoy Grill's cocktail list is inspired by famous faces who have visited the iconic hotel, from the Marylin Monroe – a sensual concoction of Grey Goose vodka, limoncello, orgeat syrup and egg white – to the James Dean – Jack Daniels with fresh orange, caramelised orange syrup, and champagne.
The cocktail menu at Lucky Cat, our Asian inspired eating house soon to open in Mayfair, will feature some incredible cocktails, championing flavours that don't always get to take centre stage (more on that soon…) We clearly really love a drink here at Gordon Ramsay Restaurants, but which cocktail do our bartenders love most?
What is the Best Cocktail?
Antonio is the head bartender at York & Albany and favours the classic cocktails. His favourite is an Italian Negroni, traditionally made with 1 part gin, 1 part Campari, and 1 part vermouth. He loves it because it is 'such a simple drink and at the same time so complete. It's a drink for anyone and is perfect at any time of the day'.
Dan, the Savoy Grill's Head Bartender, loves being on the 'stage' when mixing drinks. His favourite drink to mix is an Old Fashioned - a mixture of bourbon whiskey, brown sugar, and angostura bitters served on ice with an orange peel - because 'it takes a lot of attention, precision, and time to make it'. However, like Antonio, his favourite cocktail to drink is the Negroni!
Whilst Dan likes making an Old Fashioned, Flo, at Heddon Street Kitchen, likes drinking them. This is her favourite cocktail because 'its a simple and elegant drink with only a few ingredients. I really like bourbon, and this cocktail just enhances the whiskey. it's a strong base, softened by the brown sugar, balanced by the bitters and refreshed by zesty orange peel'. 
There isn't really a 'best' cocktail in our opinion (although our bar tenders seem to prefer the classics!) it all depends on what flavours and spirits you like.
How to Mix Amazing Cocktails
Our bartenders would all agree that there is an art to mixing a great cocktail. In fact, the thing that Bread Street Kitchen's Assistant Bar Manager, Dennis, likes most about his job is running cocktail masterclasses for our guests. He enjoys 'raising the bar of expectations and the knowledge of our guests, because this will raise the level of the industry, resulting in everyone having to up their game and be more creative and innovative'.
Flo's top tips for mixing cocktails at home are to add some basic ingredients to your collection - things like angostura bitters are a 'game changer' and you only have to use a few dashes to transform a drink. You should also get a cocktail shaker and measure to refine your drinks, always use ice, and to not be shy - just try! 
Our restaurants put on lots of different cocktail masterclasses to teach you how to mix the perfect cocktail (whilst drinking a few in the process). Learn about the Gin and Tonic at Fever-Tree's masterclasses at London House this summer, Get involved in a Classic, Professional or Signature masterclass at Bread Street Kitchen, or head to Heddon Street Kitchen just off Regent's Street for their cocktail masterclasses.
Cocktail Recipes 
If you want to make a cocktail (or two, or three, or four…) at home, then check out our lengthy list of cocktail recipes here. Make classics including the Pimm's Cup and Espresso Martini, or go wild with the Bird of Paradise (ideal for Chelsea Flower Show in a few weeks).
Where Can You Enjoy a Cocktail in London?
Enjoying cocktails in London is easy peasy. Make the most of World Cocktail Day (or any day for that matter) with our cocktail and drinks menus across London. You can even get a drink on Gordon by joining us for Social Hour at selected restaurants!
If you're a G&T aficionado, then head to London House in Battersea and enjoy the Tonic Terrace with a full menu of refreshing G&Ts using fever-tree tonic. You can also find out more about the perfect pair that is gin and tonic here.  
If rum is more your thing, then the York & Albany's Rum Shack in Camden will transport you to a tropical paradise brimming with Bacardi Cocktails. With all this going on, it would be a crime not to enjoy a cocktail or two after work tonight!