Fever-Tree's Gin Tasting Masterclass at London House
Tuesday 7 May 2019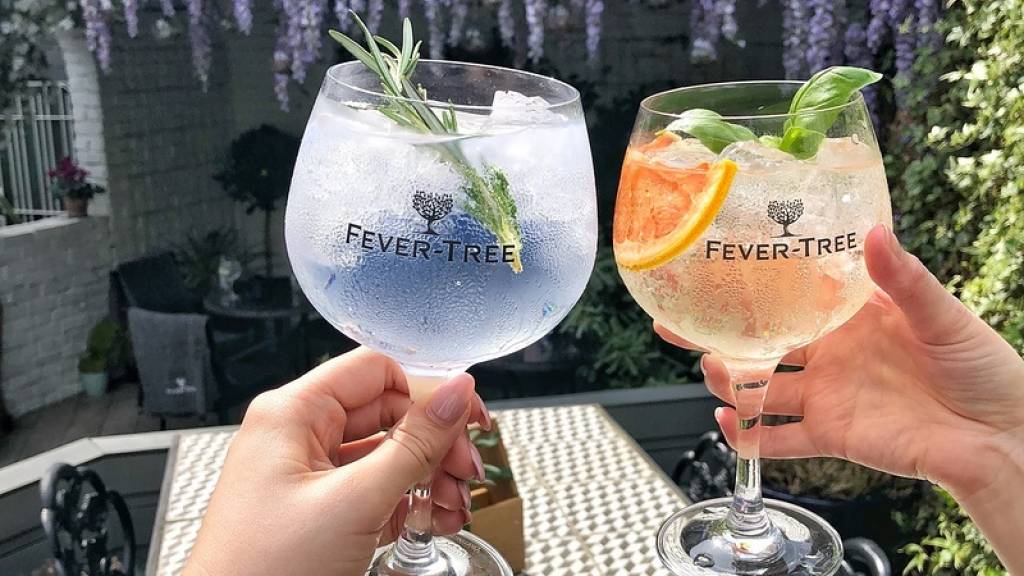 On Friday 3 May, I headed down to London House in Battersea to take part in a Gin Masterclass (it's a tough job, but somebody's got to do it…) In sunny weather the masterclass takes place on the Tonic Terrace, a secluded courtyard decked out in whimsical wisteria, but the weather was not our friend (typical bank holiday), so it was brought inside. The cosy lounge area of London House, with its squishy sofas and arm chairs, was the perfect place to spend a Friday evening drinking gin!
When we arrived at 7pm, guests were greeted by buckets brimming with Fever-Tree tonic waters, beautiful smelling herbs, cocktail books and those all-important gin bottles. G&Ts in hand (with a promise of two more each) and introductions made, James from Fever-Tree began telling the tale of gin (which turned out to be quite a dark story…)
Dutch Courage
One of the first things we learnt about was the juniper berry – that all important gin botanical. After passing a few berries around to sniff, we all agreed that Juniper smells just like gin. That's because for gin to be called gin, it has to contain juniper – but we soon found out that it doesn't take many berries to make a bottle! James told us that the first people to make drinks with juniper were monks in the 1100s, and for quite a long time juniper was used for medicinal purposes (including during the plague – told you it was a dark story), before people decided that they quite liked the taste of gin.
Whilst he was talking, James handed us around small shots of different types of gin, starting with a Bols Geneva, something he referred to as the 'godfather of gin'. Geneva is a juniper-based spirit aged in a barrel and it was often drunk during battles – hence the expression 'Dutch Courage'.
After the Geneva, we tried Bombay Sapphire – 'a gin created for vodka drinkers' says James. Then we moved on to Hayman's old Tom, a chocolate and orange Sipsmiths, and Hendrick's. Each gin was so different, and as we tasted them James told us about how they were made, and what they paired well with (plenty of tips for the next dinner party!)
Tonic is as Interesting as Gin
To balance out the alcohol, London House's chefs prepared some delicious snacks of spicy chicken, honey glazed sausages, and vegetarian peppers – all of which went down very well with us! With our second G&T in hand (a refreshing combination of Hendrick's and cucumber tonic) James remarked that 'tonic is just as interesting as gin'. A bold claim, but it turns out he was right. We discovered the history of tonic water, and how it came to be mixed with gin, as well as how Fever-Tree make their tonic waters, and where they get their ingredients. 
We taste tested all of the Fever-Tree tonic waters, including the Mediterranean, Cucumber, Lemon, and my personal favourite, the Elderflower tonic water. It was surprising how different each of them were, and how they could all create such a different G&T experience.
We all got to pick our final gin and tonic from the Tonic Terrace cocktail list, which includes Bombay Sapphire with Mediterranean tonic water, Hayman's Old Tom with Aromatic tonic, and a non-alcoholic Seedlip Garden with Cucumber tonic.
If you're a gin lover, and you want to sit back, relax and enjoy a few cocktails whilst learning about your favourite tipple, then this gin tasting masterclass is definitely for you! Fever-Tree masterclasses will be taking place at London House throughout Summer 2019, so check the London House Tonic Terrace page for availability and to book your tickets.
Book your tickets here.
#MixWithTheBest
#TonicTerrace