Gordon & Jocky: Uncharted in Peru
Wednesday 18 September 2019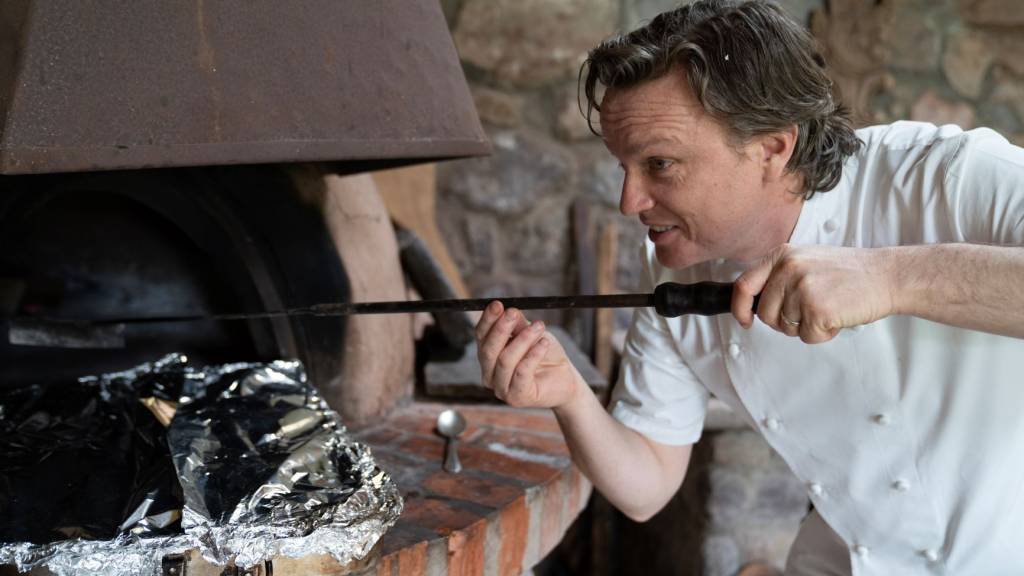 Before Gordon visited Peru for his series with National Geographic, Uncharted, he sent his trusted Group Executive Chef, Jocky Petrie, to discover the lay of the land in a recce with the National Geographic team. We met up with Jocky at one of Gordon's restaurants in London, Bread Street Kitchen, to find out more about his time in Peru.
RECCE FOR UNCHARTED
'I was lucky enough to go twice' says Jocky, looking back at the trip from late last year. 'I've worked with Gordon before on TV, including Hell's Kitchen, so I kind of knew what production with him is like - very professional, very fast paced, so it's almost like live TV. You have to be ready! Because we hadn't done this programme [Uncharted] before and no one knew what to expect, I did a recce for four days with the crew in Peru. That was an opportunity to see how the production team worked, and to source ingredients we wanted to use in the programme.
When I arrived in Cusco, we went straight up into the mountains which were around 3,000m above sea level. We went so high up that they gave us altitude sickness pills. I tried to read as much about Peru as I could before I went, and the altitude sickness seemed like it would be one of the biggest problems, especially around Macchu Pichu.
 The best thing about Peru is you've got the ocean, the mountains, and the forest. So, there's a whole diversity of produce within Peru itself. In Lima there's lots of ceviches and raw fish. There's a cuisine in Peru that's based on Japanese food called Nikkei cuisine. Before I left Cusco, I went to a Nikkei cuisine restaurant which does Peruvian sushi, ceviche and tartares with Japanese ingredients as well. It was so good. But then when you're up in the mountains, food is more focused on guinea pigs, llama, corn, and potatoes'.
MAIZE & POTATO WINE
The Inca Empire was the largest empire in pre-Columbian America and began in the Peruvian highlands sometime in the early 13th century. Incas were known for incredible agricultural innovation in difficult climates, and this was one thing that Jocky was keen to see in Peru. 'The first place we stopped was a place selling corn beer, called chicha de jora. It's a beer that they make from corn, which is massively important in their cuisine, and the Incas were the first to grow it. The Incas were really creative people in the way that they worked and the ingredients that they grew.
For Incas the most important ingredients were maize and potatoes. So, they were the main two ingredients that we focused on for the programme. During the recce I met a local farmer called Manuel who was really interested in researching potatoes and Oca root, which is part of the potato family.
He's making rose and white wine with Oca root. The roots are so vivid in colour and go from pure white to deep purple. They look almost like a carrot but with a dragon like skin on them. So, Manuel's making the wine with it, and Virgilio Martinez, who's the chef who Gordon partnered up with for the programme, is now selling that wine in his restaurants. If you close your eyes and drink it, it tastes just like rose wine, it's a sweet rose wine, but there's no grapes!
Manuel showed us where he made his wines in an ultra-modern whitewashed wine brewery next to the traditional farmhouse. He also showed us what he was doing with cross breeding potatoes. It's taken him almost 12 years, but he's created this potato that's darker than beetroot, it's so purple. It's ultra-rich in antioxidants and Vitamin C'.
STRAWBERRIES IN THE MOUNTAINS
One of the things that Jocky remembers most clearly from the recce to Peru, was travelling up into the mountains to see strawberries being grown at high altitudes. 'Way up the mountain they grow strawberries, because it's close to the equator there's no seasons as such, so we went further up, I think it was 4,000m up, and visited a little farm, and they were all wearing traditional dress to meet us.
We went to meet the chief of the area, and over the last couple of years they've just been introduced to farming practices of using polytunnels so they could grow produce for longer periods and grow more, because that's how they make their money. Then they come down from the mountains to the markets and they sell their produce. After we'd seen the strawberry farm, they took us even further up the mountain and we went to visit a lake full of freshwater fish in the middle of nowhere'.
HERBS & SALT
Some of the ingredients that Jocky tried and got to work with included tomatillos and avocados growing in the garden at his B&B. 'Even in the B&B we were staying at they had so much produce, there were tomatillos which were the original tomato - it's incredible. They're acidic, but they're also sweet, and quite mealy in texture as well. They had tiny little baby avocados, all different shapes of avocados, with tiny tiny seeds in them'.
He also ate Lucama fruit in an ice cream, and Huacatay, also known as Peruvian black mint and is a member of the Marigold family. 'It is a flavour that's often found in Peruvian cuisine, and it's like a marigold, we call it apple marigold, and it's kind've got a coriander/mint flavour which is very unique to Peru. So, these are herbs that grow all the way up in that specific climate that you can't get anywhere else in the world'.
As well as the more expected herbs and vegetables, Jocky was shown huge inland salt mines, that had been built by the Incas and were still in use. 'The salt mines are super high up in the mountains, the water trickles down through them, still warm, and then it dries leaving the salt behind. There's a Peruvian pink salt they make, and companies are now starting to export this. Gordon also used this salt for the programme. That was really surprising, seeing inland salt flats, because you always presume that they're by the sea'.
VIRGILIO MARTINEZ
During filming, Gordon worked with esteemed Peruvian chef, Virgilio, who is well known for spreading and celebrating Peruvian cuisine across the world. Jocky says 'We spent some time with Virgilio Martinez who's got two restaurants in London, "Lima" and "floral by Lima" in Charlotte Street and Covent Garden. If you want to have authentic Peruvian food in London, I would suggest to go there. The time I spent with Virgilio wasn't up in the Sacred Valley, it was in Lima, and he was just in the process of opening his third restaurant. He's got one up in the Sacred Valley, one in Lima, and one in the Amazon.
When Gordon went to do the cooking finale on the programme, it was at another of Virgilio's restaurants in the mountains called Mil, which is only open for lunch because it's too dark for people to get there at dinner time. It had the most beautiful view I've ever seen.
He's only had Mil for a couple of years. Before it was for tourists, but now he's made it much more about the local community – and they're the hardest people to please! He had one of his chefs living with the community for a year before he even opened the restaurant, to get to know the community, get to know how they work and then one of the hardest meals he did was for the opening night having the local community there – because he was serving high end restaurant food, but with flavours of the local area'.  
Find out more about Gordon Ramsay's series with National Geographic here, and don't forget to watch on the UK National Geographic channel, Wednesdays at 9pm. 
READ ABOUT UNCHARTED IN HAWAII HERE