Healthy recipes for kids that the whole family can enjoy
Friday 11 January 2019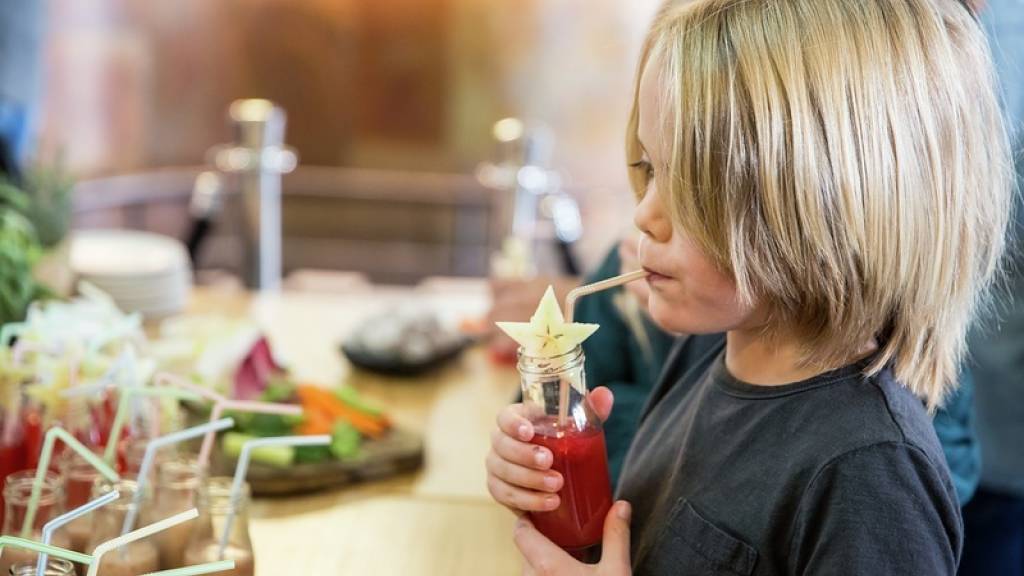 Want to kick-start the whole family's healthy eating this January? These easy recipe swaps inspired by Gordon Ramsay's book Ultimate Fit Food are here to help. 
We all know the importance of a healthy balanced diet, but as most parents know best ensuring your children get all the macro- and micro nutrients that they need while they are growing and developing is no easy fare -  especially with fussy eaters!
But what if you could swap traditional unhealthy meals and snacks for nutritious varieties the whole family can enjoy?
Inspired by Gordon Ramsay's latest book Ultimate Fit Food, here are a selection of fun, tasty and most importantly healthy swaps that kids and adults alike will love.
SWAP READY SALTED FOR BANANA & APPLE CRISPS
'These healthy crisps will provide both the sweetness and the crunch that we often crave when we're trying to eat more healthily and reduce our sugar intake. They make a great snack for kids, who end up eating lots of fruit without really realizing it' says Gordon.
Start by preheating the oven to 90˚C/gas ¼, finely slicing up your apples and peeled bananas in the meantime. 
Line two-three large baking trays with greaseproof paper and lay each of the slices across the lined trays in a single layer.
Bake for 1½–2 hours. The apples will be crisp before the bananas, so check them after 1½ hours. The bananas can take up to half an hour longer in the oven, depending on their thickness. 
Leave to cool then enjoy! Remember to store in an airtight container if you want them to last as a mid-week treat.
SWAP YOUR CHOCOLATE SUNDAE FOR BANANA ICE CREAM 
'My daughter Tilly introduced me to this genius recipe . . . it's a one-ingredient, dairy-free, fat-free ice cream with no added sugar that you don't need an ice cream machine to make – it's incredible!' says Gordon.
Start by peeling 4 ripe bananas, before slicing them into chunks and placing them in a freezer-proof container to freeze overnight.
Once the pieces are solid, simply pop them into a food processor and pulse to break the fruit up into small pieces. Be sure to scrape all down the sides, before blending the mix until it's smooth and creamy. Enjoy immediately for a soft serve consistency or place the mix back in the freezer for an hour until hard.
SWAP SPAGHETTI BOLOGNESE FOR COURGETTI WITH MEATBALLS
'Courgetti with meatballs is filling and comforting, like a normal bowl of spaghetti, but it's particularly brilliant for all the family as you are upping your veg intake without compromising on flavour or texture.' Says Gordon.
Start by spiralizing 4 large courgettes (if you don't have a spiralizer to hand, simply use a julienne peeler or mandolin with a julienne attachment) into spaghetti.
Next combine turkey mince with chopped onion, garlic, Worcestershire sauce, beaten egg and a good pinch of salt and pepper. Mix everything together and with wet hand roll the mixture into 20 meatballs, before covering and chilling in the fridge for 30 minutes.
Meanwhile, start on your tomato sauce by adding a diced onion to a large frying pan to sauté, before adding garlic. Stir in a tbsp. of tomato puree, add 2 tins of chopped tomatoes, oregano, ½ tsp balsamic vinegar and salt and pepper. Stir together and leave to simmer for 10 minutes.
To cook your meatballs, fry over a medium heat with a dash of oil. Brown in batches, before transferring to tomato sauce pan, cooking for a further 10 minutes.
Finally add another teaspoon of oil to the frying pan the meatballs were browning in and sauté your courgetti, tossing occasionally. Divide between bowls and top with your meatballs and sauce (you could even add some parmesan!). 
Healthy eating doesn't have to mean you can't dine out! Join us at Bread Street Kitchen and Heddon Street Kitchen for our Veganuary inspired specials this January.
Recipe extracted from Gordon Ramsay's Ultimate Fit Food by Gordon Ramsay, published by Hodder & Stoughton.
Photographer to credit: Jamie Orlando Smith.