How to make your cranberry sauce a showstopper this Christmas
Friday 7 December 2018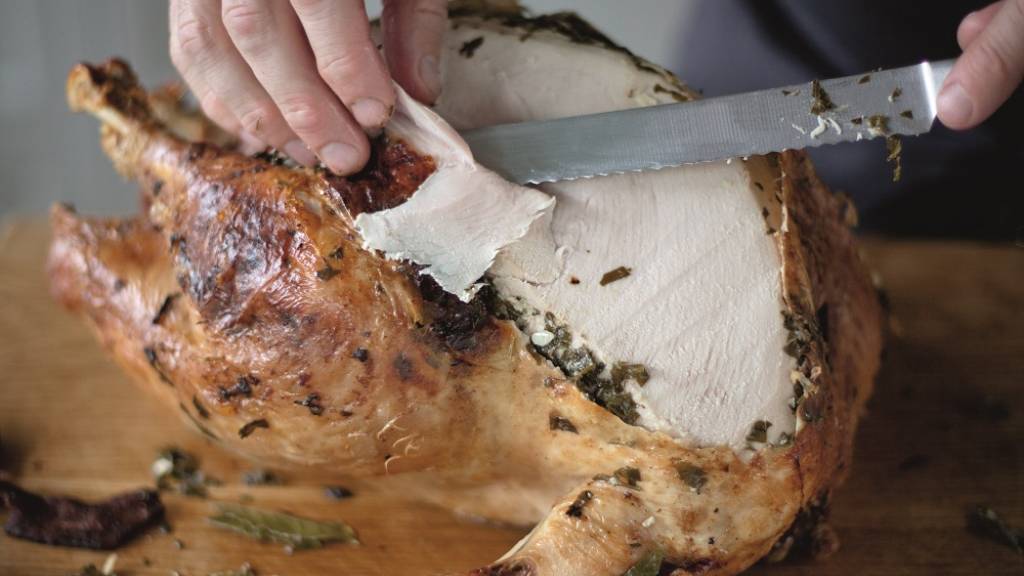 It's the American import that – like turkey – has become an essential part of Britain's traditional Christmas dinner. But does your cranberry sauce truly earn its place on the festive table? Gordon Ramsay chefs reveal how it could…
Cranberry sauce is one of those Christmas side dishes few people cook themselves. But freshly made, it is a revelation compared to the over-gelled and over-sweetened stuff you buy in jars.
A gorgeous cranberry sauce is something you won't mind using long after Christmas lunch has ended. After all, it isn't only for turkey.
You can serve cranberry sauce alongside cheese and chutney on Boxing Day, or spread it inside cheese or ham toasties.
It's also a great way to add a seasonal touch to bakes that usually contain jam. Try it in Christmas cookies and desserts, such as when filling an almond slice or Victoria sponge.
Once Christmas is over and you're thinking about healthier foods, stir your leftover cranberry sauce into breakfast bar mixtures, or add a mix of other red fruits or berries and heat gently to make a compote you can serve with yogurt.
How to cook cranberry sauce
Use the same spices for homemade cranberry sauce you would use for mulled wine. You can even use a mulled wine sachet, but a simple cinnamon stick or star anise will also do.
Tip your picked-over 250g punnet of cranberries into a stainless steel pan. Add the grated zest and juice of an orange, 100ml of white or red wine and the spices. Cook gently until the cranberries are just beginning to burst. Then and only then add sugar, because you don't want the skins to toughen. Use caster or light muscovado. Start with 85–100g and see whether you think it needs more: 125g should be plenty. Don't forget to stir while cooking so the sauce doesn't catch, and to remove the spices before serving.
Keep the sauce in the fridge until ready to serve and, if you've got the means and inclination, warm it through before taking it to the table.
How to pimp bought cranberry sauce
If you've got a jar of cranberry sauce to hand and think it's too dull or too sweet, here's how to bring it to life.
Pop it in a heatproof bowl either in a microwave oven or over a pan of steaming water. Stir in a little lemon zest and a touch of spice such as mace, juniper, cardamom, cinnamon or green peppercorns. Fresh mint is another option. Then add a splash of alcohol such as gin, vodka, port (go easy), dark rum or whisky.
The heat of the microwave or hot water will melt the gel and, as the flavours meld, you can taste and adjust them as you like. Serve your new sauce warm and no one will guess it started life in a jar.
For an Italian twist, Davide Degiovanni, head chef of Union Street Café, likes to use grappa and then garnish the cranberry sauce with shavings of 80% dark chocolate. 'It's unusual but tasty!' he says.
How to make raw cranberry sauce
 Like any salsa, raw cranberry sauce should be distinguished by a really vibrant freshness, so don't use frozen cranberries. This means you'll only be able to make it during November and December, when the fresh fruits are in season.
Pick over the cranberries and wash them well. Scrub a thin-skinned orange then chop it into bite-sized pieces, removing the seeds as you go. If you have 250g of cranberries, use 250g of orange.
Tip the fruit into a blender and blitz to a coarse purée that holds its shape on a spoon. Put it in the fridge overnight and next day sweeten to taste with 100–150g caster sugar or light muscovado.
That's all that's required! But, for an extra Christmassy touch, you could add cinnamon, nutmeg, or mixed spice, and/or a glug of booze. Fancy a contemporary style of spicing? Include a deseeded jalapeño pepper and, if you've some to hand, fresh lime too.
Raw cranberry sauce will keep in the fridge for over a week, giving you plenty of time to whizz it up before the bustle of Christmas Day – and plenty of opportunity to experiment serving it with cheese, lamb, duck, goose, game, ham, pâté or any of the many other things it works with, besides turkey.
Don't fancy cooking? Join us at maze Grill for a helping hand this Christmas.