Kids' Christmas Holiday Activities at Gordon Ramsay Restaurants
Wednesday 6 November 2019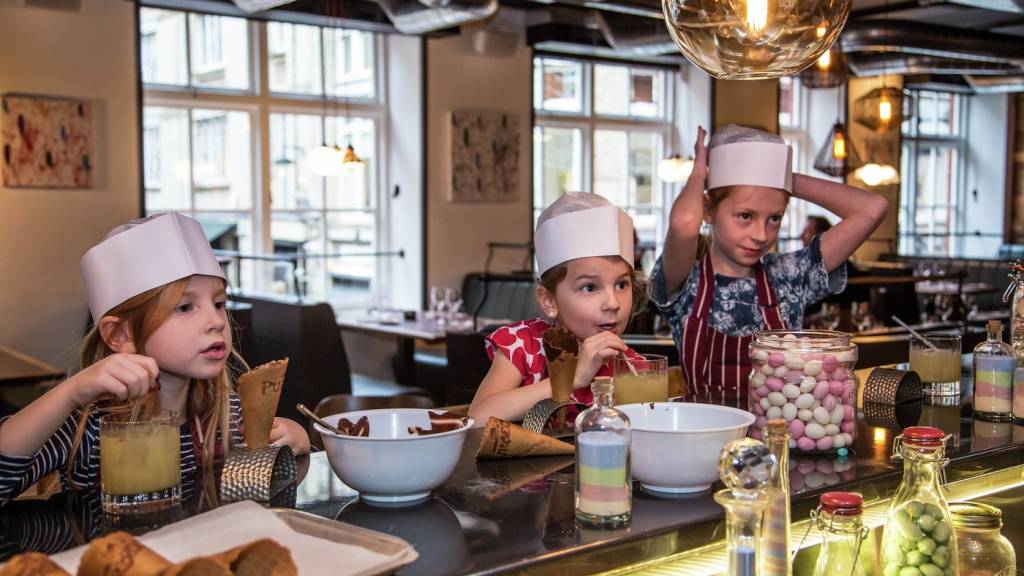 Looking for things to do in the Christmas holidays in London (starts 21 December)? Keep the kids entertained with fun and festive activities at Gordon Ramsay Restaurants, from delicious free meals to ice cream-making and pizza making! Here's what we have in store this winter.
Tilly's Kids Menu & Make your own Ice Cream
It's the more the merrier at Heddon Street Kitchen, so pop on down and enjoy free kids' meals. When you visit our Gordon Ramsay Restaurant in the West End you'll be able to experience our special children's menu which has been carefully created by Matilda Ramsay, who's already following in her dad's footsteps. To end their meals, little ones can create their own ice cream! Discover Kids Eat Free from Tilly's Menu at Heddon Street Kitchen.
Gingerbread Cabin at York & Albany
We have sweet treats galore at our family-friendly Gingerbread Cabin in Camden. Themed around gingerbread (sugar and spice, and all things nice), adults sharing menus start at £30pp with a warming mulled wine, whilst the little ones can enjoy a kids menu and mocktail for £15. You can also order a giant gingerbread cookie to decorate whilst you're there!
Pizza Masterclasses & Cookie Decorating
Treat your little one to a pizza cooking experience they won't forget on 21 and 28 October at Bread Street Kitchen. Working with our chefs, your mini master chef will create their very own pizza, which they can tuck into along with a delicious dessert. In the meantime, the adults can relax with Sunday brunch and a glass of Champagne each. Book a place here.
Kids Eat Free in London
Bring the kids along for free at selected Gordon Ramsay Restaurants. Little ones get a free meal with every adult meal ordered. From Union Street Café in Southwark, to maze Grill in Mayfair, there's plenty of options to choose from wherever you'll be in London. Classics you can find on the range of Kids Eat Free menus include sausage & mash, wood oven-baked garlic pizzetta and spaghetti Bolognese, washed down with a soft drink and finished off with ice cream with chocolate sauce. Find out more and book Kids Eat Free.
With foodie fun in store at Gordon Ramsay Restaurants, you'll never be short of things to do in the holidays. Make a booking today.