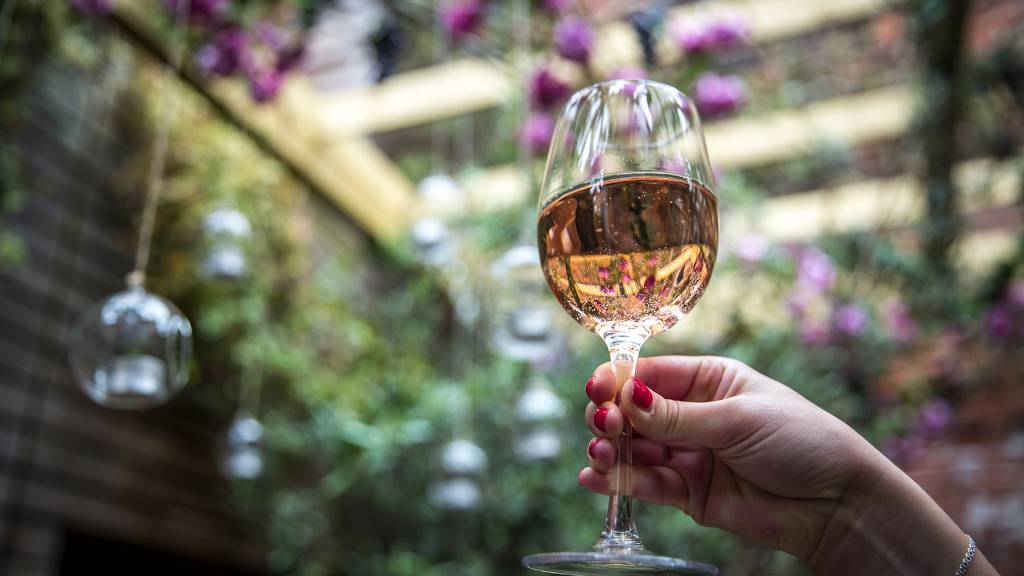 Light, refreshing Provencal rosé is the perfect wine to choose in summer. It's especially good when you want to enjoy a drink and a chat before easing into starters and mains.
But while Provencal rosé is a great food wine, in general, if you've ordered spicy, smoky or big beefy dishes, you'll need a tipple with more oomph to stand up to those mouth-filling flavours.
Rose of Virginia has been called the boldest rosé you'll ever taste: very fruity with Turkish delight and allspice aromas, it's nevertheless well-balanced and dry. Don't hesitate to pair it with antipasto, curries or one of the mouthwatering rare breed steaks from London House's charcoal grill. No surprise that this classy barbecue wine is from Australia's Barossa Valley!
If you'd like something bolder still, try Forlorn Hope from Oregon in the USA. It has plenty of muscle to partner dishes such as Bread Street Kitchen's Josper-grilled flatbread with pepper ragout, goat's cheese, crispy capers and aioli, and the BSK short rib burger with sriracha mayo. Made from rare Portuguese grapes, it is more like a very light red than a traditional rosé. In the mouth, it's crisp and tart, with rich flavours of dried fruit and papaya balanced by a hint of minerality. (Tip: BSK's wine list has a wide choice of rosés worth exploring).
Modern Italian wineries are producing some very exciting rosés too, including A Mano Rosato from Puglia. This is made with Primitivo and Aleatico, one of the country's lesser-known native grapes.
Even if you prefer a Provencal style of rosé, you can still experiment – say with Massaya Rose – a blend of Syrah, Cinsault and Cabernet Sauvignon from the Lebanon. It's lovely with summery Italian dishes such as Union Street Café's Tuscan ham and Sunsweet melon, or linguine with Ligurian pesto, mussels and green beans.
Or try the delicate Cinsault rosé from Chile's Itata Valley, a great choice with maze's renowned sushi and sashimi.
Did you know that one of the coolest Provencal vineyards is actually owned by Brits? The organic Chateau Léoube estate is sister to Daylesford, well known for its stylish farm shops and healthy gourmet groceries. You'll find Chateau Léoube at restaurants including maze Grills, York & Albany and the Narrow.
At Savoy Grill, we serve fashionista favourite Whispering Angel – light and delicate even by traditional Provencal standards. Enjoy it alongside the Grill's superb choice of fish and shellfish dishes: roast halibut with gnocchi and cockle and clam velouté, perhaps, or pan-fried scallops with confit chicken wings, lemon purée and lovage.
Of course, we couldn't complete a round-up of great rosés to enjoy this summer without celebrating the top-quality wines now being produced in the UK!
Chapel Down rosé, from Tenterden in Kent, encapsulates all that's great about the English summer, with juicy flavours of summer fruits and vanilla. It's just the thing to drink with modern British dishes such as London House's Isle of Wight heritage tomatoes with basil and Yorkshire Wensleydale, or York & Albany's Anglian pea and mint risotto.
Heading to the Narrow for fish and chips, or planning a riverside charcoal BBQ party? It's the flag-waving choice to enjoy there too.
So why not spoil yourself with a visit to our restaurants this summer? Whether you're dining al fresco or relaxing in one of our cool interiors, a chilled bottle of rosé is refreshment guaranteed.