Sunday Roasts at Bread Street Kitchen
Friday 19 May 2017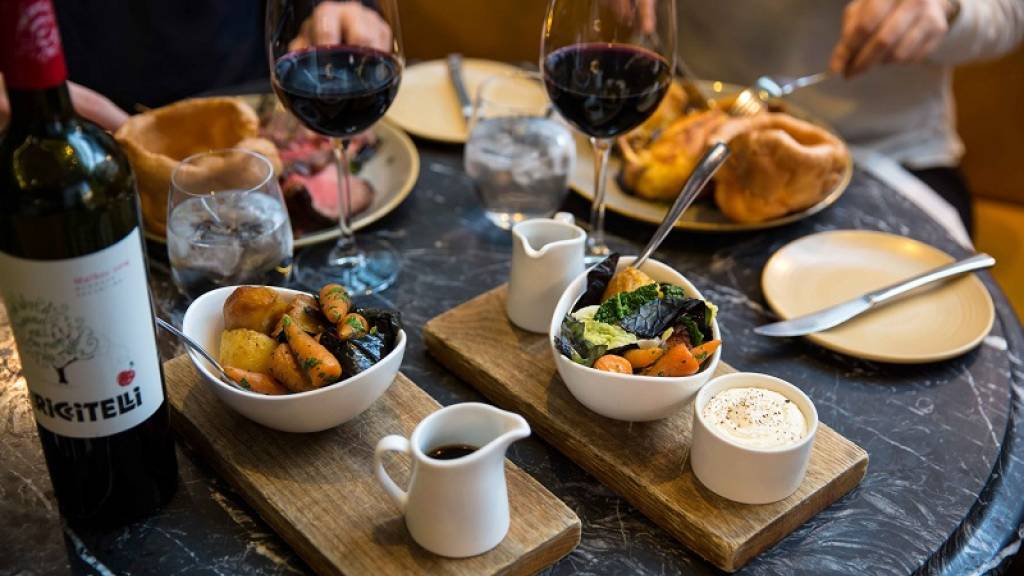 Bread Street Kitchen's Paul Shearing on the restaurant tricks you can use at home to upgrade your Sunday roast to pro-level perfection.
At Bread Street Kitchen, Sundays are so relaxed we serve a Lazy Loaf menu but for head chef Paul Shearing and his team, the pursuit of quality is relentless. Here he reveals his best tips for preparing the perfect Sunday roast for family and friends.
Buy the best meat you can afford
What does 'the best' mean? It doesn't necessarily have to be British, says Paul, but look for quality suppliers who use good animal husbandry and care about what they do. Rib of beef from the Lake District is the usual choice at BSK, where it is aged in-house on the bone. 'We use the same quality of beef for steaks and prime cuts as we do for our Sunday roast,' says Paul.
For home use, however, he prefers sirloin, which doesn't produce as much rendered fat as rib of beef. 'Sirloin can be cooked medium or medium-rare and will have a melt-in-the-mouth feel, plus it can be sliced thinly,' he says.
Marinate the beef
At Bread Street kitchen they keep their Sunday beef joints in a marinade of garlic and thyme for two days in the fridge, then bring them to room temperature before cooking. Paul prefers this to something like rubbing the beef with mustard.
'Professional cooks don't marinate to change the flavour of the meat, they marinate to season it,' he says. 'We don't want the flavour of the marinade to dominate, it's there to highlight the flavour of the star of the show – the beef. Good cooking is about understanding that.'
Do the potatoes first
Getting them underway early means you will have plenty of time for them to colour nicely in the oven. Try to spend more time getting the potatoes right, too, says Paul. They are, after all, characteristic of a good Sunday roast.
Par-boiling your potatoes first helps ensure they will be fluffy. Next, roast them in a thick-based pan on the bottom shelf of the oven. To get them crispy on the outside, the fat should be so hot that it spits when you add the potatoes to it – remember to protect your hands!
Paul favours duck fat for roast spuds. 'The taste is superior, plus it gives them a great colour.' At Bread Street Kitchen, they render their own duck fat from the birds used in the restaurant but you can buy it in tins from good supermarkets these days. Beef dripping is another good option.
Don't forget the yorkies
'I don't think you can serve a roast without both Yorkshire pudding and roast potatoes,' says Paul. 'Otherwise it's not a proper Sunday roast!'
There is a lot of competition among the chefs at Bread Street Kitchen to see who can get the best rise and caramelisation on the Sunday Yorkshires. 'But they still need to be soft in the middle,' Paul cautions.
On comparing different Yorkshire pudding recipes he's concluded they're all equally good. 'What it's really about is getting the batter the right thickness and that comes from experience, not a recipe,' he says.
But he does have a couple of tips: try using ice-cold fizzy water, and ensure the fat (ideally beef dripping or duck fat) is 'ridiculously hot', as per the potatoes.
Blanch the greens separately
You need to be generous with vegetables, so that the roast feels welcoming, joyful and invites sharing, says Paul. He recommends a base of leafy greens plus three other veg in season, whether they be familiar peas and carrots or more unusual varieties such as romesco and kalettes.
'For us it's about whatever vegetables are in season and we have as many quality checkpoints for them as we do for the beef. Yes it's only a bowl of veg, but it has to be perfect.'
When you blanch each of your veg separately in a pot of boiling salted water, you're respecting each one, helping to ensure it's cooked just right. This also allows you to get a bit ahead of yourself, so finishing and serving time is less hectic. You can even do it the night before. All you need to do next day is heat the blanched veg together with a bit of butter and salt for 2 minutes.
If you have a hostess trolley, use it
Paul loves his mother-in-law's hostess trolley. 'It holds the resting meat at the perfect temperature very much as we do in the restaurant.' If you don't have one, cover your roast joint with foil and leave it in a warm place.
Although many people worry about the cooked meat going cold, it really is important to allow the joint to rest. 'Home cooks tend to carve the meat too early,' says Paul. 'You want to retain the juices and if you cut too early they will spray out. Leave it to rest for half an hour. You can then slice it and put it in the oven for two minutes before serving.'
Why not book a table for Sunday lunch at Bread Street Kitchen online (don't forget, Kids Eat Free too), or join our Great British Roast campaign online by following all the #MoreThanARoast action. 
Keep an eye out for more top tips from Gordon Ramsay Restaurants on creating fabulous Sunday roasts this spring.