The Gordon Ramsay Chef Apprentice Programme
Thursday 30 November 2017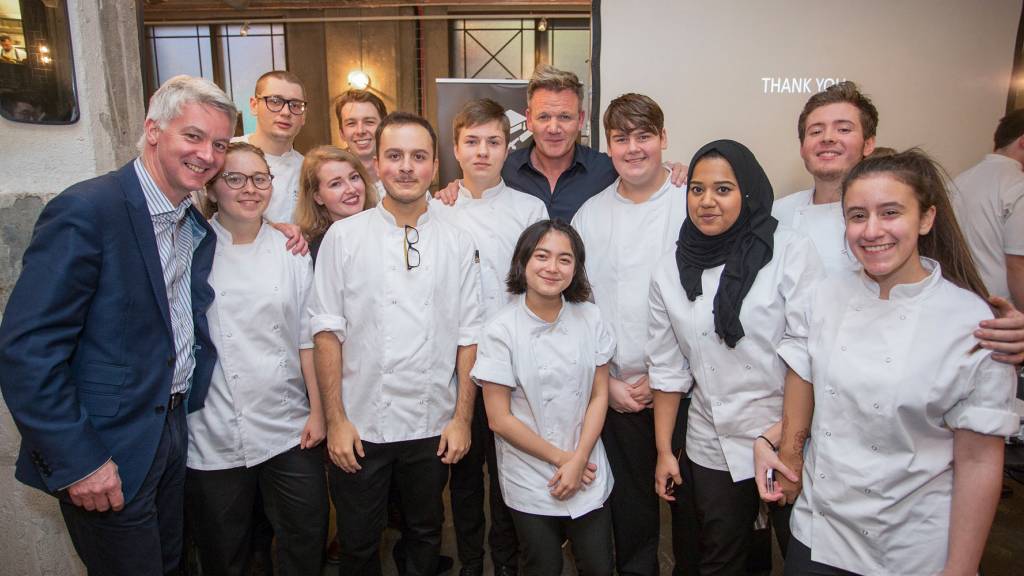 What makes the Gordon Ramsay Chef Apprentice Programme so special? Our newest graduates and their mentors reveal all.
Each year Gordon Ramsay Restaurants comes together to celebrate the graduation of final year students on our Chef Apprentice Programme, run in conjunction with the University of West London.
It's a sparkling occasion that sees world-class chefs cheering graduates side by side with students and their parents.
'Getting everybody together to celebrate our apprentices' achievements is amazing' says Erion Karaj, executive head chef of our Street Kitchens. 'And it's a great motivation for them to go out there and do even better'.
It's also important to recognize all the hard graft the apprentices have put into the previous three years, working four days a week in our restaurants, and attending University on the fifth.
During their time with us, they train in many styles of dining and cuisine within the Group and get to work directly with executive and head chefs as their mentors.
Cultivating young talent
Some of our apprentices are as young as 16 when they begin work with us, and it can be quite a leap from school playground to restaurant kitchen. But it's also an amazing opportunity.
The programme fully immerses them in the business of restaurants. In addition to their time with the chefs, apprentices work with all levels of Front of House and Back of House and with our support offices.
We believe strong support professionally and personally are the foundation of a successful career in the hospitality industry. We also cultivate a sense of community and family across all teams to ensure a stable learning environment for every apprentice.
'I found my second family here' says new graduate Florence Wilson. 'It has been difficult at times – I won't lie – but my parents have always been there for me. It's good to know you're not alone going through tough times – the other apprentices did as well, and this is why we all bonded so quickly. I've gained friends for life'.
Ongoing support
Support for the apprentices doesn't stop at their graduation – they know they can always turn back to their mentors for help or advice, or if they would like to apply for another position at Gordon Ramsay Restaurants.
'Their Graduation Day is not the end,' says Paul Shearing, head chef of Bread Street Kitchen at St Paul's, London. 'The door here is always open. It's very important that we not only teach the apprentices and send them out in the world, but that we are also here to support and guide them afterwards'.
'I have time for all the chefs – every single one' adds Erion Karaj. 'Whether it's ten minutes to have a chat and see how they're getting on, or a couple of hours to help them develop a dish. It's such a pleasure to see them grow and I'm nothing but proud of them'.
Teaching and learning
Our top chefs have themselves developed as mentors during their work with the apprentices. This in turn helps create stronger bonds in their teams, and improves team attrition levels.
Paul Shearing thinks the best part about being a mentor is that he gets to teach and learn at the same time.
'You see the apprentices' reaction to how you teach, and build that connection with them, so you get to learn how to teach as well' he says. 'And it's almost as good to watch them teach somebody younger. Being able to give knowledge is giving them power to get where they want to be, and help others along the way. That's what it's all about!'.
More apprentices, more graduates
Gordon Ramsay Group has plans to expand the scheme. 'The next 5 years will see the programme developing and taking on a lot more apprentices, hopefully internationally' says Erion Karaj.
And what does the future hold for Florence? 'I want to see the world!' she says. 'To keep working, keep learning, to see where this job takes me'.
That could be anywhere, according to Paul Shearing. 'There is so much scope for the graduates here and internationally, there is no limit to what they can achieve' he says.
To Apply
For more of a taste of the Gordon Ramsay chef apprentice programme, see our film. To find out how you can apply, visit the website. Applications for the September 2018 intake open in spring 2018.