This is the year to learn a new skill
Tuesday 9 January 2018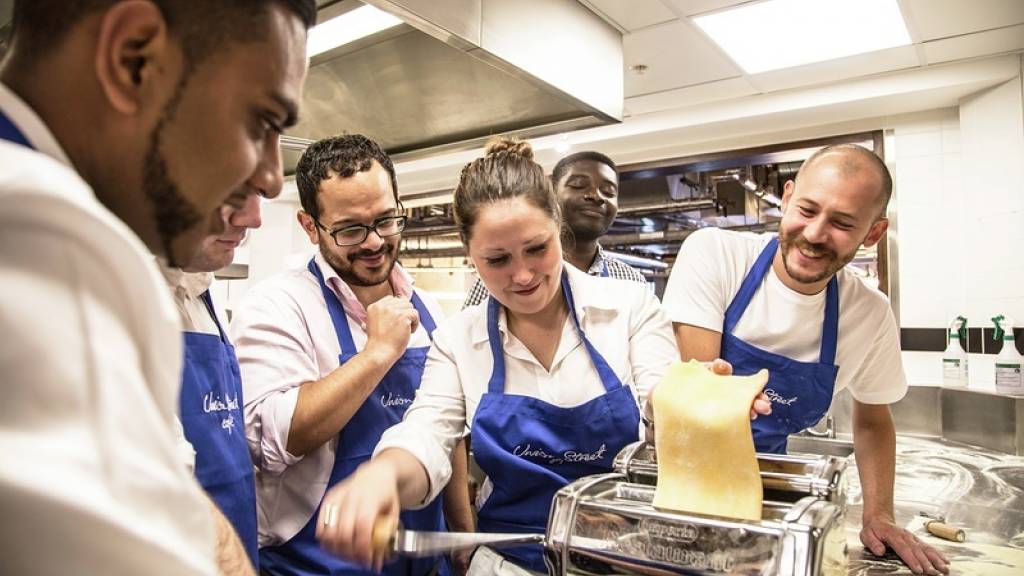 What self-improvement plans have you made for 2018? This could be the year you master mixology, conquer Beef Wellington, or perfect your pasta.
Gordon Ramsay masterclasses are the tastiest New Year's Resolutions around. You'll learn from world-class experts and have great fun doing it.
Master mixology
 There's nothing quite so sophisticated as shaking up a cocktail to delight visitors at home – but what would be your signature? The New Year is a great time to nail it.
In the Signature Cocktail masterclasses at Bread Street Kitchen and Union Street Café, our mixology maestros will help you explore different cocktail styles while showcasing their own specially devised tipples.
Whether you prefer to sit at the bar or get behind it like a pro, you'll enjoy an inspiring session with mighty fine drinks and fabulous food to share.
If your tastes are towards time-honoured tipples, check out the Classic Cocktail masterclasses at Heddon and Bread Street Kitchens. You could even indulge in some one-to-one tuition with Bread Street Kitchen's Professional cocktail masterclass.
To join the fun of #dryginuary, book Bread Street Kitchen's new Gin Experience showcasing the fascinating variety of botanical gins behind the bar. Or why not prime yourself for Burn's Night with a comparative Whisky Tasting Experience.
Conquer Beef Wellington
Gordon Ramsay signature dish Beef Wellington is the perfect way to wow friends and family at dinner parties and other special occasions. Not only does it look and taste fabulous, it's all prepared well in advance of serving, so you can happily greet and chat with guests while the oven does the finishing for you.
Want to give it a go? Join us for a special hands-on masterclass in the cool, relaxed surrounds of Heddon Street Kitchen. You'll learn all the tricks to crafting this showstopper, from selecting and searing the beef to decorating the pastry.
The three-hour experience includes a sumptuous three-course lunch with bubbles once your kitchen work is done. Just think: if you book one of the New Year classes you could have Beef Wellington nailed by Valentine's Day, ready to impress someone special.
Is fine dining more your style? Petrus head chef Larry Jayasekara teaches his own take on Beef Wellington during the masterclasses held on the first Sunday of each month at our Knightsbridge restaurant.
After a morning's work in Petrus's internationally-renowned kitchen, you'll sit down to a three-course Michelin-starred lunch with paired wines (and if you'd like someone to join you for lunch, a dining-only option is available).
Perfect your pasta
Union Street Café head chef Davide Degiovanni doesn't just have a passion for pasta – he's also passionate about teaching people to make it.
Downstairs at the Gordon Ramsay Italian restaurant in Southwark is a room dedicated to pasta making. During the regular Saturday masterclasses held there, Davide shares the best ways to knead fresh eggs and durum wheat semolina together to create silky-smooth pasta dough.
As a guest, you'll have the opportunity of using a variety of machines and gadgets, traditional and contemporary, to form your authentic dough into all manner of shapes, and learn the best sauces to pair with them.
It's muscular work, so you'll well and truly deserve the three-course lunch and glass of wine included in the £95 price. Why not view dates and book your place now. 
Remember: Gordon Ramsay masterclasses are not only a great way to boost your skillset while having fun, they make memorable presents and can be purchased year-round on our Gifts & Experiences page. 
This is the year to learn a new skill, so why not book one of our masterclasses at Gordon Ramsay Restaurants.