Bread Street Kitchen takes on the Maldives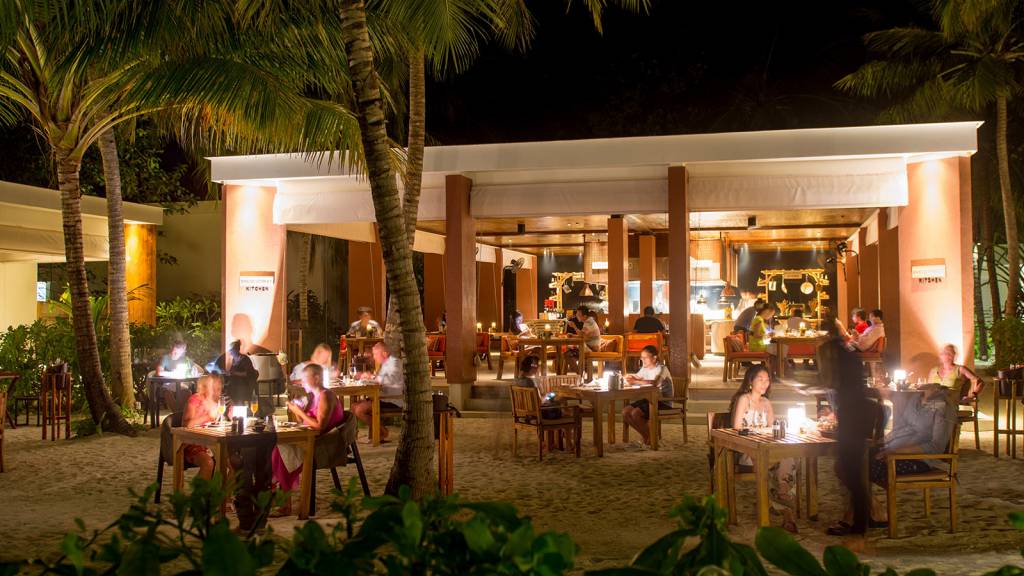 The heat really was on, when Bread Street Kitchen popped up at the Amilla Fushi resort in the Maldives.
May saw the Bread Street Kitchen team packing their sunhats and swimming trunks for ten days of cooking at the glorious Amilla Fushi resort in the UNESCO Biosphere of Baa Atoll. It may not sound like hard work, but wearing flip-flops to serve customers on the sand isn't as easy as you might imagine! 
According to Mathew Horvath, General Manager of London's Bread Street Kitchen, the team had a lot on their plate aiming to recreate an authentic BSK experience alongside one of the largest pools in the Maldives.
"There was making sure all ingredients were on site ahead of the teams arrival, with a 2 week lead time on deliveries; adopting menus to local produce; delivering food from two separate kitchens in the resort and communicating BSK's trademark energy in a super-relaxed environment. 
BSK signature cocktails were twisted to create the perfect Maldivian aperitif. 'It's about Thyme' our popular vodka and Limonchello number in London was twisted and re-named to 'Take your Thyme'. When making the champagne and lemon foam that tops it; it disintegrated in 15 seconds and had to be tweaked several times in order to re-create a foam that matched the experience guests enjoy in London.
On the other hand, there were luxuries, such as being able to freshly press fruit grown on the island and create drinks like the Ultimate Mai Tai with two types of rum, fresh pineapple and lime. Our guests could appreciate the surrounding nature as they sipped on the BSK Bloody Piña Coladas in coconut vessels made straight from the island. 
Fish straight off the local day boats were incorporated in many of the restaurant's classic dishes. The famous stone bass carpaccio was made with snapper while the roast cod was switched for tooth fish.
The team also devised a new main course specially for the pop-up: fillet of beef and braised cheek with shallots three ways and horseradish mash, which was roundly enjoyed by hungry holidaymakers. Other favourites included BSK's classic tuna tartare and tamarind-spiced chicken wings.
'It was an amazing experience for the team to deliver Bread Street Kitchen in a completely different environment', says Mat. 'They were real ambassadors for the Group and we've had phenomenal feedback from guests'. 
Just 30 minutes by seaplane from Malé, Amilla Fushi is a holiday hotspot for families and groups of friends seeking stylish barefoot luxury. Parents love the purpose-designed houses with interconnecting rooms and complimentary childcare services. For those wanting absolute privacy, there are also chic private beachside residences with four to eight bedrooms. 
No wonder the Bread Street Kitchen team is looking forward to returning to the Maldives later this year! Join them over the festive season (22 December 2017 to 10 January 2018).
For further information on the resort and to make reservations visit www.amilla.mv
 Not in the Maldives? Take a trip to the original Bread Street Kitchen located in London, St. Pauls.