RUM SHACK LAUNCHES AT GORDON RAMSAY'S YORK & ALBANY
Wednesday 10 April 2019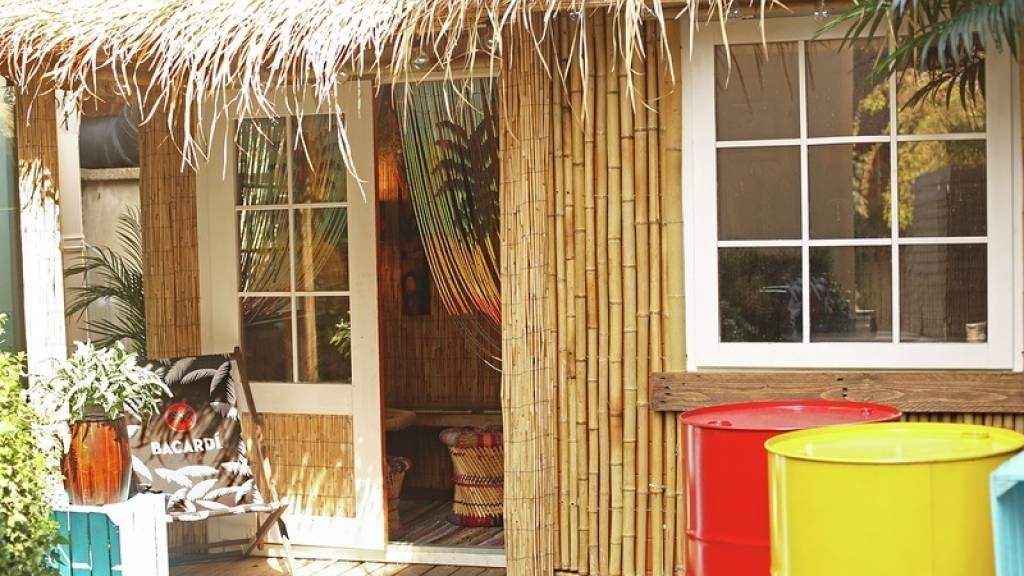 Bringing a taste of the Caribbean to Camden
Now open!  
This April, Gordon Ramsay Restaurants has launched an all-new Rum Shack pop-up at York & Albany, a setting inspired by the tropical shores of the Caribbean.
Situated on the edge of leafy Regent's Park, the Rum Shack offers a private beach-inspired shack space to eat, drink and relax with friends, family and colleagues.
Available exclusively for 2 to 8 guests in 2 hour booking slots, the experience begins with a Light 'N' Breezy Bacardi rum cocktail on arrival, before tucking into a canapé-inspired menu filled with sweet and savoury Caribbean-inspired dishes, including rum & tamarind wings, mojito-style prawn skewers and Pina colada set cream, rum-glazed pineapple & toasted coconut chips.
A selection of dedicated Bacardi rum cocktails are available to order on the day – don't miss the #RumShackalack Sharing Punch(£40 for 4 to share), a pour-your-own cocktail served in a special Bacardi rum barrel – the perfect serve for groups!
The Camden courtyard is transformed into your own tropical retreat, whilst the cabin is decorated with bamboo, palm trees, floral prints and non-stop summery vibes, the shack is the perfect spot to bring some sunshine to your day – all in the name of rum! 
Menus start at £29 per person, including a Light 'N' Breezy welcome cocktail and sharing platter.
BOOKING INFORMATION 
Hire the Rum Shack exclusively for 2 – 8 guests (minimum of 4 guests for selected slots, Thursday to Sundays) in 2 hour booking slots:
11am – 1pm
1.30pm – 3.30pm
4 – 6pm
6.30pm – 8.30pm
9pm – 11pm
To book, purchase your tickets via Design My Night. Or, for more information, contact our Groups & Events team on 0207 592 1373 or groupsandevents@gordonramsay.com.