6 tips to make the best roast potatoes
Saturday 15 September 2018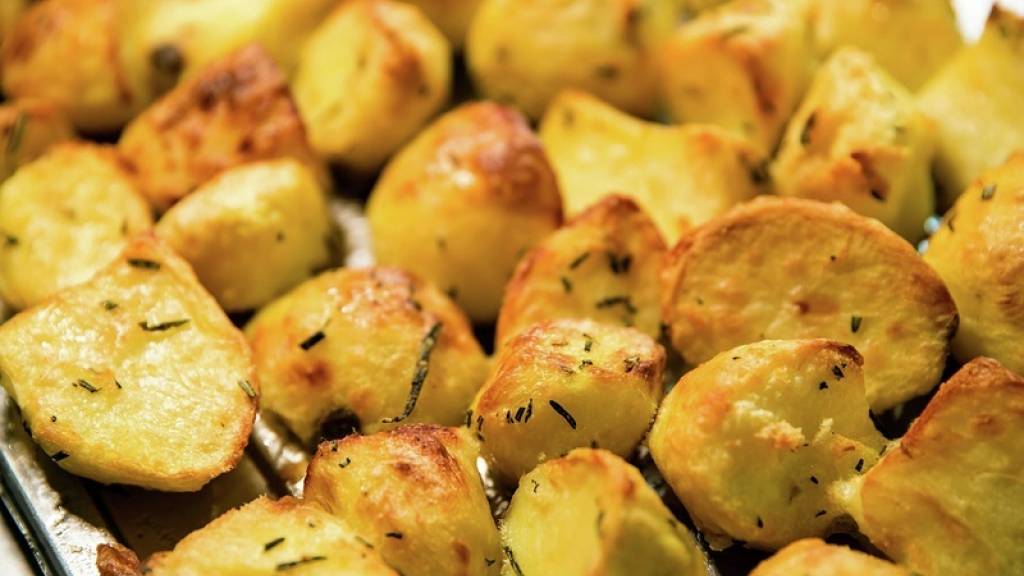 It's not a roast dinner without roast potatoes and that's why we believe it's important you to spend a little more time getting them right.
We've identified six simple steps to roast potato perfection. Put in the effort and you'll be rewarded with fabulous crisp roasties and applause from everyone who comes to dine at your table, join Gordon's Roast Revolution and enjoy them this weekend!
1. GET THEM ON FIRST
When you head into the kitchen to cook a roast dinner, the potatoes should be the first thing you pick up. 
Don't worry too much about specific varieties. It's easy to get hold of good roasting potatoes these days – the bags in supermarkets are well labelled to help you identify what's best. Good popular choices include Maris Piper, Desiree and King Edward but availability varies with the time of year – as does size. For proper traditional roasties you only need to make sure you don't buy small waxy salad potatoes.
Ideally the potatoes you start with should be roughly the same size. If not, cut them into even-sized pieces: 5cm across is great.
2. BOIL THEM BEFORE ROASTING
It may seem counter-intuitive, but to get the fluffy interior that epitomises the best roast potatoes, they must be boiled before they are roasted. Or, more specifically: par-boiled – ie part boiled, not fully cooked, in salted water. 
To do this, put your peeled potatoes in a large saucepan and add just enough cold tap water to cover them. You want enough salt that you can really taste it in the water. Bring slowly to the boil then, once the potatoes are at a proper rolling boil, reduce the heat so they simmer at a steady pace. 
Now start the timing: 2 minutes is the minimum; 10-15 should be right for large potato pieces. Remember, you don't want to boil them for as long as you would for mash, otherwise they'll just fall apart!
Once done, gently drain the potatoes in a colander. This action alone will help to slightly rough up the exterior for a crispier finish. If you like a lot of crunch, shake them against the side of the colander a couple of times, or scrape the exterior of the potatoes with the tines of a fork.
3. FIND THE RIGHT ROASTING TIN
A bad workman blames his tools, but you won't produce great roast potatoes with an unsuitable pan. 
You want one large enough to take the potatoes in a single layer, with some space around them. The pan should also have a thick bottom, so please put down those cake tins and get yourself a really solid, dedicated roasting tin.
Now's the time to make sure the oven is at the right temperature too – you'll be restricted here by the meat you are cooking and the size and number of ovens you have. Opinions vary on the ideal temperature but you won't go wrong at 200C/180C fan for potatoes.  
4. CHOOSE THE RIGHT FAT
Most of our chefs choose duck fat or beef dripping for roasties - at Bread Street Kitchen, they even render their own. Duck fat is superior not just for its flavour but for the colour it gives the roasties.
How to decide? Give some thought to the meat your roasties will be served with – beef dripping could seem intrusive with roast chicken or a whole fish, for example.
Alternatively opt for olive oil. This is a healthier option and is great if you're making a vegan or vegetarian roast dinner. There's no need to use a pricey extra virgin olive oil that's designed for drizzling and dressings – the heat of the oven will crush its special characteristics and you'll be wasting your money. Use these vegan roasties as an accompaniment to our vegan nut roast. 
5. GET THE FAT SIZZLING HOT
To get the right crispy exterior on your roasties, it's imperative the fat is sizzling hot – you want to hear the whoosh and crackle when the par-boiled potatoes slide into it.
This also means you need to be very careful when and where you put them into the tin. The fat will spit, so wear oven gloves. Put the roasting tin on a solid, flat, heat-protected surface – don't have it hanging halfway out of the oven door.
Use tongs to turn the potatoes in the hot fat - and always turn them away from you so it any fat splashes it will splash in the opposite direction. Give the pan a gentle shake if you like to help knock the potatoes round a little further, but make sure that they are well spaced when you put the roasting tin back in the oven - preferably the bottom shelf.
6. KEEP THEM MOVING
To finish your ultimate roast potatoes, turn them in the oven every ten minutes. This will help them get really crispy and well coloured. Allow about 45 minutes in a hot 200C/180C fan oven. 
If you've had to compromise on the oven temperature – say because you're doing a slow-cooked lamb shoulder – crank up the oven temperature once you've removed the meat. The potatoes can finish while the meat is resting and you are preparing whatever greens you're serving alongside.
Book your table to join us in London for the ultimate roasties, or discover all our roast recipes here.