What makes a good olive oil?
Monday 26 June 2017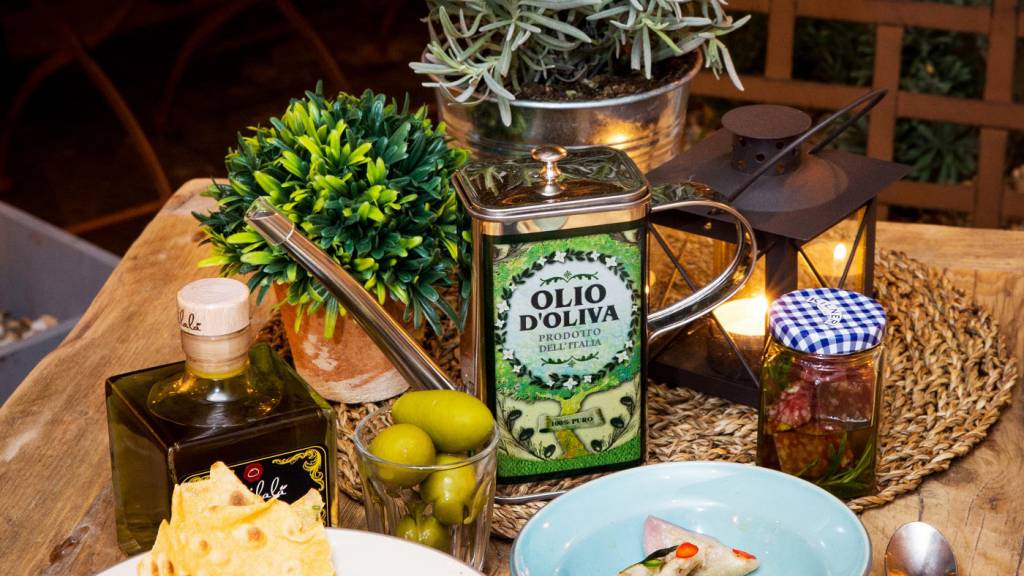 Have you ever wondered what makes the best olive oil? Almost everyone has a bottle of olive oil in the kitchen these days, but have you thought about how to choose the best olive oil and how to use it properly in the kitchen?
EXTRA VIRGIN OLIVE OIL
Extra virgin olive oils used to be a fancy speciality – now they're available in every supermarket. But with prices ranging from £3 a litre to £36 a litre or more, and packaging ranging even more, how do you know which one to buy? 
Firstly, think about how you are going to use the oil. If you like frying with olive oil, you can confidently choose a value-for-money blend, because heat destroys a lot of the special flavours and complexities that tend to be the USP of more expensive oils. A supermarket own brand olive oil is fine in this instance.
Premium-priced high-quality single estate bottled oils are best enjoyed raw – as a dressing, dip or seasoning. If you want to enjoy your oil with simple ingredients like balsamic vinegar and crusty bread, opt for a more premium, nutty flavoured extra virgin variety.
If you want a multi-purpose olive oil, then choose something with enough flavour to compliment a salad dressing, but not something so fancy you wouldn't want to fry with it.
WHAT DOES EXTRA VIRGIN MEAN?
It used to be the norm that extra virgin olive oil was the very best oil obtained from the first pressing of the fruit, and lower grades of oil came from repeated pressing.
Now that milling equipment is more efficient, farmers are able to extract much more oil from that first pressing, and so most of the olive oil you find on sale in supermarkets meets the EU's criteria for being called extra virgin olive oil.
However, some are still arguably better than others.
The ultimate might be what's known as 'flower of the olive' oil – a very traditional method only undertaken by small artisan producers, in which the olives are broken up then allowed to sit and release their oil without any further pressure being applied.
The price of 'flower of the olive' oils is premium, but not unaffordable – you can even find them on sale in some supermarkets.
WHAT MAKES A GOOD OLIVE OIL?
What we're really looking for in extra virgin olive oil is low acidity (1 per cent or under) and a high rating (6.5 plus) for organoleptic qualities – meaning how good it smells, tastes and looks. If an oil only scored 3.5 or 4 on the organoleptic scale and had an acidity of 3 per cent, it would qualify as virgin oil rather than extra virgin.
Broadly speaking, oils from different regions have different characteristics, but it's not correct to generalize and say, for example, Tuscan olive oil is better than Greek oil or a Spanish oil that has been extracted exclusively from arbequina olives. It's a matter of taste, and much of the fun is in exploring the various oils available.
DIFFERENT OILS FOR DIFFERENT CUISINES AND STYLES OF COOKING
Our chefs love cooking with olive oil, as well as using it in more unusual ways. For The Olive Grove at Union Street Café, the Gordon Ramsay Italian restaurant in Southwark, two extra virgin olive oils from Puglia were chosen to feature in the wide range of cocktails and bar snacks being served. These include goat's cheese, olive and walnut bruschettone, marinated spicy salame, and even lemon, sage and caper sorbetto.
Coratina is the full-bodied, fruity and spicy option, with the strength to stand up to red meats; Leccina (made using one of Italy's favourite olives) is a lighter, golden-green oil.
Union Street Café's chefs recommend the Leccina oil for frying lemon sole with fresh peas as well as using raw in an easy dish of spaghetti crudaiola with tomatoes, capers and anchovy. It's light and delicate flavour works well with fish and salads.
This is in complete contrast to the Provençal oil that Michelin-starred restaurant Pétrus, uses for dressing steak tartare with Périgord truffle, crispy tendons, cornichons and egg yolk.
Moulin Cornille AOP Vallée des Baux de Provence has a distinctive taste of black olives and cocoa and can only be produced using five varieties of olive grown in the unique soil of the area. It has a fantastic depth of flavour and lovely peppery notes, but it shouldn't be used for cooking.
Whatever oil you decide to buy for home use, keep it away from direct light and heat as these lead to deterioration. Tin cans can be excellent for keeping oil at its best but be careful not to buy huge quantities if you're not going to use it up in good time – check the use-by date.