Where to go for Brunch in London
Saturday 14 March 2020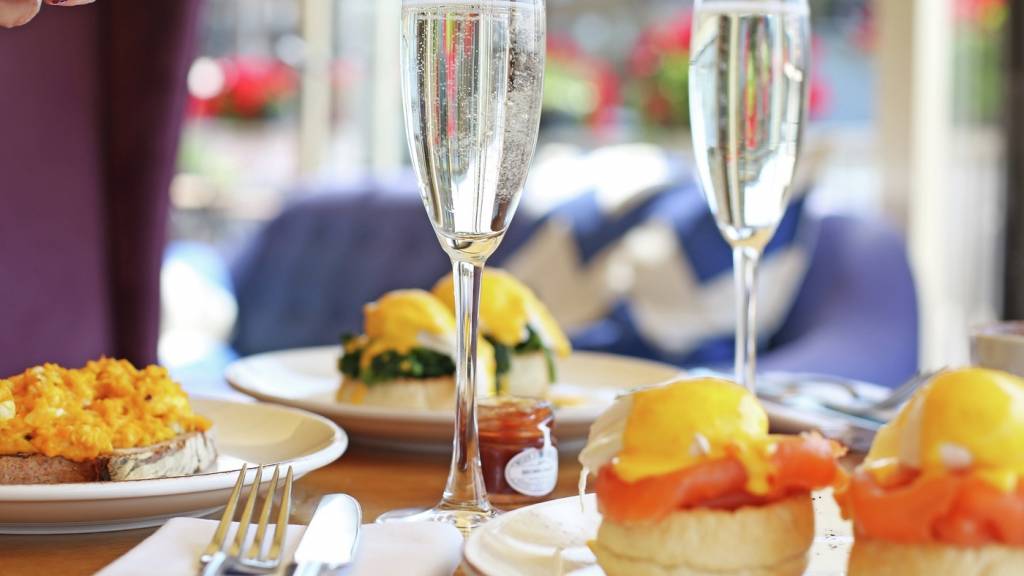 Brunch is the perfect way to catch up with friends, no matter how busy your lives get. We've all got that friend who'd wake up late and miss half of breakfast, and the other one who's constantly in a dash. Brunch is a happy medium between the two! Plus, brunch makes a glass or three of fizz before 12pm completely reasonable behaviour, and we're all down for that. At Gordon Ramsay Restaurants, we've done our best to please even the biggest of brunch connoisseurs with everything from classic eggs Royale to our own invention, sweet chilli baonuts at Lucky Cat in Mayfair. Take a look at the low down of Gordon Ramsay brunches in London – and get your next group gathering in the diary before life gets in the way!
Bottomless Bubbles at Bread Street Kitchen
St Paul's, the City
Closest tube – St Paul's or Bank  
Sunday brunches at this restaurant offer the best of both worlds – choose from the Sunday a la carte menu with classic brunch favourites, or make it a free-flowing occasion with a Prosecco Brunch menu where you can enjoy a main brunch dish, dessert, and free-flowing drinks for £40 per person.
Dishes include ricotta pancakes with lashings of sweet honeycomb butter and banana, spicy scramble (fluffy eggs with Spanish chorizo, tomato, caramelised onion and cheese) or main courses like beer battered haddock and crunchy chips, or Caesar salad.
If you've got little ones in your group and want to make sure they feel included, then this brunch also comes complete with a magician, and face painting, on selected Sundays.
Bottomless Pizza & Prosecco at Street Pizza
St Paul's & Camden – every Saturday & Sunday – 11am – 4pm
Closest tube – St Paul's or Camden Town
Pizza and prosecco - name a better duo! Every Saturday & Sunday between 11am - 4pm, you and your friends can get stuck in to bottomless pizza (no need to choose a flavour - you can have them all!) and free-flowing prosecco at Street Pizza York & Albany or Bread Street Kitchen.
Sunday Brunch at Lucky Cat by Gordon Ramsay
Mayfair – every Sunday, 11am- 4pm
If you're looking for something a little different, then try the Sunday brunch at Lucky Cat by Gordon Ramsay. Forget all you know about classic brunch dishes, and dine on sushi platters, Asian-inspired small plates, and an impressive Chef's selection of desserts instead. Dishes are seasonal, but you can expect to sample the likes of spicy JFC (Jocky's Fried Chicken), crunchy prawn and shiso tempura, salmon with XO sauce, and light-as-air souffles in seasonal flavours. You can enjoy this four-course brunch by itself or add free-flowing Champagne or Sake. If you fancy some retail therapy afterwards, Lucky Cat is a two minute walk from Selfridges and the shops of Bond Street (or a five minute walk from Hyde Park if you'd like to walk off your brunch!)
River Views at The Narrow
Limehouse – every Saturday & Sunday
Closest Station – Limehouse
The perfect place to catch up in East London, sit yourself in our cosy conservatory with panoramic views of the river, Canary Wharf and the City. Take your time chatting over breakfast and brunch dishes before you all head off for a lovely walk along the river (or for a spot of shopping).
Dine on a variety of pastries, yoghurt with toasted granola and berries, seasonal fruit salad, egg dishes including Eggs Royale, as well as tea and coffees.
English breakfast lovers can indulge in The English Breakfast with two eggs of your choice (scrambled, poached, fried), bacon, sausage, mushrooms, tomato and baked beans. There's also an equally delicious vegetarian version with eggs, grilled haloumi, spinach, mushrooms, tomato and baked beans. 
The Narrow is dog friendly, so feel free to bring along your pooch! (as long as you don't mind us making a fuss of them…)
Perfectly Poached Eggs in Piccadilly
Heddon Street Kitchen, Piccadilly – every Saturday & Sunday – 10am-5pm
Closest Tube – Piccadilly Circus or Oxford Street
The West End is a great place to meet up – easy travel links, lots of fun things to do, and a bottomless brunch at Heddon Street Kitchen! Tucked away in an oasis of calm behind bustling Regent's Street, our urban style restaurant serves up brunch every Saturday and Sunday between 10am – 5pm. It's a ten-minute walk from the National Gallery, across the road from Hamleys, and a few minutes from Liberty (designer clothes, stationery and fabrics galore!) and Carnaby Street.
Before 12, the restaurant will be serving up delicious egg dishes – think oozy eggs Benedict, indulgent baked eggs with chorizo, and a true guilty pleasure – double decker bacon and cheese sandwiches. After midday, tuck into one of our signature mains like chestnut pappardelle with wild mushrooms, fish and chips, or a dry aged beef burger smothered in Monterey Jack cheese and smoked bacon ketchup.
Prosecco isn't for everybody, if you'd prefer something healthier then try the Green and Lean juice (cucumber, ginger, apple and orange) a Body Boost (apple, carrot, and ginger – makes you feel better just looking at it!), or the apple and spinach smoothie.
This is just a small selection of the brunches available at Gordon Ramsay restaurants (have you guessed how much we like brunch yet?) so take a look at all of our brunch options, and pick your favourite – or try them all!