Gordon, Gino and Fred: Road Trip airs on ITV this October
Thursday 11 October 2018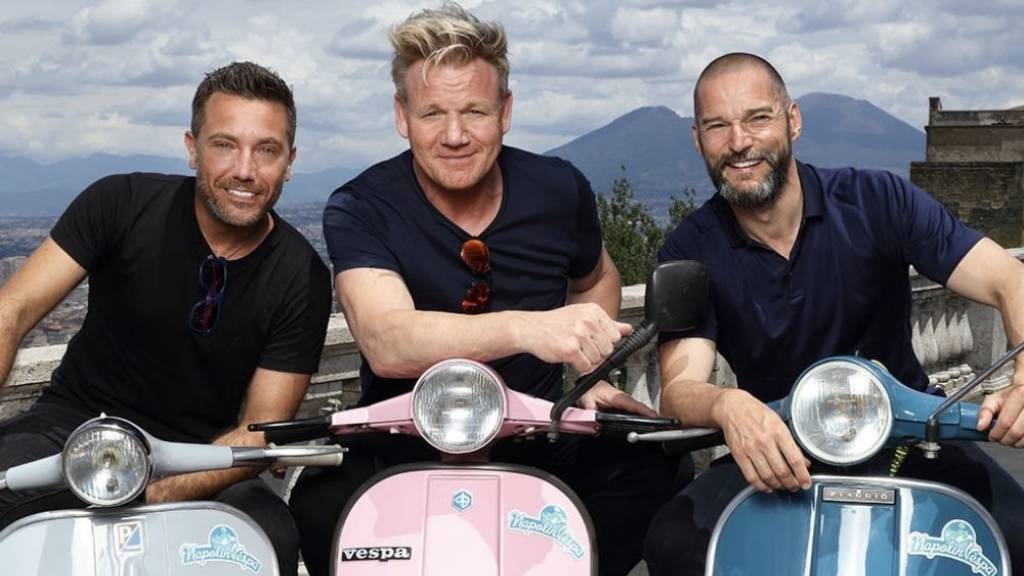 Three big egos, one small van. Gordon, Gino and Fred pack up their camper van once again and head off on a European adventure, but this time it's personal as each episode takes us on a tour of their cherished homelands, each of them with a special occasion to prepare for. With three countries, three weeks and three coqs au vin in close confinement what could possibly go wrong?
Gordon Ramsay, Gino D'Acampo and Fred Sirieix hit the road to find out which of their countries does it best and immerse themselves in the most extreme adventures, competing to find the best ingredients from some of the most stunning locations.
The three-part series begins in Italy as Gordon and Fred join forces to help Gino put on a sumptuous feast for a very unique wedding blessing on the beach. In France the threesome will help deliver the first oyster festival. The Scottish leg of the journey will see them taking part in some highland fun and games. This is food on tour like never before, but will it be a case of too many cooks?
Asked for this thoughts on the series, chef Gordon commented: 'What a trip. If there's ever a marriage made in heaven it has to be a Scotsman, an Italian man and a French man. I very rarely come across three guys in a situation that bond the way we have. Two very strong characters, very, very ambitious and at the top of their field, then throw me in the mix and I want to take it to another level.'
'It's very rare you have that kind of bond in the industry, let alone with three individuals who are at the top of their game and spending a lot of time together on the road. When we did the Christmas special (Gordon, Gino and Fred's Great Christmas Roast) it was a very unique moment when we were suspended in the cave and we realised that, yes, we might be challenging each other, but we do have each other's backs. There is a level of respect there.'
Produced by Studio Ramsay for ITV. Gordon, Gino and Fred: Road Trip  starts on Thursday 11 October 2018 at 9pm on ITV.
Make sure you're the first to hear about Gordon's adventures on TV and beyond by signing up to our email newsletter below