GORDON, GINO AND FRED'S GREAT CHRISTMAS ROAST ON ITV THIS CHRISTMAS
Thursday 21 December 2017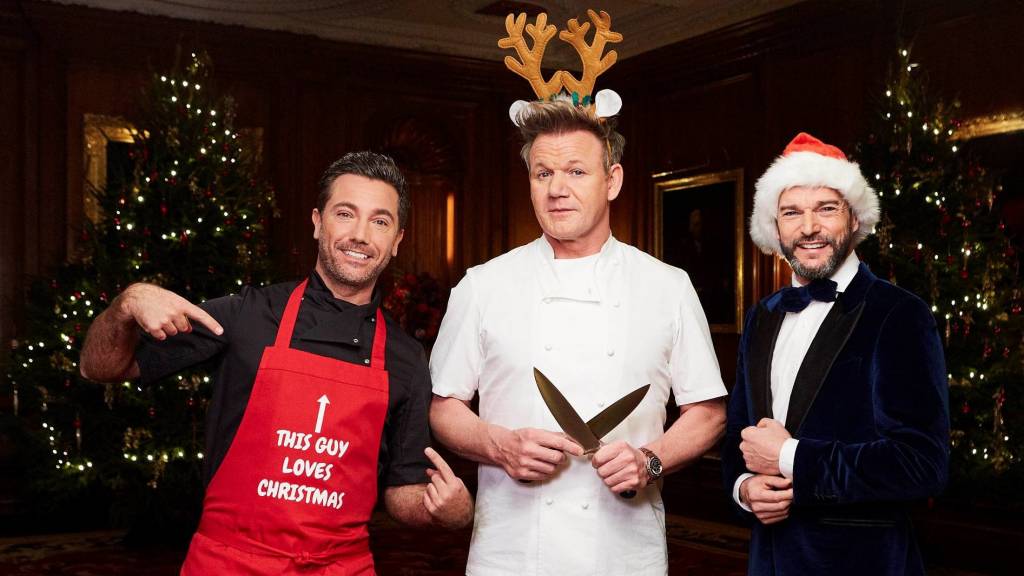 ITV has commissioned a Christmas Special, produced by Studio Ramsay, with renowned chefs Gordon Ramsay and Gino D'Acampo alongside First Dates Maître D Fred Siriex.
In this 75-minute Christmas extravaganza chefs Gordon and Gino will lay on a spectacular banquet for the heroes of 2017. Working against the clock they'll be assisted by a number of famous faces as the two teams compete to serve the most impressive festive menu. Charming Maître D Fred will not only be tasked with running the service but he'll be wrangling the results from our deserving diners, whilst keeping the self-assured Brit and the feisty Italian apart.
Serving members of the public and the emergency services who bravely risked their lives during tragic events, as they went above the call of duty in 2017, Gordon, Gino and Fred will stop at nothing to ensure they're treated to the most exclusive Christmas banquet of all time. The bar is set high, but with competitive personalities thinking each knows best, who will come out on top?
And with an overnight trip to France to source the finest tipples factored in, things could easily reach boiling point as they brave the elements and each other, to bring the booze back home for the feast.
Produced by Studio Ramsay for ITV Factual Entertainment this spectacular show down has natural competition at its heart promising to be a full on festive delight celebrating great food and even GREATER Britons. 
Gordon said: "I'm looking forward to roasting the chestnuts out of Gino and giving him an absolute stuffing, during our Great Christmas Roast.  It's going to be a lot of fun, but the real prize will be the privilege of cooking a fantastic feast and serving up three stunning courses to some truly deserving diners, who I hope will have an amazing night during the final banquet."
Gino said: "It's a great honour to cook for so many people who have made a difference in 2017 - I know we'll make it a night to remember. And it will be a day to remember for Gordon - he'll need to be on top of his game because my kitchen is going to serve up a menu that will have our diners asking for more!"
Fred said: "Christmas is all about giving back and I am delighted to be able to give a little back to those who gave so much in 2017. I will need to stay on my toes though. With Gordon and Gino going head to head - I have a feeling my work is already cut out.  May the best chef win!"
Gordon, Gino and Fred's Great Christmas Roast is commissioned for ITV by Nicola Lloyd, Factual Entertainment commissioner and Sue Murphy, Head of Factual Entertainment.
For Studio Ramsay, the series editor is Genna Gibson, series director Sam Campbell and the executive producers are Daniella Berendsen, Chris Brogden and Gordon Ramsay.
Nicola said: "This promises to be a spectacular event on ITV. Gordon, Gino and Fred want to give something back to the people who really made a difference during some of the darkest moments of 2017. They all want the best, but the problem is they all think they know best. Expect fireworks, fantastic food and a fun filled feast to remember."