Pan Fried Wood Pigeon with Beetroot & Wild Mushrooms Recipe
Wednesday 5 August 2015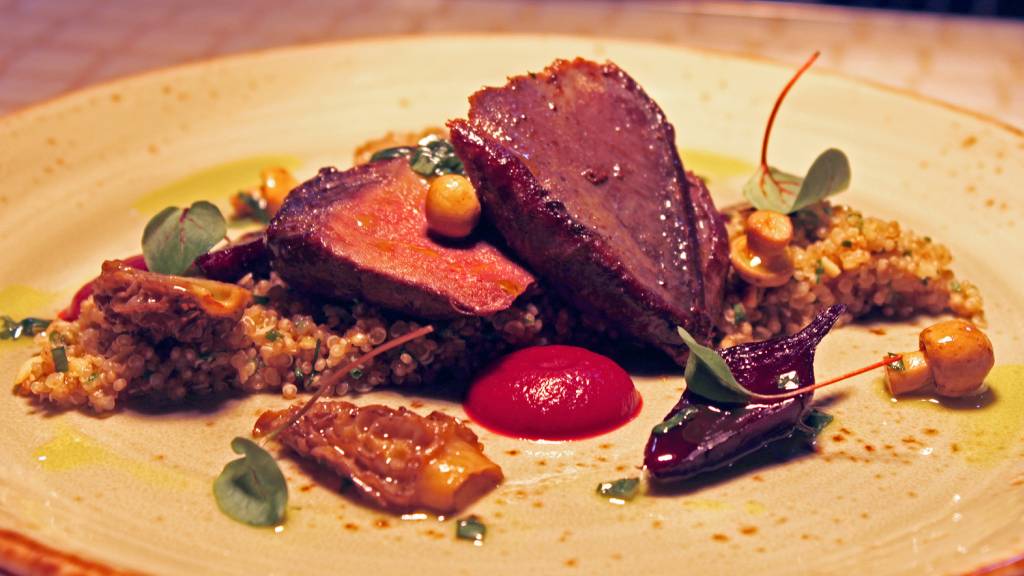 This recipe for pan fried wood pigeon with beetroot and pickled wild mushrooms, was developed by the head chef at Gordon Ramsay's York and Albany restaurant.
Prep time: 30 mins
Cook time: 30 mins
Total time: 1 hour
Yield: Serves 2 
Ingredients:
- 2 wood pigeon breasts - cleaned and prepared
- Extra virgin olive oil
- 50g butter
- Salt and pepper
- 200g beetroot - cooked
- 150g sugar
- 250ml orange juice
- 100ml rapeseed oil
- 2-3 tsp sherry vinegar
- Thyme
- Sugar
- 50g morel mushooms
- 50g St Georges mushroom
- 100g black quinoa
- 200g water
- Salt
- Hazelnuts
- Chives
- Wild garlic
- Salt and pepper
- Sherry vinegar
- 50g nettles- picked
- 50ml rapeseed oil
Directions:
- Place 200g of beetroots in 200g of salt with a little oil, bake in the oven, leave to cool, scrape away salt and slice in half.
- Start with the sugar, make a caramel in the pan.
- Heat the sugar in a pan until it dissolve and gives a caramel colour.
- Add the cooked sliced beetroot, and the orange juice, cook for 20 minutes, put into a blender until smooth, for the puree.
- Wash and cut all mushrooms, place into the pan and bring up to the boil.
- Take off the heat and leave to rest. Taste for seasoning.
- First rinse the quinoa in cold water, place into a pan and bring to the boil for 5 minutes, then simmer for 15 minutes. Leave the quinoa to rest until it plumps up.
- Once cooled down, add the hazelnuts- chopped, chives, wild garlic, season and add the little sherry vinegar to taste.