Pétrus chef Gilles Varonne takes top marks at Craft Guild of Chefs Awards
Friday 13 October 2017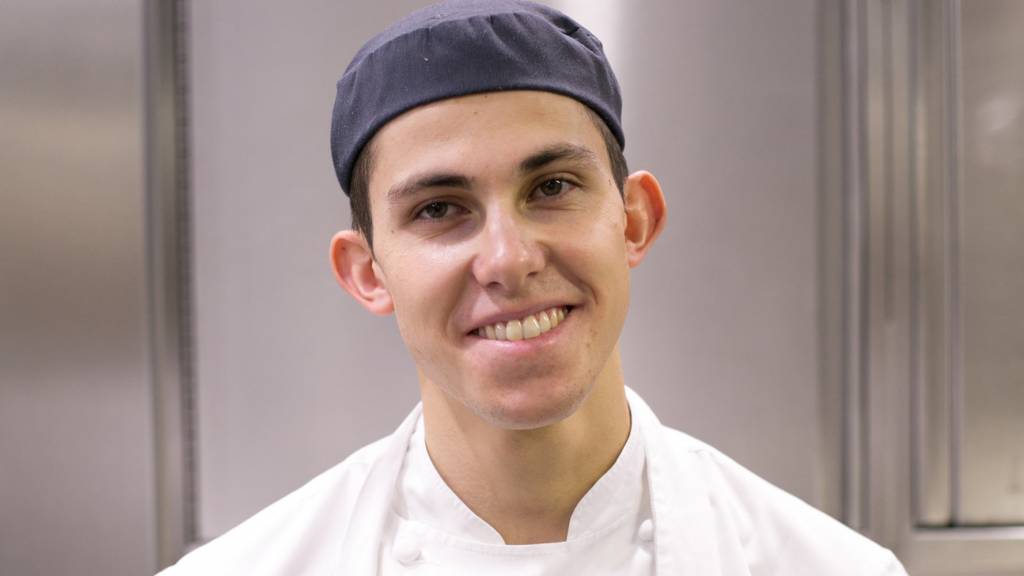 Pétrus chef de partie Gilles Varonne has just achieved the highest marks ever given in the Craft Guild of Chefs Awards. How did he do it?
Gilles Varonne admits he is still a little dazed by his results in this year's Craft Guild of Chefs Graduate Awards.
Not only was he one of just five chefs to be awarded a pass in the kitchen examination, he rose above young talent from other Michelin-starred restaurants to achieve the highest marks ever seen in 15 years of the competition.
The CGC Graduate Awards exam is about testing skills and capacity, he explains. That's why he was keen to do it. 'There were some extremely good people there and the mood was very competitive'.
The final involved a half-hour multiple choice exam, followed by practical tasks for butchery and fish. Then the students were given three hours to prepare a three-course meal for four people, following various criteria.
For the fish course they were handed a 19th century Parisian recipe for sole dugléré. Surely this combination of white fish, thick sauce and tomatoes seems irrelevant to today's ambitious young chefs?
No, says Gilles. 'Classic dishes are the base of the kitchen. If you can't handle classic, you can't handle modern style'.
The main course had to be contemporary and tested the finalists' creativity with a mystery basket of ingredients. Gilles cooked Asian-spiced duck with carrot and ginger purée, charred baby fennel, pickled girolles and baby turnips.
Their dessert task – to make four portions of chocolate caramel tarts with honeycomb – was so tricky the recipe was given to the finalists three months in advance so they could practice. 
'The pastry was difficult to handle', Gilles admits, 'and you had to be really careful with the timings for it and chocolate cream, as they both had to set while you got on with the rest of the meal'.
'As we only had three hours to cook everything, I spent long and careful time planning, because once you go in the kitchen you don't have time. Also, doing the exam in an unfamiliar kitchen (at University College Birmingham) only added to the pressure'.
To make time for exam preparation he would arrive each morning at Pétrus at 6.30am instead of 9am, and leave well after everyone else. His advice to other chefs thinking of taking on the Craft Guild of Chefs graduate challenge is to do the same.
'If you don't practice, you won't get through the various stages', he warns. 'Out of 60 people qualifying, only 12 were in the final'.
Gilles pays tribute to Larry Jayasekara, head chef of Pétrus, who helped with his exam preparation. 'Larry is very patient', says Gilles. 'Whenever something wasn't good enough he always told me to make it again. Even when he was on holiday, I had to send him pictures of what I was cooking everyday'.
Larry says Gilles is a very focused and driven young cook who has shown particular skill in meat preparation and sauces. 'Gilles works hard to earn more responsibility and is capable of exceeding expectations. He is on the path to being a really strong all-round chef'.
Chefs in the Gordon Ramsay Group constantly work with each other, exploring new ingredients and techniques, and learning from each other in the process. 'There is always room for improvement and development', says Larry. 'You should never stop learning and growing'.
Think you might have extraordinary talent? Got what it takes to become part of the Gordon Ramsay team? Apply to be part of our award winning team that spans the globe and visit our Careers page and apply online.