Gordon Ramsay Weddings: Designing Your Luxury Wedding Cake
Tuesday 8 May 2018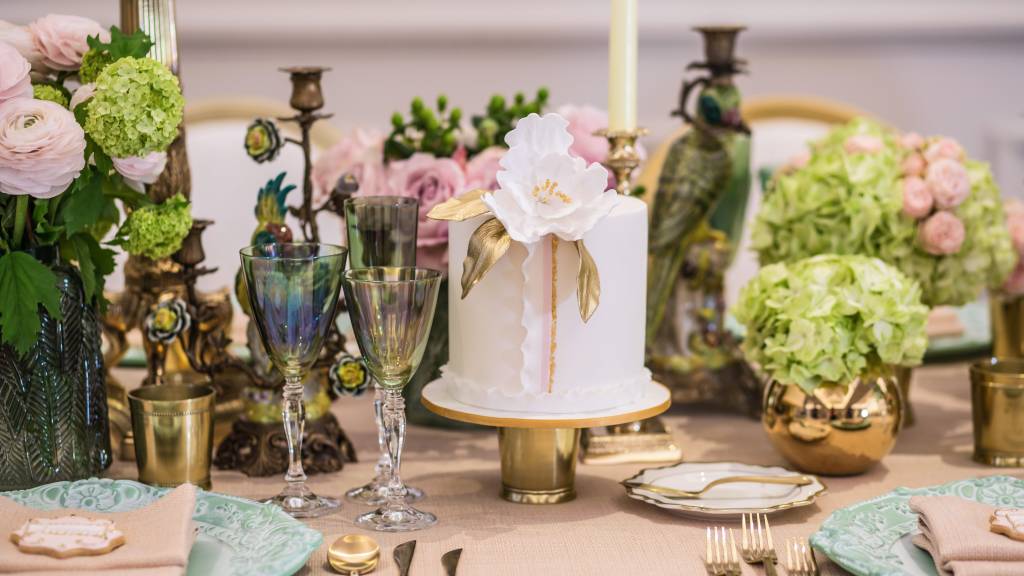 Planning your wedding is no easy affair, especially when it comes to planning the cake. But when it comes to desserts, how do you find sweet success? We caught up with GC Couture as they install an Indulgence Bar in our prestigious Mayfair Ballroom, to discuss lavish desserts and indulgent treats.
WITH SO MANY DIFFERENT VARIETIES OF CAKE AVAILABLE, HOW DO YOU HELP COUPLES MAKE THE RIGHT DECISION?
'As we offer such a range, there is always something to suit everyone's taste. What's nice is that our couples can surprise their guests by offering a different flavour on each cake tier.  This means that the more adventurous half of the couple can try, say a coconut & lime flavour and their other half can stick to our more traditional vanillas and chocolates. We encourage clients to take full advantage of this by creating a cake that is the best of both worlds. Despite modern trends, our most popular flavours still tend to be vanilla, chocolate and red velvet.'
WHAT PART OF DESIGNING LUXURY WEDDING CAKES DO YOU ENJOY THE MOST?
'The passion, desire, and enthusiasm is still with us today as it was when we first launched GC Couture.  Meeting our potential clients is the most rewarding part of our business, we have developed a demand that has a created a legacy, from making a wedding or celebration cake we have then become the personal cake designer for each family and their friends.'
 TALK US THROUGH THIS BEAUTIFUL INDULGENCE BAR THAT YOU DESIGNED FOR THE BALLROOM
'Once the blush pink and golds colour scheme was selected by the Gordon Ramsay Weddings styling team we then set about designing the wedding cakes and pieces that naturally lent themselves to that warm feminine, summery vibe of this wedding design. We placed a heavy focus on florals throughout and we created delicate handcrafted sugar flowers to accent all of the desserts.  We also chose to feature real closed baby rose heads to accent the delicate icing on our mini cupcakes.'
'The variety of desserts featured in the Indulgence Bar included chocolate covered Oreos, cake pops, mini cupcakes, chocolate pyramids, cookie stacks, meringue kisses, macaron towers and a 5-piece wedding cake feature piece.'
'When designing an Indulgence Bar for a wedding celebration, the most important part for us and the starting point for any design, is the theme, colour or concept. It is essential that the Indulgence Bar is cohesive and the desserts all tie in well with each other and the overall theme of the wedding. It is important that each bespoke Indulgence bar reflects something of that couple and it is a fun aspect of the event to come up with together. Once we have established this, we can then focus onto the finer detail of each individual product design, display ware and layouts for the maximum impact.' 
 FEELING INSPIRED? DISCOVER OUR COLLECTION OF BEAUTIFUL LONDON WEDDING VENUES HERE. 
Planning by Gordon Ramsay Weddings
Photography by Iona Wolff
Indulgence bar designed by GC Couture
Table by Great Hire 
Florals designed by Rob van Helden
Venue: Ballroom at Marriott Grosvenor Square, Mayfair