How to make the perfect Beef Wellington
Wednesday 19 June 2019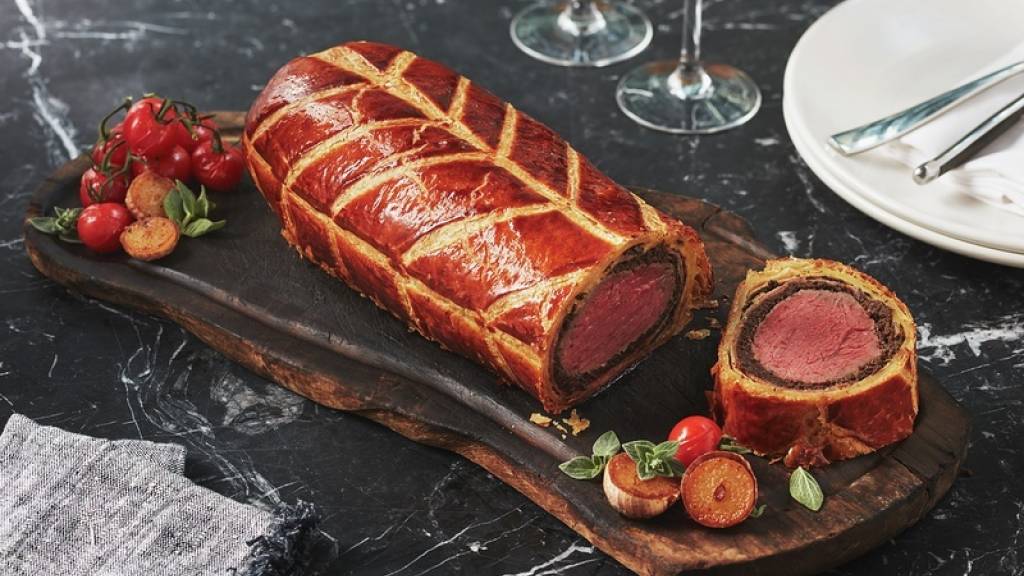 Want to ensure your Beef Wellington is a showstopper? We answer common Wellington related questions to guarantee you create a masterpiece during Worldwide Wellington month (or any day of the year!)
Have you had a go recreating Gordon's signature dish? You can find our recipes for the Beef Wellington (and other varieties) here.
The Beef Wellington isn't just a British delicacy, it makes for a beautiful table centre piece at a dinner party, or a homely and comforting dish to share around the table with family. However, mastering the Wellington isn't easy. It takes quite a bit of skill to create the perfect welly, so our chefs have answered some of the most common questions to ensure you're making the best version of this classic dish at home.
HOW DO I GET THE PERFECT SHAPE?
Struggling to get your Wellington to retain its shape? Use lots of cling film to help keep your layers tight. Start by rolling out a couple of sheets of cling film across your counter (don't just use one in case it splits open). Then, using the back of a spoon, evenly spread your mushroom duxelle mix over, before placing your fillet on top.
Lift the edge of the cling film and wrap, as tight as possible (ensuring the fillet is covered), rolling the wrap into a perfectly formed cylinder. You can use this method again for your final later, this time wrapping your duxelle and beef within the puff pastry - remember the tighter your cling film wrap, the more perfect your shape will be.
HOW CAN I KEEP MY PASTRY CRISP?
There is nothing worse than soggy pastry, but how do you ensure it is crisp – even when you're cooking your meat medium-rare? The answer is simple, after coating your wrapped Wellington in egg wash just add a generous sprinkling of salt over the top before placing it in the oven and you're guaranteed deliciously golden pastry every time.
HOW CAN I ENSURE MY WELLINGTON IS FULL OF FLAVOUR?
Make sure your Beef Wellington is as delicious as possible, by always searing your beef in a hot pan first. This important stage is not meant to cook your beef, but instead it adds a delicious roasted flavour to your meat.
Another crucial stage when it comes to maximising flavour, is letting your Wellington rest for at least 10 minutes after it has come out the oven. Despite the temptation to tuck straight in, waiting allows your meat to rest meaning it will be succulent and tender when you dine. 
HOW SHOULD I CUT MY WELLINGTON?
Even the best Beef Wellington can be ruined by cutting it too thinly or too thickly. A thin slice will simply fall apart, whereas a thick slice will lose the delicate appearance and finesse of the dish. Gordon's tip is to slice the Wellington around an inch thick. Also, always use a very sharp knife to make sure that the pastry holds firm. 
FIND OUT MORE ABOUT WORLDWIDE WELLINGTON HERE