How to put a Michelin-starred spin on your Christmas Dinner
Wednesday 6 November 2019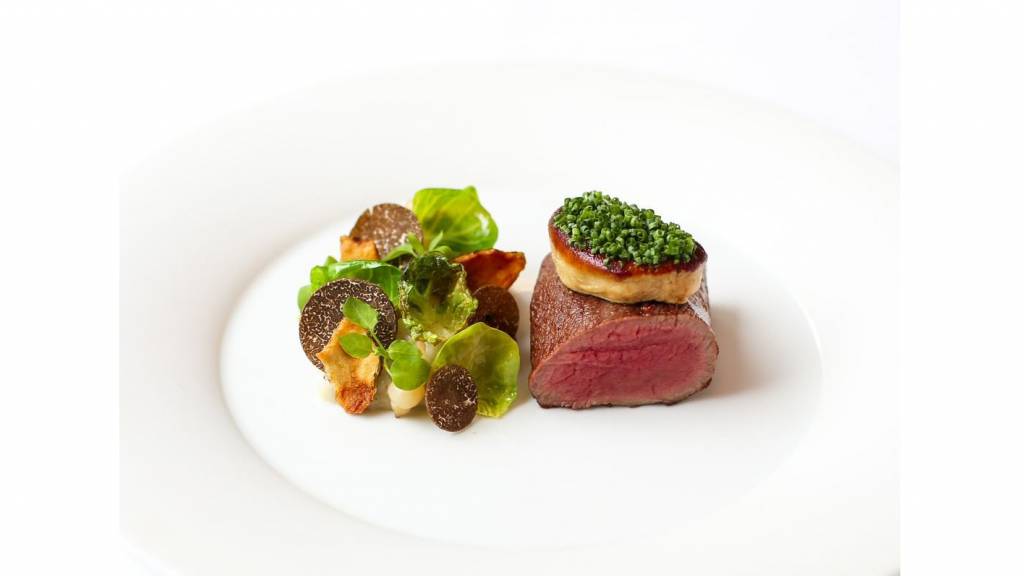 There's no shortage of Christmas dinner ideas at this time of year, but the key for a Michelin twist is not to get distracted by gimmicks, but to focus on the quality and taste of what you serve to your guests. After all, that's what they're likely to remember! We've asked our chefs in London based Michelin starred kitchens – Restaurant Gordon Ramsay and Petrus – for some of their sage advice when it comes to Christmas.
The first key is planning. Planning what you are going to serve, and how you are going to serve it, will take the stress out of the big day and reduce the opportunity for mistakes. It also means that you'll be ale to source the best ingredients from your local butchers, greengrocers and markets before they are all sold out.
Proper planning and sticking to a strategy is one of the secrets of running a top restaurant kitchen, too – so who better to ask than the chefs Michelin-starred Pétrus.
ALL IS CALM, ALL IS BRIGHT
Turkey can be a little samey and it's what your guests will expect. It's also quite easy for people to get the timings wrong. If the turkey comes out of the oven dry, it doesn't make for a great Christmas dinner.
Instead why not try a Wellington. With flaky pastry, delicious duxelles, and tender meat - there's good reason why it's a signature dish of Gordon Ramsay Restaurants. This dish is also an impressive showstopper for the table – if you're a confident carver then bring it out and carve in front of your guests so they're the first to see the beautiful layers inside.
You can make multiple smaller wellingtons to suit the number of guests you are expecting, rather than aiming to make one gigantic one – you'll be restricted by the size of fillets available anyway.
A Wellington is a massive showcase for the cook and always goes down well. Yet it's prepared completely in advance of serving, so all you have to do on Christmas Day is put it in the oven for 20-30 minutes.
Think of all the kitchen and head space that frees up! Leaving you time to concentrate on things like...
CHRISTMAS SIDE DISHES
Our chefs agree that seasonality is fundamental to good cooking, especially in the depths of winter. But you can add real flair to your Christmas dinner menu simply by carefully selecting the vegetables. 
There's so much more to choose from than parsnips and carrots. Why not serve some things that guests wouldn't usually expect... it's a great time of year for Jerusalem artichokes, for example. Or, you could try including beetroot and take advantage of the luscious variety of seasonal mushrooms available. Brussels sprouts, however, are one Christmas cliché that are a must. Try frying them in a little butter after boiling for a few minutes. It makes them fluffy inside and crispy on the outside – perfection.
One way to really elevate a side dish (or a main dish for that matter) is by using truffle. We spoke to Chef de Cuisine Matt Abe about his love of truffles and gleaned some expert advice about how to use them in the kitchen at Christmas – or any day throughout truffle season.  
'The earthy, rich, comforting nature of truffles means they suit autumn and winter dishes better. In terms of flavour, for me the white is more aromatic and you want to always have it raw, I wouldn't cook with a white truffle as you wouldn't really notice it in the finished dish. Whereas the beauty with a black truffle is that, yes you can have it raw, but it can also handle cooking and maintain its flavour, it's a lot more versatile and robust. With white truffles in particular, I like to keep things simple and classic. It needs to be comforting food, it should feel luxurious. Richness and warmth are key'.
Some of Matt's favourite ways to use truffle are to serve it with other seasonal ingredients, like chestnuts, or add it to simple pates such as pasta or scrambled eggs. Why not follow his lead and add a shaving of truffle to your Christmas morning eggs, or treat guests to a comforting Boxing Day bowl of linguine with butter, Parmesan and truffle?
WHAT ABOUT STARTERS?
 Go classic with a prawn cocktail. It's a favourite, a dinner party essential, and can all be prepared beforehand, so it's great for larger groups.
You could serve a light French onion soup instead or, to add a dash of tasting menu je ne sais quoi, add in a soup course after the prawn cocktail (just make sure to alter portion sizes accordingly).
JUST DESSERTS
To finish, you just need a Christmas pudding – again, this is something cooked well in advance so all you need to do on 25 December is heat it up. In fact, our chefs feel that giving the Christmas pudding time to rest and soak up all of those juices make it taste even better, just make sure to store it in the fridge. You could use a Gordon Ramsay Restaurant recipe, or buy in your favourite.
The main piece of advice, whether you make your own or buy - serve it with brandy butter instead of brandy cream! It can be made two weeks in advance and stored in the fridge, or frozen for up to 3 months. See – you could have made it back in September!
If you're still looking for a touch of Michelin magic, then you can't go far wrong with a cheese course to end your meal. Have some fun finding rare and interesting cheeses that your guests may not have heard of before, and balance their saltiness and tanginess with sweet fruits – we like to use figs, grapes and crisp slices of apple. Serving a few Christmassy chutneys alongside crispbreads, crackers and biscuits is a great way to complete the board.
DISCOVER CHRISTMAS HERE