How to put a Michelin-starred spin on your Christmas Dinner
Friday 1 December 2017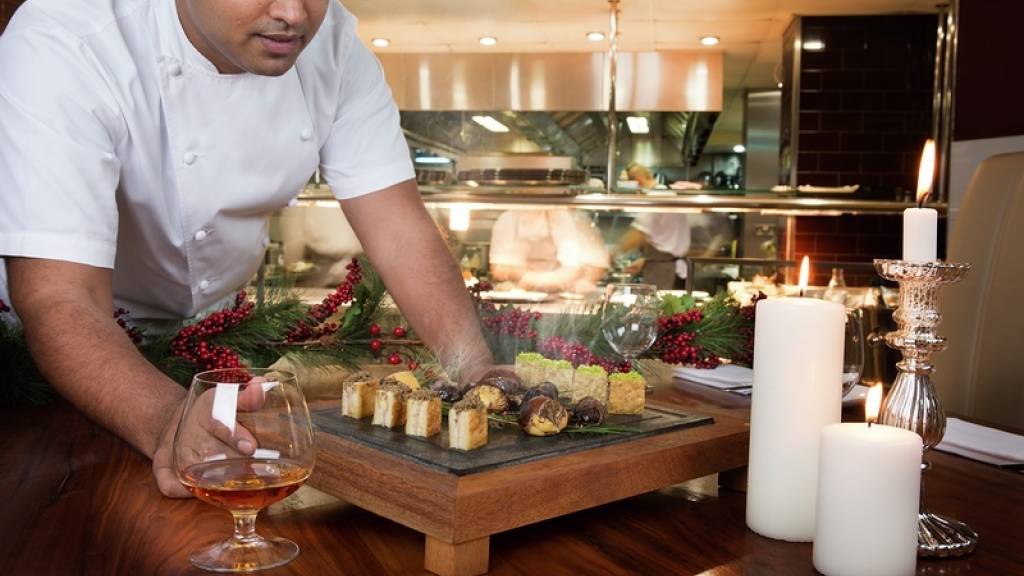 There's no shortage of Christmas dinner ideas at this time of year, but don't get too distracted by gimmicks. What really matters is how it all comes together in your kitchen on December 25th!
The key is planning. You can put together a Christmas dinner menu that is both simple and impressive when you concentrate on dishes that benefit from being prepared well in advance.
This is one of the secrets of running a top restaurant kitchen, too – so who better than Larry Jayasekara, head chef of Michelin-starred Pétrus, to ask for new Christmas menu ideas.
All is calm, all is bright
'Turkey's boring and it's easy for people to get it wrong,' says Larry. 'If the turkey comes out dry, Christmas dinner is ruined.'
We certainly don't want that! Instead Larry recommends a wellington. There's good reason why it's a signature dish of Gordon Ramsay Restaurants. You can find recipes to serve two and five guests in our collection.
Make multiple wellingtons to suit the number of guests you are expecting, rather than aiming to make one gigantic one – you'll be restricted by the size of fillets available anyway.
Larry's choice of meat would be venison – and this Christmas Eve he's serving Highland venison Wellington with truffle pomme purée, salt-baked beetroot and juniper jus at Pétrus's Kitchen Table.
If some guests don't eat meat, a winter root vegetable wellington makes the perfect vegetarian Christmas dinner – a combination so good, it's also been on the menu at Pétrus.
'A wellington is a massive showcase for the cook and always goes down well,' says Larry. 'Yet it's prepared completely in advance of serving, so all you have to do on Christmas Day is put it in the oven for 20-30 minutes.'
Think of all the kitchen and head space that frees up! Leaving you time to concentrate on things like….
Christmas side dishes
Seasonality is fundamental to good cooking, especially in the depths of winter. But you can add real flair to your Christmas dinner menu simply by carefully selecting the veg.
'There's so much more to choose from than parsnips and carrots,' says Larry. 'I like to serve some things that guests wouldn't usually expect. It's a great time of year for Jerusalem artichokes, for example.'
He'd also include the beetroot he's growing in his garden at the moment, and a luscious variety of seasonal mushrooms.
Brussels sprouts, however, are one Christmas cliché that he thinks a must. Larry suggests frying them in burnt butter after boiling. 'This makes them fluffy inside and crispy outside – perfection.'
What about starters?
'I'm all about the prawn cocktail,' says Larry. 'It's a favourite, a classic, and can all be prepared beforehand, so it's great for dinner parties.'
You could serve a light French onion soup instead or, to add a dash of tasting menu je ne sais quoi, serve the soup after the prawn cocktail, as Larry would.
To finish, you just need a Christmas pudding – again, this is something cooked well in advance so all you need to do on December 25th is heat it up. Use our masterclass's classic recipe or buy in your favourite.
'Serve with brandy butter instead of brandy cream,' says Larry. That can be made two weeks in advance and stored in the fridge, or frozen for up to 3 months. See – you could have made it back in September!