Bang Bang Turkey Salad Recipe
Wednesday 5 August 2015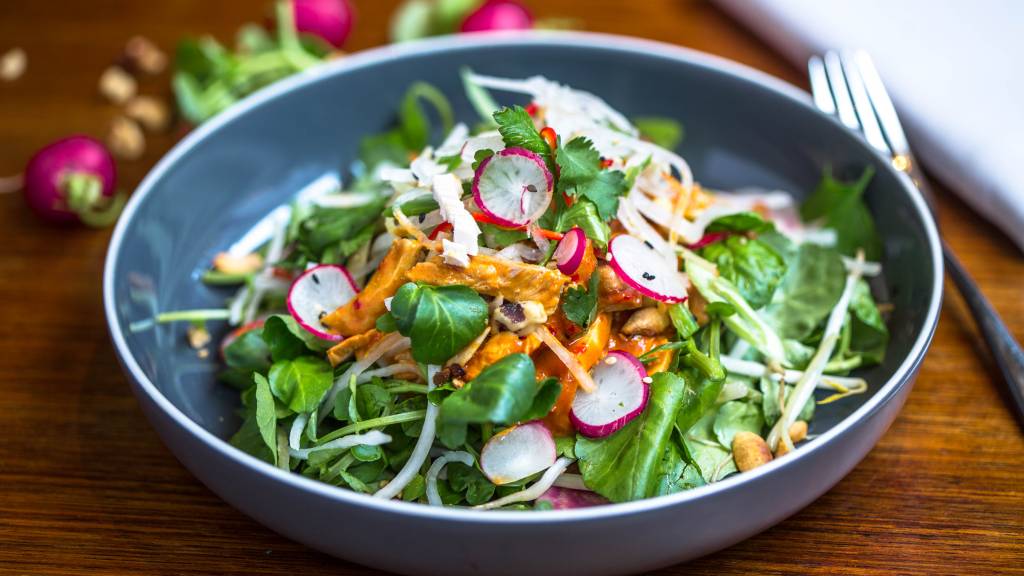 This recipe for Bang Bang Turkey Salad was developed by the head chef at Gordon Ramsay's Bread Street Kitchen restaurant.
Prep time: 15 mins
Cook time: n/a
Total time: 15 mins
Yield: Serves 2 
INGREDIENTS:
For the salad:
- 600g leftover turkey breast/thigh shredded
- 140g bean sprouts
- 80g breakfast radishes
- 120g watercress
- 60g toasted peanuts
- 4 spring onions
- 60g mouli/Daikon
- 20g chilli and ginger freshly chopped and blanched
- 10g sesame seeds
- half a bunch of corriander
For the sauce:
- 50g chilli garlic paste
- 60g peanut butter
- 10g sesame oil
- 10g mirin
- 10g rice wine vinegar
- pinch of sugar and paprika
- 2 large onions
- Butter
Directions:
- Wash all the salad ingredients and finely slice the radishes, spring onions & mouli.
- Mix the watercress, bean sprouts, radishes, mouli, ginger and chilli and season with salt and olive oil then place them in serving bowl.
- Warm up the turkey with the sauce and place it on top of the salad.
- Mix the spring onions, chopped coorriander and radishes and place on top. 
- Finish with toasted peanuts and sesame seeds.