Summer Salmon with Watermelon Recipe
Saturday 18 July 2015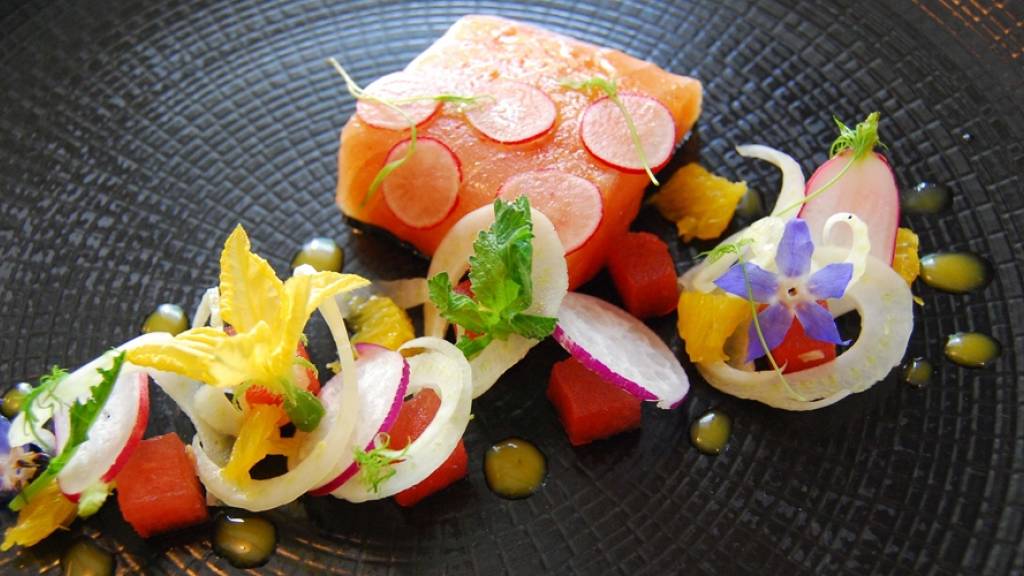 This recipe for summer salmon with watermelon was developed by the head chef at Gordon Ramsay's maze restaurant.
Prep time: 30 mins
Cook time: 10 mins
Total time: 40 mins
Yield: serves 2
INGREDIENTS:
- 4 portions of 85g salmon
- 50g olive oil
- 5g paprika
- Salt
- ½ bunch breakfast radish
- Black radishes
- 1 Orange
- 200g watermelon
- 300ml orange juice
- 50ml chardonnay
- 1 bunch dill
- 1 bunch basil
- 20g dijon mustard
Directions:
- Season the salmon with salt and paprika
- Vacuum pack the salmon with a bit of oil and then poach in the steamer at 45 -degrees Celsius for 8 minutes.
- When salmon is cooked, chill in ice.
- Peel the orange, segment them and reserve the juice for the dressing.
- Reduce orange by half add vinegar and mustard, the oil and the dill finely chopped.
- Shave radishes using a mandolin.
- Dice the watermelon into centimetre cubes
- Season the shaved radishes, the oranges, melon with salt.
- Make a simple dressing using the citrus juice, chardonnay, vinegar and olive oil
- Garnish the plate as in the image.