Braised Lamb Shank with Spring Baby Vegetables Recipe
Monday 3 August 2015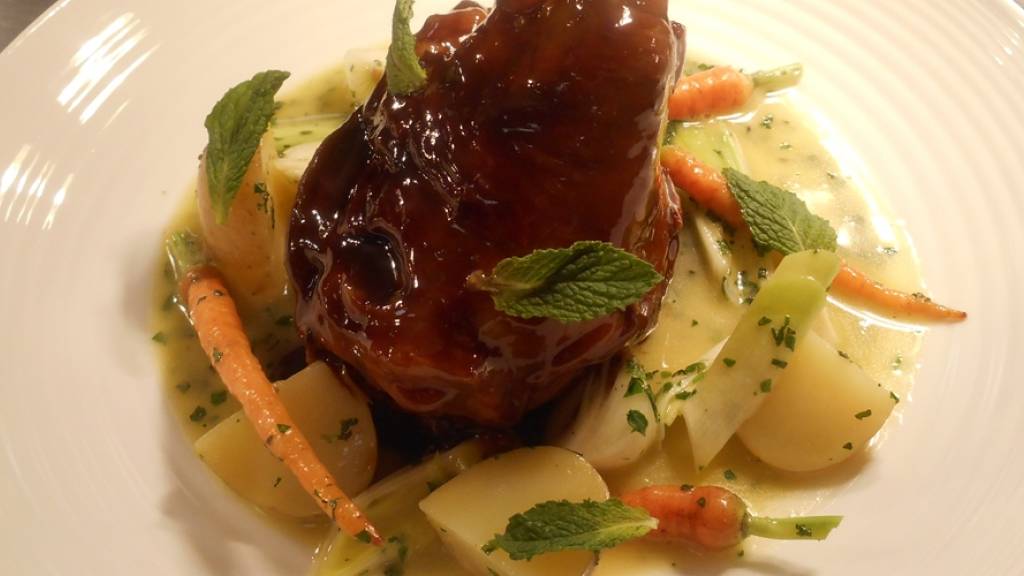 This recipe for braised lamb shank with spring baby vegetables and wild garlic was developed by the head chef at Gordon Ramsay's Savoy Grill restaurant.
Prep time: 2 hour
Cook time: 2 hour
Total time: 4 hours
Yield: Serves 2 
Ingredients:
For the lamb:
- 1 lamb shank
- 100g leek
- 1 celery stick
- 1 small white onion
- 3 garlic cloves
- 1 carrot
- 3 sprigs of thyme
- 1 sprig of rosemary
- 1 bag leaf
- 50g tomato puree
- 1 litre white wine
- 1 litre veal stock
- Rapeseed oil
- 50ml sherry vinegar
- Salt and pepper
Vegetables:
- 2 Jersey royals (cooked in salted and mint water)
- 2 scallion onions (blanched and cut in half)
- Baby heritage carrots x1 of each colour (cooked in tarragon and butter) emulsion
- 2 baby leeks
- 3 leafs of wild garlic
- 100g butter
- 1 lemon wedge
- 2 sprigs of mint
- Salt and pepper
Directions:
For the lamb shank:
- Season the lamb with salt and pepper.
- Heat the pan with oil and colour the lamb.
- Take the lamb out of the pan and roast the veg, adding in the tomato purée.
- Deglaze the pan with white wine, add veal stock and herbs.
- Place the lamb back in to the pan. Make sure is covered with stock and place it in the oven at 160c for two hours.
- Check the lamb has to be nice and tender, almost falling of the bone.
- Remove it from the pan, pass the stock, discard all the vegetables and reduced until reaches glaze consistency.
- Adjust the seasoning and finish it with sherry vinegar.
- Place the lamb back into the glaze and leave in warm place.
For the baby vegetables:
- Place the reserve water from jersey royals and carrot liquid in the pan, add cold chopped butter and leave to come to emulsion.
- In the meantime cut vegetables in to bite size.
- Add baby veg in to emulsion, bring it to the boil and season it.
- Finish it with picked mint, squeeze of lemon juice and chopped wild garlic.
For plating:
- Use a large bowl and place baby veg, on top lay the lamb and pour a little of the glaze on top.
- Garnish with fresh mint leaves and wild garlic.