BREAD STREET KITCHEN INTRODUCES MEANTIME'S 'BREWERY FRESH' LAGER AND NEW FLATBREAD MENU TO MATCH
Tuesday 2 August 2016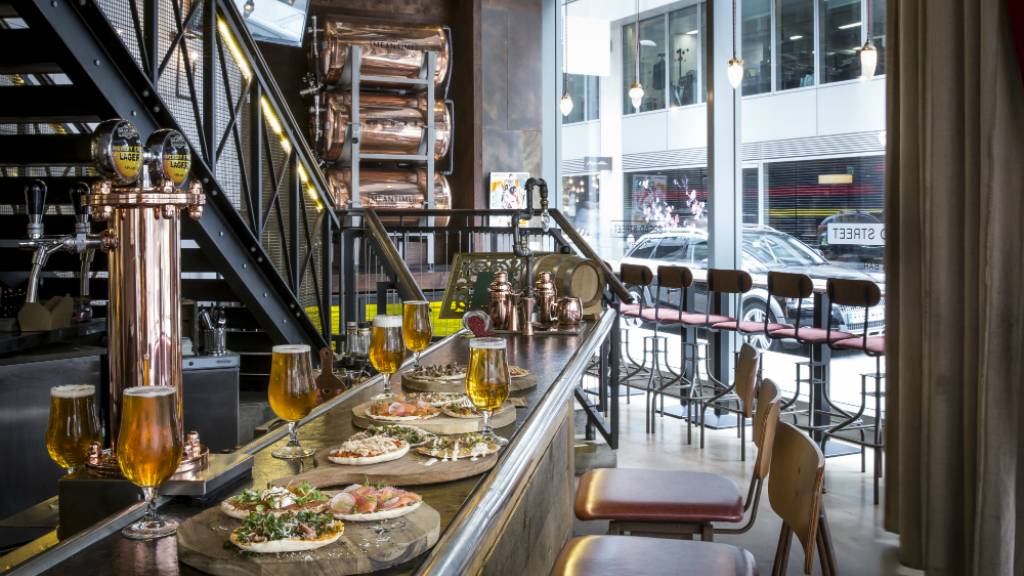 Bread Street Kitchen, Gordon Ramsay's all-day restaurant in St. Paul's, has partnered with craft brewer Meantime Brewing Company to introduce 'Brewery Fresh' tank beer and have launched a new flatbread menu to celebrate the tank installation. The brand new tanks bring Brewery Fresh Lager to discerning drinkers searching for a pint as fresh as the day it was made, and the new bar menu offers unique flatbread recipes, perfectly paired to the beer.  
The destination restaurant with a globally inspired menu has introduced the new flatbread menu to the lively downstairs bar. Allowing customers to grab a quick bite and experience unique and interesting flavour combinations, the flatbreads are designed to eat whilst enjoying a sip of brewery fresh larger. Using the finest quality meats and seasonal ingredients, the flatbread menu, created by Head Chef Paul Shearing includes:
Sweet potato purée with Italian sausage, pine nuts, crispy kale and shaved parmesan


Confit duck with caramelised onion, pickled red cabbage 


Anchovies with piccalilli peppers, almonds, quail egg


Herdwick lamb with spicy baba ganoush, tahini, pistachio and za'atar
Dispensed straight from specially engineered, custom built tanks, Brewery Fresh Lager is a unique way of serving beer as the beer has no contact with oxygen until it hits the glass, ensuring ultimate freshness. The well-rounded and smooth lager is unfiltered, naturally carbonated, unpasteurised but bursts with enhanced flavours and aromas.  
The Bread Street Kitchen bar 'Beer and Flatbread' menu is available now.