Gordon Ramsay releases Royal Doulton Union Street Café collection
Monday 4 July 2016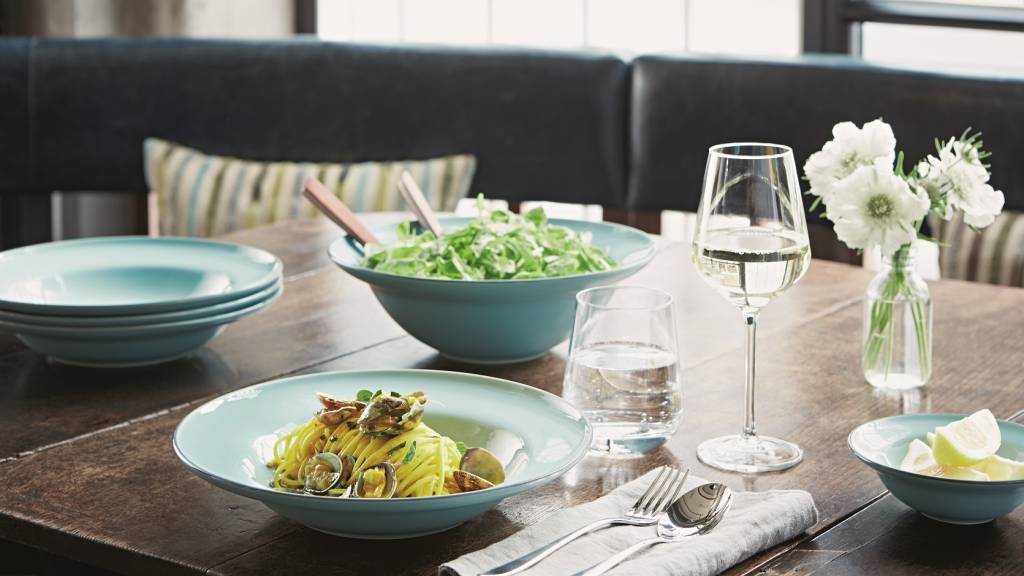 Globally renowned chef, Gordon Ramsay, introduces his new Union Street Café collection for Royal Doulton. Building on his successful Royal Doulton collections to date, Union Street Café is inspired by the down-to-earth nature of his London based restaurant by the same name. With a rustic yet striking design it pays homage to Ramsay's preferred style of dining when he's at home with his family and friends.
Union Street Café opened in Waterloo, London in September 2013. The restaurant offers a Modern European menu, with only 18 dishes and a focus on local and artisan ingredients. This "less is more" approach is reflected in the new ceramic collection. Bringing a relaxed atmosphere to the dining table, the new Union Street Café collection is homely yet stylish. Ensuring everyday meal times are enjoyable and inviting, Ramsay's new collection of tableware ensures your food always looks tempting, whether you are sharing traditional Italian bruschetta on platters or serving delicious pasta dishes to guests.
What is evident throughout the range, is that both Royal Doulton and Gordon Ramsay understand the importance of spending quality time with the family, sharing good food and conversation. The Union Street Café collection was created with exactly this in mind. Placing an emphasis on casual dining, the collection is made up of plates, cereal and pasta bowls, mugs, serving platters and bowls with a speckled glaze incorporated in either cream or blue. Whether you buy the collection as a large, streamlined set or prefer to add a personal touch by mixing and matching colours, the Union Street Café collection offers beautifully designed, quality product.
Dik Delaney, Head Designer at Royal Doulton, spoke of the new range: "We are extremely happy to be continuing our successful partnership with such a well-regarded, internationally known chef. Gordon has worked closely with the team at Royal Doulton to deliver a collection which is unlike any other, yet one that suits a manner of tastes. Both finishes echo a laid-back approach to dining, with bright blue shades reflecting the calm Mediterranean sea and cream items creating a simple but sophisticated table setting. With the new Union Street Café collection, your honest, home-cooked dishes will always look fantastic."
Built to last, every item within the Gordon Ramsay Union Street Café range is dishwasher and microwave safe.
Shop the full Royal Doulton Union Street Café collection HERE.