GORDON RAMSAY CELEBRATES THE BRITISH OUTDOORS THIS SUMMER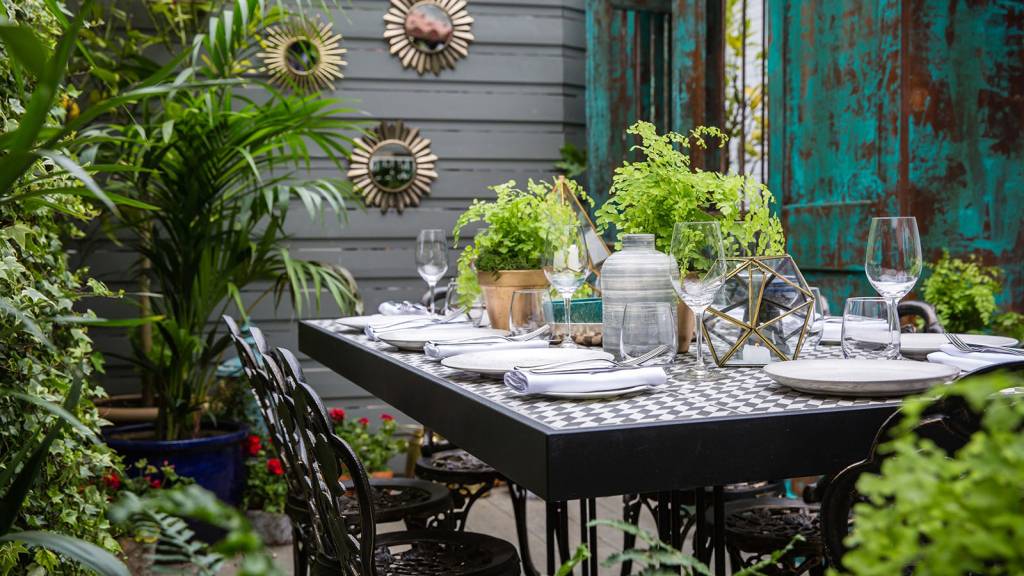 This summer, two Gordon Ramsay restaurants are offering Londoners the chance to celebrate the British summer inside or out, with the opening of two stunning gardens in partnership with Bacardi brands; The Allotment, inside Bread Street Kitchen in the heart of the City and a Secret Garden, outside neighbourhood favourite London House in Battersea.
The Allotment, Bread Street Kitchen
This summer, Bread Street Kitchen will create a living allotment inside the striking glass restaurant, complete with hanging plants and strawberries, herbs and vegetables. The pop-up will also feature a greenhouse-inspired private dining area and a garden shed photo booth. Guests can head to the heart of the city to experience and learn more about the beauty of home-grown ingredients and how space-restricted Londoners can make the most of what they have.
The specially created menu will use fresh ingredients and herbs from the allotment to include dishes such as botanical rubbed ham, chilled pea and mint soup, and blueberry, coriander seed and Bombay Sapphire cured salmon. Desserts include Earl Grey and cinnamon chocolate mousse with strawberries and almond shortbread.
A summer cocktail menu will include highlights such as the Garden Spritz; watercress and garden pea infused Bombay Sapphire with lemon, St-Germain and tonic and the Mint Paloma; Patron Silver, grapefruit juice, lime, agave syrup, mint and grapefruit bitters.
In the greenhouse private dining room, guests will enjoy a six course menu paying homage to the humble tomato. Enjoy an intimate dining experience where the expert team will guide you through each dish and reveal unique and interesting ways to use the ingredient. Highlights include tomato tartare prepared live at the table and basil brûlée with tomato jam and olive and rosemary shortbread.
Guest will also take home a packet of mint seeds along with a special cocktail recipe to continue to celebrate British produce at home. On weekends, chefs will run special kids 'pick your own' pizza masterclasses, where children will explore The Allotment, select their own pizza toppings and learn about how produce is grown. Meanwhile, parents can relax with a delicious champagne brunch.
The Allotment will also feature a big screen to show some of the best of this summer's sporting events including Wimbledon and the Tour de France.
 Secret Garden, London House
In Battersea, London House has transformed its al fresco terrace into a secret garden. Entering into the garden, guests are transported to an enchanted space with cascading wisteria, plants and flowers. 
The Secret Garden is a hidden gem in London, offering the ultimate outdoor space to enjoy drinks and food this summer. Inside the garden, a hidden rustic door creaks open to reveal a stunning semi-private dining area, where parties of up to eight can enjoy the garden setting. 
The Secret Garden cocktail menu will comprise cocktails infused with fresh herbs which guests can enjoy drinks alongside the a la carte menu. Cocktail options include the Violet Twilight; Bombay Sapphire, crème de violette, Cointreau, lavender bitters and lemon juice.
The garden is open for bookings seven days a week, with extended hours on the weekend.
To reserve a table at The Allotment, or to book 'The Greenhouse' private dining experience for 2, contact Bread Street Kitchen
on 0203 030 4050 or email reservations@breadstreetkitchen.com.
To book an area in the Secret Garden, or reserve the exclusive Garden Table for up to 8 guests, contact London House
on 0207 592 8545 or email londonhouse@gordonramsay.com.