Best locations for your Christmas party in London
Wednesday 14 August 2019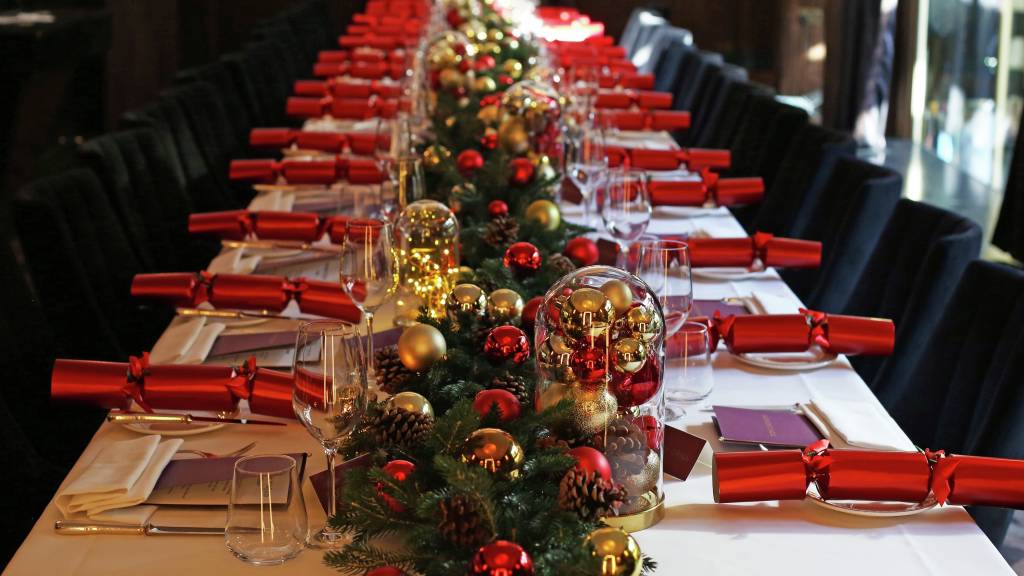 We may be in the middle of August, still reminiscing about the heat waves of the Summer (and hoping for more) but this is the time to start thinking about the all-important Christmas party. Whether you're planning a festive catch up with friends, a fun office party, or a sit-down Christmas dinner, there are plenty of Christmas venues in London which are perfect for a range of events. Discover (what we think are) some of the best Christmas party locations below.
Glitz & Glamour
If you're looking for a venue to impress, and your group are a fan of the finer things in life, then we suggest either the Savoy Grill or Lucky Cat by Gordon Ramsay. These are two very different venues.
The Savoy Grill is a stalwart of the London hotel scene and has been in operation for decades. Guests will feel incredibly special sweeping up to the entrance of the Savoy Hotel before making their way up to the private D'Oyly Carte room for their Christmas party (which can be seated or standing). If you're looking for tradition, style and class then the Savoy Grill on the Strand is the party venue of choice.
Food choices at this French style restaurant include Gordon's signature dish – Beef Wellington – as well as French classics including oysters, lobster, and crepe Suzette. The Savoy's Christmas menus include salt baked turkey with roast potatoes, stuffing and cranberry sauce, pan fried sea bream with confit potato, and Christmas pudding with stout cream. Delicious.
Lucky Cat by Gordon Ramsay, in London's fashionable Mayfair, is a very different animal – but has glitz and glamour a plenty. This beautiful newly opened Asian inspired restaurant features two Chef's Tables (which seat 10 and 12 guests - perfect for an intimate festive celebration) as well as three private dining rooms which can seat up to 40 guests.
At the Chef's Tables, the menu changes daily depending on what's in season, which ingredients are at their best, and what the chefs are inspired by that day. Menu items may include seared scallop with sweetcorn & yuzu hot sauce, prawn toast with kimchee, and confit duck leg bao with spicy hoisin. The private dining rooms have their own menus, separate from the main restaurant – you can read their Christmas menus here.
Christmas in the City
If you're looking for a Christmas venue for offices in the middle of the City of London, then look no further than Bread Street Kitchen. On Bread Street by One New Change & St Paul's Cathedral, this cavernous restaurant is ideal for large groups getting together for a good old fashions Christmas knees up.
The venue can be exclusively hired, or you can hire the Street Lounge area – complete with space pod.
Food includes platters of sushi and mini desserts, canapes, or if you're looking for a sit-down meal options include red wine braised beef, steamed sea bream, spicy tuna tartare (which is one of our favourites!) and traditional roast turkey. Discover Bread Street Kitchen's Christmas menus for groups here.
A West End Party Venue
The best kept secret in the West End – Hidden Heddon – is available for exclusive hire for Christmas party bookings. This incredible underground venue is nestled beneath Heddon Street Kitchen, just of Regent's Street and close to Oxford Street (making it easy for people to get home afterwards!) Hidden Heddon's pared back, modern style and extensive cocktail list make it the perfect place for a drinks party, or you can make it a sit-down dinner here, too. Read Heddon Street's Christmas menus here. 
Intimate settings for festive celebrations
We get it, sometimes you don't want a large venue for your Christmas party. If you're looking for something smaller and more intimate, then The Narrow Gordon Ramsay, and London House in Battersea offer the perfect choice.
The Narrow Gordon Ramsay, by the river Thames in Limehouse, has two private dining rooms both available for exclusive hire and is the perfect place for a smaller Christmas celebration. This restaurant is well known for their modern British food and incredible views towards Canary Wharf and the City. A ten minute walk from Canary Wharf, this is a great option for office parties. Christmas menus include slow cooked pork belly, traditional turkey ballotine, and roast sea bream with clams.  
London House is set in beautiful Battersea Square, near the river. Its roaring fireplace, squashy sofas, and long copper bar make a great setting for any party this festive season.
Christmas gifts for colleagues

If you're scratching your head about Christmas gifts for employees, colleagues or clients this year – then get this sorted at the same time as booking your party! We've got a huge range of vouchers which make ideal Christmas presents, plus if you buy in bulk, you'll get a discount. Choose from monetary vouchers, Masterclasses, meal vouchers and experiences at all of our London restaurants.
Discover all location for a Ramsay Christmas Here.