Chefs' favourites: Truffles
Tuesday 22 October 2019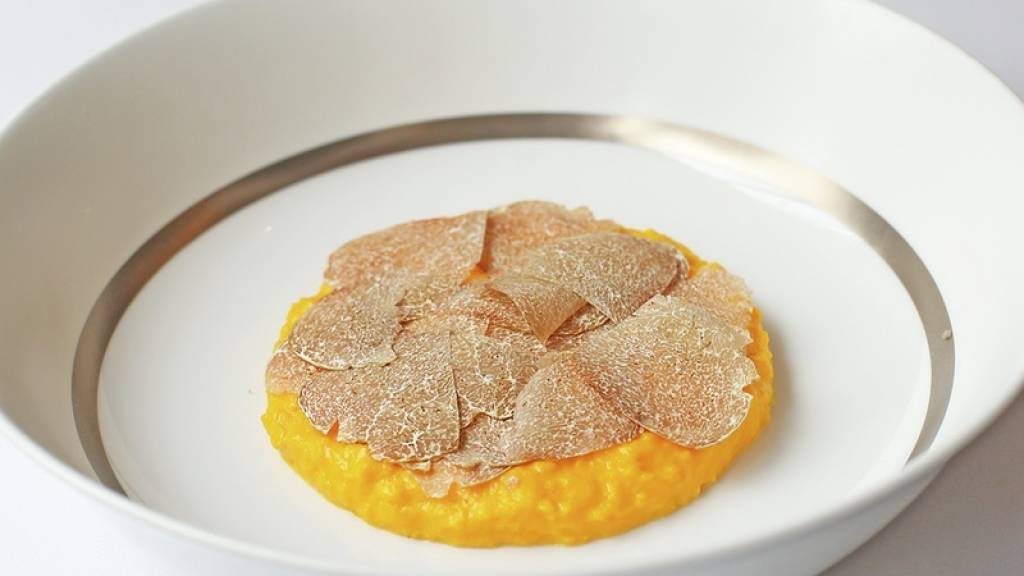 Truffles are the ultimate luxury ingredient and we're celebrating them in all their glory in our restaurants and beyond. To get to the bottom of what makes truffles so special, we asked our chefs for their top truffle tips and personal favourites when it comes to cooking with truffles, eating truffles and generally making the most of them, both at home and in their restaurants. Pasta and scrambled eggs are definitely ones to try!
Matt Abé - Chef de Cuisine, Restaurant Gordon Ramsay
Favourite type of truffle: 'For me it's the black truffle. As an Aussie I have to say that the Australian winter truffles are really good, but they are only available in the summer here - I prefer cooking with truffles in winter as they lend themselves to rich, comforting, luxurious foods, so for seasonality it's usually European ones, usually from France or Spain.'
Favourite ingredient pairings: 'Hard to choose; eggs, cheese, pasta and potatoes are all perfect vessels for truffle, they're hearty and indulgent, yet still let the truffle be the star.'
Favourite restaurant creation: 'When in season, we do a black truffle and Brie de Meaux fondue which I love, served with fresh honeycomb, bee pollen and fried bread.'
Favourite ways to eat truffle: 'You have to try cauliflower cheese with truffles, it's the best. Otherwise I'd go for roast chicken as the ultimate Sunday lunch, and simply shaved over scrambled eggs is pretty hard to beat. I've also got really fond memories of working back in Australia at a restaurant called Vue de Monde where we had an amazing black truffle risotto.'
Ben Orpwood - Executive Head Chef, Lucky Cat
Favourite type of truffle: 'Australian black truffles. I lived in Australia for a long time and often went hunting for them out there. For me they're just more consistent than a lot of others, they're always good quality. It's great to be able to use these in summer too, they just add that luxury feel to dishes on the menu. White truffles really are the best in terms of pure flavour and aroma, but I find they can be hit and miss.'
Favourite ingredient pairings: 'Mushrooms, which goes without saying, and I have no idea why really, but sweetcorn just works so well with truffle, it just tastes delicious. Even if you just put some simple truffle oil over the top of the corn, they both just taste better together.'
Favourite restaurant creation: 'We've had a crab and sweetcorn chawanmushi on the menu which was just the perfect dish - it was one of those dishes that was so simple to put together and it just worked straight away. Usually you tweak and change a recipe lots before it makes it to the menu, but this was just right, it's a Japanese-style steamed custard with brown crab and dashi, a sweetcorn purée and white truffle on top. Coming up we've got an unusual apple millefeuille dessert; I wasn't expecting the truffle to work with the apple but with the pure, deep flavour of the white truffle it really does. We've combined it with Chinese five spice so there's some really surprising flavours but the truffle just rounds it all off and brings it together. For desserts you normally pair truffle with chocolate but we wanted to steer clear of that.'
Favourite ways to eat truffle: 'If I'm anywhere else and not cooking it myself, I think it's best just with pasta. Something really clean and normal, you don't always have to add tons of other ingredients, some things are better just kept simple.'
Christina Wilson - Executive Chef, US Restaurants
Favourite type of truffle: 'I love it when white truffle season comes around, it's such a special time of year. As a chef, it's a real treat to be able to cook with these amazing ingredients. About 15 years ago, I was first introduced to bianchetto, the 'little white truffle', which has been my favourite ever since. My head chef at the time opened this crumpled brown paper bag with this tiny thing inside that looked like a small stone, but she was so excited by it I soon got the bug too!'
Favourite ingredient pairings: 'Fresh pasta. The process of making pasta from scratch is structured but also graceful and even beautiful as it all comes together, I think it parallels how truffles grow in nature, making them a perfect pairing for me.'
Favourite restaurant creation: 'We've been really lucky and had the opportunity to do some great things with truffles across the US restaurants, in particular when filming or hosting special events. For Elton John's Oscar party a few years ago, we did a hamachi crudo (marinated fish) with the most amazing white truffles shaved over the top. My personal favourite though is probably Gordon's classic truffle risotto. We occasionally feature this as a special - the core recipe is always the same as it's so spot on, but we like to be creative and have some fun with the plating of it.'
Favourite ways to eat truffle: 'I just love freshly shaved truffles with a classic pasta carbonara. Nothing beats fresh pasta, egg yolks and fresh truffle. If you've got good quality ingredients, you really don't need to do anything more complicated to elevate them.'
Ben Waugh - Executive Head Chef, Savoy Grill
Favourite type of truffle: 'My personal favourite is the classic white Alba truffle, from the Piedmont region of Italy where they really celebrate the truffle.'
Favourite ingredient pairings: 'Pasta and Parmesan. One of my favourite dishes from the restaurants is linguine with an aged Parmesan velouté and plenty of white truffle shaved over the top - it's a classic pairing that just works so well.'
Favourite restaurant creation: 'In the past we've had the traditional French dish tournedos Rossini on the menu; fillet steak with foie gras, a rich Madeira sauce and shaved black truffle. It's a dish often associated with the history of the Savoy so is great to do. At the moment we're serving a really special beef Wellington which has black truffle through the mousse layer, and you can add extra truffle on top of course.'
Favourite ways to eat truffle: 'I love scrambled eggs with truffle, it's really simple but just the best.'
Davide Degiovanni - Executive Head Chef, Union Street Café
Favourite type of truffle: 'I grew up in Italy near Alba, so for me I prefer the white truffles to the black. The problem is these are only really available for two months each year, so I do love the black truffles as well when they're in season. There are three main types of black truffle and my favourite is the uncinatum, the season starts in early October and it's known as the winter truffle, it's nice and black but the inside is beautifully patterned with white stripes.'
Favourite ingredient pairings: 'I always say truffles need to be treated as simply as possible. The two ingredients for me that marry perfectly with truffles are butter and eggs - they are delicate flavours that don't overpower the truffle. When combined, the truffle flavour is elevated to a new level.'
Favourite restaurant creation: 'We always do pasta, taglioni cooked in Italian butter with white truffle or carbonara with the black truffle. This year I'm really excited by the beef dish we're doing. It's like a Wellington but we wrap the beef fillet in a duxelle made with three-quarters black truffle to one-quarter mushrooms, and instead of pastry it's a pizza dough crust. With white truffles we also like experimenting with desserts, for example serving on top of a Marsala zabaione - it's rich and creamy but also really light, and we add some hazelnut liqueur to compliment the truffle.'
Favourite ways to eat truffle: 'Eggs, cooked slowly in butter, sunny side up with a really runny yolk, then plenty of truffle on top. Otherwise, fresh egg semolina pasta - again, cooked in butter, with a thick layer of truffle grated over the top just like Parmesan. I can eat loads of it! Whenever I visit home at this time of year I always go to the Alba truffle market, they shut the whole town every Sunday and it's just full of local producers. You can buy truffles direct from the hunter so you know they're as fresh as possible. I also visited a farm in Umbria to see how they were harvested, we started the day at 8am with coffee and truffles!'
Robert Mazur - Executive Head Chef, London House and York & Albany
Favourite type of truffle: 'Here at the restaurants we love cooking with black truffles. We can get them throughout the year as there are summer and winter varieties and they are great for incorporating into our existing dishes without overpowering them. Our manager Francis is from near the Périgord region which is famous for its black truffles and he thinks they're like natural diamonds. They're a bit rugged but all about the flavour.'
Favourite ingredient pairings: 'There's the signature truffled Brie mash which just sums up the perfect pairing. You can't beat buttery mashed potato, but the truffle just shifts things up a gear, like a nitrogen boost in a car. Goat's cheese is another one I think works brilliantly, it's got that creamy texture that truffle just works so well with. Truffle is a bit like salt or garlic - it helps to bring flavours together, to enhance those original ingredients but still bring a flavour of its own.'
Favourite restaurant creation: 'We often use truffle to give a special edge to existing dishes like the mash and beef Wellington. When we have fresh truffles in, we ask guests if they want to add extra shaved on top, it adds a bit of drama at the table. We've got a special dessert as part of this year's Truffle Makers campaign which is a blackberry set cream, it's rich but with the blackberries bringing a forest flavour that works really well with truffle.'
Favourite ways to eat truffle: 'It's all about infusing the truffle into a sauce for something really simple. Say pasta or simply cooked veal, with a truffle-infused sauce or butter mixed through.'
Dario Catapano - Executive Head Chef, Bread Street Kitchen
Favourite type of truffle: 'That's an easy one, the white Alba truffle. For me, it's definitely one of the best ingredients in the world.'
Favourite ingredient pairings: 'I love using truffle with fresh pasta or in the filling for stuffed pasta. Beef is a classic, particularly with something like carpaccio or tartare. Or of course, eggs.'
Favourite restaurant creation: 'Doing the special Truffle Maker's menu has been an amazing way to show our love of truffles, we've really gone for it! We've had truffle nuts as a snack, fluffy gnocchi filled with ricotta and truffle, then a beef sirloin carpaccio with black garlic, truffle and a mushroom dressing (definitely my favourite!). For dessert, a beautifully rich chocolate cheesecake, it's made with white truffle-infused honey which is a great combination.'
Favourite ways to eat truffle: 'The best way is just to shave the truffle straight over fried eggs or fresh, buttered tagliolini pasta. So simple but such an effective way to enhance the dishes.'
Want to sample some of these amazing truffle dishes for yourself? Then book a table during our Truffle Makers campaign this October to get your truffle fix. We've also got special events, truffle recipes to cook at home and much more to get you inspired.