Chelsea Pensioners Christmas Lunch at Restaurant Gordon Ramsay
Friday 29 November 2019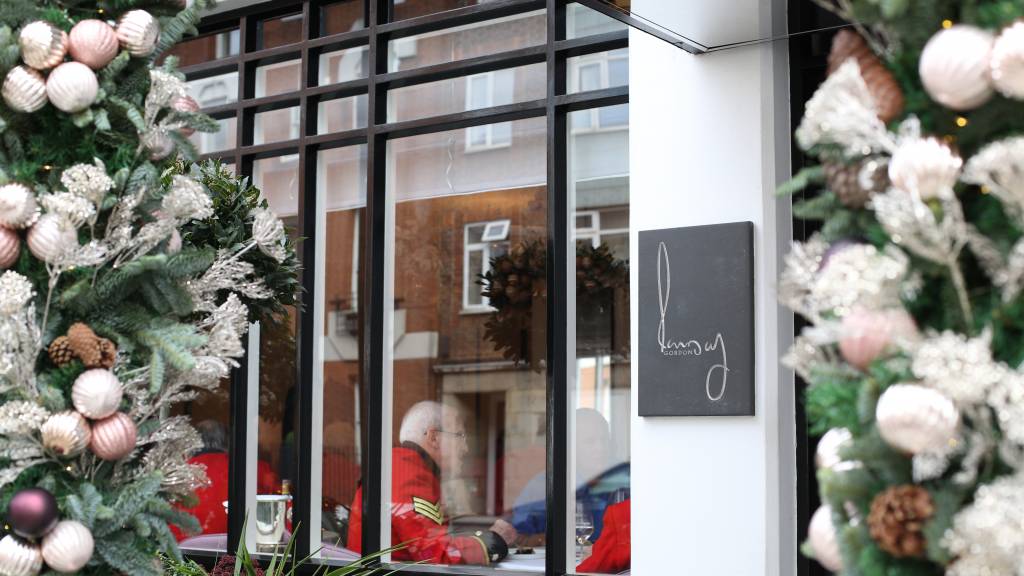 Every year, Gordon, Tana and the team at Restaurant Gordon Ramsay, invite their friends and neighbours, the Chelsea Pensioners, to a very special Christmas lunch service.
Christmas is all about traditions; putting the tree up, tasting that first mince pie, singing along at a carol service and those special meals you share with loved ones. This is particularly important to Gordon, and for him three crucial 'f-words' really sum up the festive season: friends, family and food. Not only does Gordon celebrate his own traditions at home, but every year in early December he extends this invite to a very special group of people in London.
Restaurant Gordon Ramsay has been an iconic feature on Royal Hospital Road since Gordon opened the doors to guests in 1998. His first wholly owned restaurant, the award of three coveted Michelin stars in 2001 shone the spotlight even more brightly on this leafy Chelsea neighbourhood, which also happens to be home to another iconic institution. The Royal Hospital opened its doors over 300 years ago, commissioned under the reign of King Charles II as a home for old and injured soldiers – a mission it still embodies today.
Beautifully designed by the famous architect, Sir Christopher Wren, the main buildings originally housed 476 veteran soldiers and were set within vast landscaped gardens overlooking the river. Over the years, the Hospital been altered and added to, renovated and improved, but has always maintained its commitment to providing a comfortable home, medical care, companionship and support to those that have served in military life.
Currently home to some 300 army veterans from all walks of life, Gordon soon realised what a special place this was, and inspired by their sense of friendship and community, started a new Christmas tradition with his neighbours. Every December, amidst the hectic festive season, Gordon, Tana and the team at Restaurant Gordon Ramsay invite the pensioners to a special lunch service as part of their Christmas celebrations, something which the pensioners take very seriously.      
The Chelsea Pensioners are famous for their love of Christmas, and in particular, their love of festive food. The annual 'Stirring of the Christmas Pudding', 'Ceremony of the Christmas Cheeses' and 'Christmas Cake Ceremony' have been features in pensioners calendars for decades, and all symbolise the community spirit they foster. The pensioners come together to stir and bless a ginormous vat of pudding ingredients, while cheesemongers and suppliers across the nation all send special cheeses to the Hospital for a sword-cutting celebration. Their reach extends all the way across the world to Australia, who donate a carefully crafted Christmas cake from a different state each year. All the food is shared amongst the residents throughout December, and sometimes into the new year, too.
Lunch at Restaurant Gordon Ramsay is now also a fixture in this food-filled festive calendar. The whole dining room is dedicated to the pensioners, so each year 44 veterans are able to attend and enjoy a stunning feast prepared by Chef de Cuisine Matt Abé and his team. 'We'd love to host all 300 of the pensioners, we just haven't got room!' says Matt. 'It's usually run on a ballot and we love seeing new faces each year – it's always a great laugh (they love to have a joke with us) and they all have so many incredible stories to share. Even though we're only around the corner, they all treat it like such a special occasion too, a chance for them to come together outside of the Hospital and be treated to something totally different.'
Matt also recognises the importance of the event for the restaurant itself. 'It's a really celebratory day that we always look forward to as a team, and something we all take great pride in. It's a huge team effort as we all want to deliver an amazing experience for them. It also wouldn't be possible without the support we get from some of our fantastic suppliers who donate their produce to the event every year, it just shows how respected the Royal Hospital is that so many people want to get involved.'  
Although they may seem worlds apart, from the 'berths' and infirmaries of the Royal Hospital to the Michelin-starred kitchen of Restaurant Gordon Ramsay, this sharing of food, friendship and festive cheer, shows just how close they really are.