Gordon & Christina: Uncharted in Hawaii
Monday 2 September 2019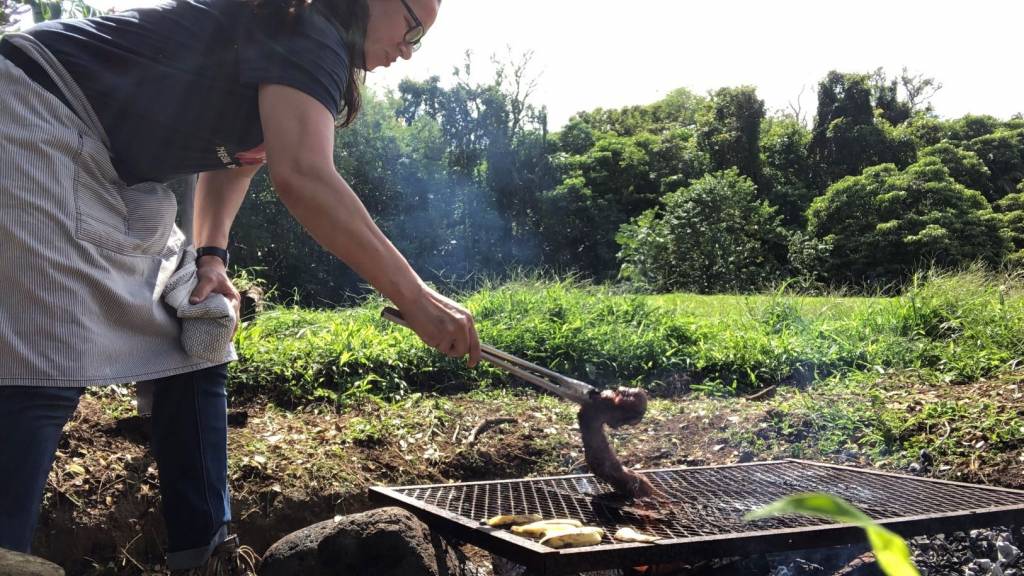 After flying into Kahului airport on the island of Maui, Christina Wilson took a pick up truck along winding cliffs, past bamboo forests, and beautiful waterfalls to the isolated community of Hana, on the Eastern point of the island. She was in Hawaii to join Gordon and his crew, filming the latest episode of Uncharted, for National Geographic. Uncharted attempts to shine a spotlight on local produce, foraging techniques and incredible chefs in six locations across the world – we sat down with Christina to find out what she learnt from her time in Hawaii.
MAGICAL MAUI
'Hawaii reminds you about the love in food. It is impossible to visit and not leave with the aloha spirit'. 
Christina Wilson
Since Christina won series 10 of Hell's Kitchen, she has worked with Gordon and his team in kitchens across the world. Uncharted was an opportunity to work with very different produce, in a very different type of kitchen. It was that first drive from the airport to Hana which mesmerised Christina, who said that 'the magic of the island hits you immediately. And only grows the further you dive in'.
'I stayed with the crew at the Ala Kakui retreat in Hana. By the time I reached the cabins, the sun was long gone, and the moon and stars back lit the sky, there wasn't nearly enough light to see my hand in front of my face, and the only other sounds were frogs and the ocean.  
We all met at the pavilion the next morning just before sunrise and planned out the day. Breadfruit was the focus and something I had never worked with before. Ulu [breadfruit] is a local and sustainable fruit that is starchy and takes on amazingly different characteristics as it ripens.
Knowing that Gordon was hunting for venison, we decided this may be able to play a part in a campfire style Shepherd's pie. We spent the day tasting and experimenting with it both in savoury and sweet form'.
VENISON SHEPHERD'S PIE
'For me, this journey is all about food and discovering what really lies behind a destination'
The foraged breadfruit and hunted venison were put to good use by Gordon, in a traditional Shepherd's pie with a Maui twist. This was one of the standout memories of the trip for Christina, as she 'got to see the local take on these ingredients and Gordon's take on what the island produced'. 
'We dug a pit on a cliff not far from the ocean's edge. Lined with banana leaves and local wood, we worked the fire until it stopped smoking and reached a steady burn. This was difficult due to excessive rain earlier in the week that left the cured wood moist and smoking for a bit. Gordon then prepared a take on Shepherd's pie using the local venison and breadfruit. It was a gorgeous and delicious British tribute to Hana and all it provided.
The venison is the only thing I wouldn't use again. Unlike deer from the mainland, this isn't indigenous to the island and is much more lean than what I'm used to working with. It was a battle getting flavour to the meat and even the cuts that typically lend towards braising and slow and low cooking were proving difficult'. 
SPEARFISHING AND FORAGING
'It makes you want to live underwater, it's that exciting'
Gordon Ramsay
During filming, Gordon went spearfishing with Kimi Werner, a world class free diver whose father would go spearfishing when she was young to feed the family. Spearfishing has been a traditional way of catching fish in the shallow waters around Maui for centuries, with people catching everything from snapper to milkfish and goatfish. After a few near misses Gordon got the hang of spearing the fish, and they took their catch back to the waiting boat to try it raw.
Meanwhile, Christina was foraging for local produce to accompany the fish Gordon caught. She said 'The citrus the island produces is incredible. Limes so sweet you almost want to eat them like an orange. Turmeric, apple bananas, cainito and fresh mint were among the most flavourful we found. Gordon was spearfishing that day and some of these ingredients were a great addition to his catch.
Then came the local fish. I got my hands on the freshest mahi mahi I've ever touched. I was thrilled to be able to break this beauty down and get it on the grill to go with some of the fruit we had previously found'.
COMMUNITY AND SUSTAINABILITY
One of the things that most surprised Christina about Hawaii was the passion that locals had for growing and cultivating as much produce as they could themselves, as well as using produce in a sustainable way.
'The dedication to community and sustainability resonated the most with me. There was an almost implicit or innate understanding of working together to keep it all intact. So much of Hawaii's food is imported, so the level of care and respect that goes into cultivating what they can sustain is unparalleled. 
Sustainability was a major theme throughout this trip. Learning about breadfruit really sparked an interest in the versatility of other ingredients that grow indigenously but are underutilised. There will always be a level of excitement when working with a rare or highly valued ingredient but learning how to best utilise what occurs naturally around you and how that success might help the eco system on a larger level is invigorating'.
THE BEST BANANA BREAD
When asked what the best thing she ate on the trip was, Christina had an easy answer. 'Banana bread. Hands down. Sorry mom, but those apple bananas make ALL the difference!'
However, her favourite meal was cooked for them by Chef Sheldon and his team at the end of filming. Sheldon Simeon grew up in Maui, and after a culinary TV career of his own he returned to Maui to cook the food of his childhood.  He now runs two restaurants on the island – Tin Roof and Lineage. Christina especially loved his chilli water which she said would 'change your life'.
'There was an entire spectrum of fresh fish, rice you'd get in a fist fight for and sauces made from local ingredients you'll never forget. He rolled up with 2 pick up trucks and 4 cooks. Soon after, everyone who worked on the episode started to arrive. So much goes into these productions! We are afforded the opportunity to eat amazing ingredients and at some of the top restaurants in their respective regions, but there's not much that feels better at the end of the day, than food that has a ton of love and respect in it being enjoyed by a crew that worked effortlessly together'.
ALOHA SPIRIT

'Hawaii reminds you about the love in food. It is impossible to visit and not leave with the aloha spirit. What I'll most importantly take back is staying close to the food I'm making. So often it can become about the guest or the concept and stray further away from the initial inspiration. The pulse of a dish can easily be clouded by analytics and I'm thankful to be coming back inspired and with a full island heart.
Being able to share in the generosity of the island was incredible. Being able to watch Gordon, in all his glory, hunting, fishing and cooking food from such a special place will be unforgettable. As a leader, what he shows us all, through example, is so valuable. To see it first hand, knowing he took that island in from sunrise to sunset every single day was incredibly inspiring'. 
Find out more about Gordon Ramsay: Uncharted here.
READ ABOUT UNCHARTED IN MOROCCO HERE