Gordon & Davide: Uncharted in Alaska
Friday 23 August 2019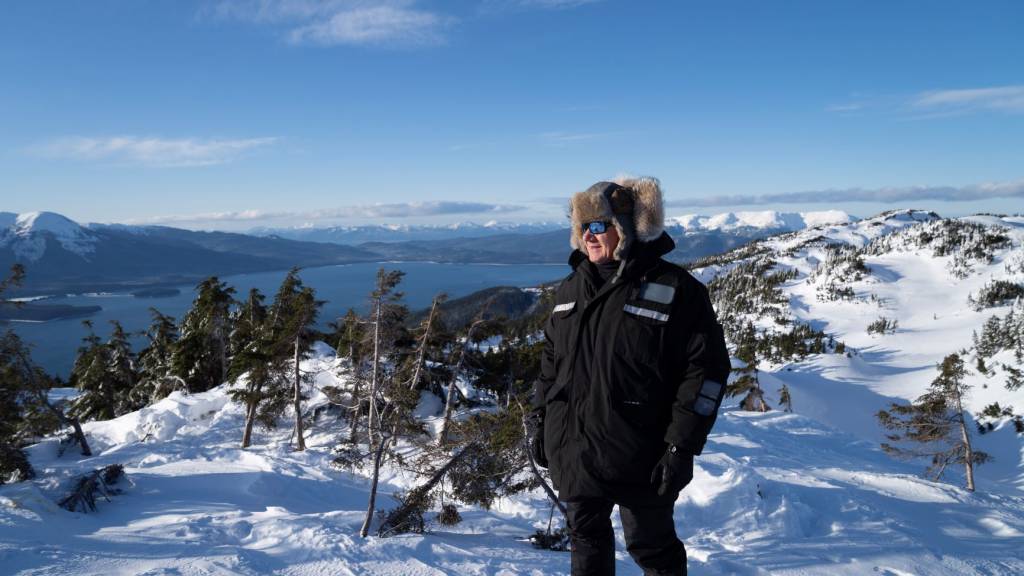 In the middle of winter, Gordon Ramsay and his Executive Head Chef Davide Degiovanni, headed to the rugged and unforgiving landscape of Alaska to film Gordon's latest National Geographic series – Uncharted.
The focus of Uncharted is to discover how people survive, thrive, and create incredible food in some of the trickiest environments, and Alaska in winter is most definitely a tricky place to make a meal. It's also a very different environment to Davide's usual kitchen – at Union Street Café in London's Southwark – so we wanted to find out how he found the experience. 
Miles of Snow and Ice 
'People go to the Maldives, go here, go there, but the landscape they have there [in Alaska] is just breath-taking'.
Davide Degiovanni
When talking about Alaska, it was clear that this was a trip of a lifetime for Davide:
'The landscape is just insane, you feel pure, you feel clean, you feel at peace with yourself. What amazed me was we went to the glacier. We arrived in a car and then there are these massive lakes which are all frozen and covered with two metres of snow. We had to walk two and a half hours to cross the lake to arrive at the glacier.
At another lake at around 3.30pm we were blown away by the fog rolling in. The lake was covered in snow and as the blue sky started to become dark and the fog was rolling into the middle of the lake in the distance we could see these two kids who were just pushing all the snow away and ice skating on the lake. Just beautiful'.
Foraging in Winter
'If people could only spend time among the food here, both foraged and hunted, they'd realise there is no choice – that it's about survival'
Gordon Ramsay
Whilst the snow and ice were incredible to see, they were a problem for Gordon & Davide's main mission – foraging.
Davide says: 'My main role was to source ingredients, going around and finding and tasting these ingredients, finding out how they use them over there. It was amazing. The only thing was, it was the wrong time of year to source lots of produce in winter, because it's really cold and everything is frozen. There are not many fish around to catch because the lakes are frozen, there is not much to harvest or forage, apart from things like mushrooms, so they do almost all the foraging and fishing during the Spring and Autumn seasons, then when it comes to January and February it's a really tough period to find things to eat'.
Davide is no stranger to sourcing the best local ingredients, as his Italian restaurant uses the freshest ingredients from nearby Borough market in London to create an ever-changing menu. However, the produce he found in Alaska was a world away from the bounteous fruit and veg on offer in Borough – instead there were much hardier plants which have to survive the constant chill, and a lot of smoked and preserved fish.
'For five days we went to the local markets, as well as foraging out in the field with local guides trying to find ingredients that they would live on during winter. We foraged some mushrooms and went to the fish market where there was plenty of smoked salmon - everything was smoked to preserve it. Then we had these mushrooms that we used to make hot drinks and an Alaskan blueberry sea salt which we used for seasoning'.
'We would go out very early in the morning and come back in the afternoon as the sun set. We were trying new things with local chefs, getting inspiration from them and understanding how they survive in this climate and with limited ingredients in the winter months'. 
One ingredient that Davide said was 'a bit unusual' was old man's beard. This is a bearded lichen which hangs from tree branches and grows along the Pacific Coast, from California right along to Southern Alaska. During filming for Uncharted, Gordon had to scale a rock pillar that was 60 feet high in order to collect the old man's beard to make tea – not an easy process for a brew!
Cooking in Sub Zero Temperatures
It's not just finding ingredients that's difficult in winter, Gordon and Davide also did a lot of cooking outside, over open wood fires, and despite the warmth of the flames the cold still managed to seep in.
'When we were cooking outside it was freezing, even at 1pm in the afternoon every ten minutes we had to stop and come inside to warm up a little bit!
One of the main cooking techniques they use in Alaska is preservation, and that's something I'm looking at now in the restaurant [at Union Street Café]. One of the locals had built a huge smoker, which was around 30 years old and looked like a huge wardrobe. We were lucky enough to use this and you just switch on the gas, add all the water and all the flavours you want and just smoke the fish or the meat'.
Juniper in Juneau
'We tried a lot of gin because in the middle of Juneau there is a distillery called Amalga distillery that produce gin made out of local juniper berries and lots of different herbs, it was very inspiring to see'.
The Juniper berries were not just restricted to gin production, they were also used for added flavour in a lot of the dishes that Gordon & Davide created during the trip – from salmon to (slightly more unusual) seal dishes.
Salmon Jerky
Salmon is bountiful in Alaska, and there are five different types of Pacific salmon that can be found there. The harsh winters mean that a lot of this fish is either eaten immediately or smoked to preserve it. In the convenience stores of Juneau, Davide also came across a lot of dried fish and meat, which included the slightly strange yet delicious salmon jerky.
'There was lots of Sockeye and King salmon [also known as chinook]. Sockeye is slightly less fatty, but more intense in flavour. The King is more elegant, a little bit more fatty, more 'king'. We tried it raw, and we tried it smoked in a small local market. They use everything, they use the belly, they use the collar smoked and shredded in salads, and we tried to smoke it both hot and cold. We marinated it with some pine needles, and juniper berries, some gin, so we were experimenting a lot'.
Cooking Seal Stew
'One of the most interesting and memorable experiences of the trip was when I cooked seal with the native people. We cooked it and you know what? I loved it. It tastes like beef, and its texture is quite gummy and strong. It's very fishy at the beginning. Apparently, the liver is better than foie gras but I didn't have the chance to try it. Like the salmon, they use all of the seal including the organs. They cure the belly and use it like bacon, but everything is smoked because the meat is very fishy. They use the fat from the seal instead of oil or butter to cook with, and they use it to preserve things like vegetables or cockles and fish.
With the meat, they smoke it for about 10-12 hours and then cook it in a stew. In my case I stewed it with onions, local mushrooms that we'd foraged, plenty of herbs, juniper and pine needles, then glazed it with a lot of gin from the Juneau distillery, and used salmon bones to make a stock. I added a few potatoes at the end and cooked it for two hours in the oven. I think this could easily be served in a restaurant with some polenta!'
The Truffles of Alaska
'This is about putting food back on the map with National Geographic, where it deserves to be'
Gordon Ramsay
As well as fish, crustaceans are an important part of the Alaskan diet. During the Autumn, king crab fishermen work incredibly hard during a very shot season to catch three different varieties of crab – red, blue, and golden. King crab fishing is one of the most dangerous jobs in America, due to the intense cold, dangers of drowning and working with heavy machinery.
Davide was a huge fan of these highly-prized crabs saying that they were 'like gold, like the truffles of Alaska. The legs are just insane. We met a lady who had built a fortune around the crab in Alaska, she owns lots of restaurants and opened up a really famous crab shack just on the river. During the summer, all of the tourists descend, and they all go there'.
Davide's passion for the vast Alaskan landscapes, and the way that Alaskan people have developed ways to combat the coldest winters whilst also using some of the best ingredients, was clear to see. During his visit, he loved getting up early to go walking. 'It was like being in a painting or being in a movie. It was so beautiful; I would like to go back to see how it is during the spring when everything is green'.
Find out more about Gordon Ramsay's Uncharted series with National geographic here, or discover Davide's incredible seasonal Italian menus and find out more about Union Street Café here.
READ ABOUT UNCHARTED IN PERU HERE