Gordon & Gilad: Uncharted in Morocco
Friday 30 August 2019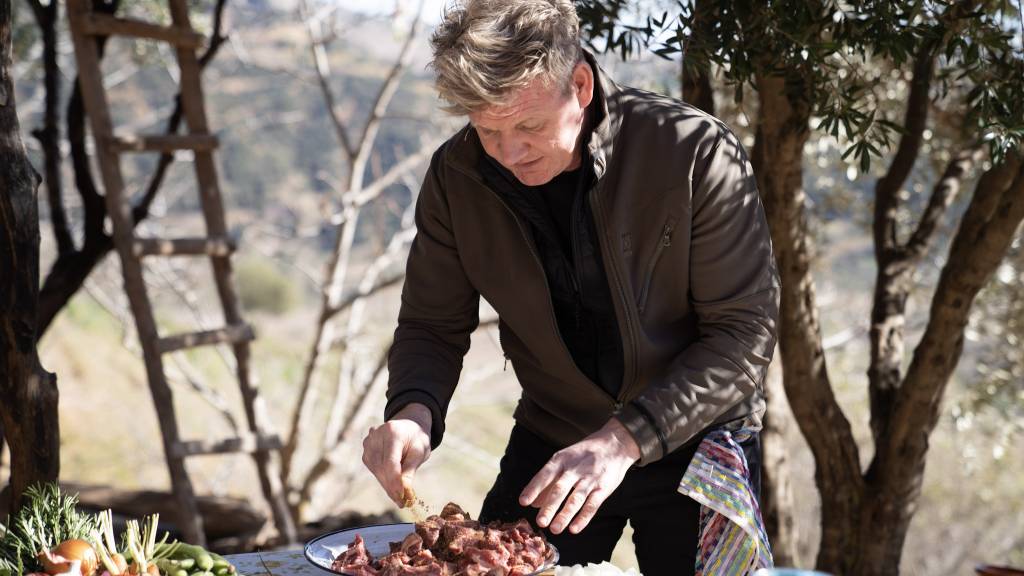 Gordon travelled to Morocco, journeying through Fez, the Atlas Mountains, Tasa, and Doure El Aansar to film an episode of his National Geographic series, Uncharted. He was joined by his Executive Chef, Gilad, who works to elevate and refine fine dining experiences for Gordon Ramsay Restaurants in the UK. We sat down with Gilad to find out more about his experiences in Morocco, and what memories he took away from the trip.  
One of the first things Gilad emphasised was that he wanted to push the boundaries of Moroccan cooking on the trip. 'The main thing for me was to understand where we were going to be able to find amazing produce and then to come up with a dish that people haven't seen before – not to repeat dishes but to be original. This was very important, and I was really pleased because Gordon liked all the dishes I made. I stuck to spices because that's what Moroccan cooking is about'.
Mushrooms in Morocco
When we asked Gilad what the most surprising thing about Moroccan cuisine was for him, he immediately said mushrooms!
'In the show, Gordon cooks twice. He does one spontaneous cook which was shot in the middle of nowhere where we went to forage for mushrooms. It was a huge surprise to us to find out that there are so many wild mushrooms in Morocco. We never associated mushrooms with Morocco, and I was shocked.
I knew they had desert truffles which are a variety of truffle that grow in the sand. But then they had Ceps, and Morels, and Girolles! And I was like, wow, these mushrooms are available in totally different seasons. We were there in Winter, and some of these mushrooms we don't usually have available until Summer. I thought that no one is going to expect to see a mushroom in Moroccan cuisine, so I'll make a Moroccan dish with mushrooms'.
In the TV programme, viewers will be able to watch Gordon descending a huge rock face down the side of a waterfall to forage these mushrooms with a group of local mushroom hunters.  
Sahara Pizza, with a Twist
For the first of Gordon's two cooks, the focus was dough. Gilad explained that 'Bread is a big thing in Moroccan culture' and he had taken an early morning trip to the communal oven to see the bread being baked. 'in Morocco they make the dough at home and shape the bread, and then they will usually send one of the children with the basket of dough to the communal bread oven and give the baker a few coins to bake the bread. Then they'll take it home and have bread for breakfast'. Gordon created a Madfouna, or 'Sahara Pizza' which Gilad said, 'is basically like a calzone, with dough on the bottom, the mixture in the middle, and more dough on the top'.
Gilad also cooked a Madfouna, but before he did, he 'had to find somebody to show me how to really make it – what is the authentic way of making it. One of our guides found a lady, who was a friend of a friend, and very early in the morning she showed me how to make a traditional Madfouna with spices, vegetables – carrots, peppers, and zucchini – a mix of lamb and chicken, and some herbs. Then she lent me her pan and I re-made it with a wild mushroom mix, with some onions, herbs and ras el hanout and some goat's cheese which we bought in the market. In a way I made it quite Western, but with Moroccan spices, Moroccan products. I finished the dough by sprinkling it with more spices, chilli flakes, nigella seeds, fennel seeds, to make it really aromatic. Then we add it to the open fire and just covered it with another pan and then some more dry olive branches on the top which naturally have a lot of oil in them, so they flame very nicely. That was really inspiring, and the one that she made was delicious!
We had really nice conversations with that lady, all the people, all the interactions that was the nicest thing. I think also, they were so impressed and interested – when she saw what I was cooking my Madfouna with she wasn't impressed, she was like 'that's not what you put in!' But when she tasted it, she was really pleased! She was so happy, I saw in her face, and it really pleased me because I am a chef and when I saw the expression on her face and I knew she'd never tried anything like that, it was really pleasing'.
The Challenge of an Open Fire
Gordon's dishes were all cooked outside on an open fire, and this was one of the aspects of the trip that Gilad was most inspired by.
'Everything is cooked on fires outside, which is lovely, but it can be a bit challenging! I haven't cooked a lot on an open fire in my life, but I have to say, making an entire meal where everything is cooked over an open flame – even if we just sautéed some vegetables over embers – it's about more than just the food, it's about the smell and the experience'.  
The Camel Cook Off  
At the end of each Uncharted episode, Gordon is challenged to a cook off by a local chef. The first dish they competed over was a tagine unlike any other.  
Gilad said: 'We didn't want to make just another lamb tagine that everybody's already seen. We wanted to do something more special, so we cooked with camel. I had to go to a camel butcher to get the meat and in the whole of Fez we found just two of these specialist butchers. I wanted to cook the cheek, because I found the rest of the meat so tough and dry that I thought if there is one piece of the animal [that's tender] then it's going to be the cheek. The cheek tasted a bit gamey, but it was very good and beautifully soft. I was trying to get some camel meat here in London before going to Morocco to see what it's like, and all we could find was frozen camel meat which came from Australia. That was the only thing available in the UK.
In the final cook off in the mountains near a town called Tasa, Gordon made a camel tagine, and he cooked on the embers inside a clay pot. He used chickpeas, preserved lemons, coriander, cumin, a lot of onions, olives, and the camel cheek. We didn't plan it, but when he was cooking there was a little girl called Fatima who was great behind the camera and he really liked her, so she just stayed with him throughout most of the cooking, and she brought him honey, and herbs, and things. So, it was really lovely.
The final dish was being cooked to celebrate the Berber New Year's Eve celebrations, and it was a competition between him and a local chef. So, I thought, okay it's a festive dish so I need to go and get him beautiful coloured plates and dishes to serve it in. So, I went to a shop in the market and I bought all this beautiful stuff – different coloured and patterned dishes. Everything was so colourful, because it's a festive thing for them, it's a big thing'.
Chicken Rfissa – A Winning Dish
Gordon also made chicken Rfissa during the cook off. Rfissa is a traditional dish of chicken and lentils served on shredded msemen and covered in broth.
'When the chickens are raw you toss them in oil and spices – mainly turmeric and cumin – and then you use onions and lentils and make a really nice stew and put the chicken inside, and cover it with stock, and it was delicious. Gordon also used fenugreek, a beautiful flavour over there. It's not a dish I'd made before, and I Googled every chicken Rfissa recipe I could find before we went to Morocco, and I found out what's commonly done and then we tweaked it for Gordon's recipe by adding Morel mushrooms. In the end they preferred the local chef's camel dish over Gordon's but preferred his chicken Rfissa dish over hers! They said that his Rfissa was the best ever!'
'I'm always willing to learn; I want to expand on my repertoire'
Gilad was hugely impressed by the quality and variety of produce on offer in Morocco – and the fact that everything he needed he could find in the markets. 'There are so many lovely products, they are very lucky over there. They have nice meat, and beautiful fish, it's really, really good. We could buy everything in the market, everything was local'. Find out more about Uncharted in Morocco and Gordon's entire Uncharted series here.
READ ABOUT UNCHARTED IN ALASKA HERE