Gordon's Top Tips for Cooking Christmas Dinner
Monday 14 December 2020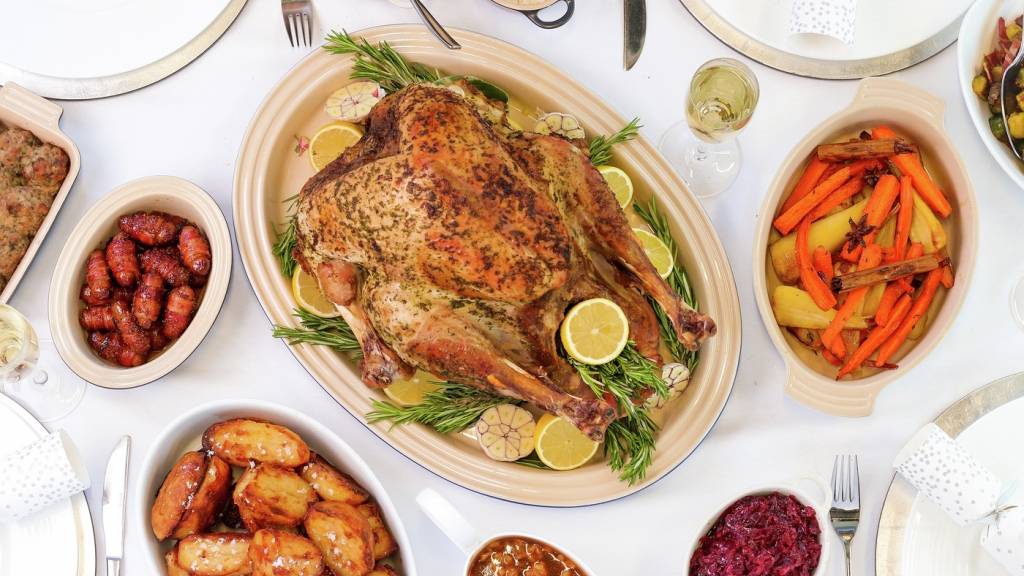 Nailing the perfect Christmas dinner can be daunting for any chef, so we've gathered together Gordon and his team's top tips for getting maximum flavour into all those Christmas side dishes and trimmings, plus some easy ways to get the most succulent turkey for a Christmas dinner to remember.
THE PERFECT GORDON RAMSAY TURKEY…
Turkey breast meat can dry out easily as it's very lean, so Gordon recommends adding moisture back in with butter, bacon and basting.
Butter: Make a flavoured butter by mixing softened butter with chopped herbs, garlic, citrus zest and any other seasonings you like, then spread this both under and over the skin of the turkey. Roast on a high heat for an initial 15 minutes to kickstart the cook.
Bacon: Now's the time to cover the breast with a layer of streaky bacon which will protect the meat during the long, slow roast. The bacon would burn if added at the start, but the oven temperature can now be reduced to moderate to cook the whole bird through.
Baste: As they melt into the turkey, the butter and bacon will also create amazingly flavour-packed juices for basting. Spoon the initial buttery juices over the whole bird when you add the bacon, then every 30 minutes or so during cooking. At the end, any juices left will also make incredible gravy, so don't throw them away!
Extra taste tips: Infuse your turkey with even more flavour as it cooks by pushing bay leaves or citrus peel under the skin with the butter, and stuffing the cavity with aromatics such as halved onions, garlic bulbs, lemons or whole herb sprigs – cook your actual stuffing separately for best results.
If you only do one thing… REST: Once you're sure the turkey is fully cooked (check by piercing the thickest part of the leg with a skewer to see if the juices run clear), leave it to rest in a warm place for at least 45 minutes or up to a few hours. This lets the meat relax and allows all the juices to be reabsorbed. 
For full details of how to cook a turkey, follow Gordon's favourite roast turkey recipe with lemon, parsley and garlic. 
…WITH THE BEST GORDON RAMSAY TURKEY GRAVY
No roast would be complete without gravy and Christmas dinner is no exception. Gordon's clever trick for getting the most intense flavour into your gravy is just to reuse everything from the roasting tin – easy!
Juices: After transferring your turkey to a platter to rest, drain off most of the fat from the roasting tin then use the juices as your gravy base. Stick the tin directly on the hob and scrape up all the brown bits on the bottom – these are where the meat has caramelised and mean extra flavour.
Trimmings: Anything you used to flavour the turkey can now be used to flavour the gravy, roughly chop any veg, herbs, bacon and turkey trimmings (like the parson's nose, wing and drumstick tips) and chuck these into the tin.
Liquid: Go for good quality stock (chicken is best with turkey) and something extra for flavour. Gordon loves the sweet-sharp balance of dry cider, but you could add a splash of wine or port for a richer finish. The trick is to reduce the gravy slowly, this can take 30-45 minutes while the turkey's resting, mashing the trimmings into it as it cooks.
To finish: Get an added burst of flavour just before serving by straining the gravy into a clean pan and adding a few sprigs of fresh herbs to infuse for a few minutes.
Unexpected twist: Another trick Gordon likes to do is to add a bit of texture to the finished gravy – crushed walnuts stirred in just before serving are great with his fruity cider turkey gravy recipe.  
VERSATILE STUFFING
Cooking your stuffing separately not only helps ensure both it and the turkey cook through fully, but also gives you more flexibility too.
Shape: Depending on what space you've got in the oven or how you'd like to serve your stuffing, you can shape it in different ways. For a quick cook, roll into individual balls to cook on a tray with your pigs in blankets or veg, or press into a baking dish, loaf tin or make a freeform parcel to be sliced at the table.
Multiples: If you're catering for different tastes or dietary requirements, you can easily cook two (or more!) types of stuffing. For traditionalists, try a classic sage and onion stuffing recipe made with sausage meat and herbs, then mix things up with a second batch using different seasonings, chopped dried fruits and nuts, bacon or flavoured sausages.
Vegan: For a meat-, dairy- and egg-free version, this chestnut stuffing recipe is a great vegan stuffing to try at home as it's so easy to make and has plenty of flavour from savoury mushrooms and fresh herbs.
THE VERY BEST ROAST POTATOES
The crucial rule for getting the perfect roast potatoes with crisp outsides and fluffy middles every time? Always add to hot fat.
Boil first: Make sure your potatoes (Maris Pipers or King Edwards are a good choice) cook evenly by chopping into equal sized pieces, then par-boil in salted water until just tender.
Steam dry: Get rid of excess moisture (which will affect their crispiness) by leaving the potatoes to steam dry in the colander for at least 5 minutes once drained.
Preheat: Add fat to your roasting tray – duck or goose fat roast potatoes are great at Christmas, otherwise most oils (except extra virgin olive oil) work well and are useful for vegetarians and vegans. Put in a hot oven for at least 5 minutes to heat through – the potatoes should sizzle when they hit the tray.
Crispy outsides: Gently shake up the steam-dried potatoes to create fluffy edges that will crisp up while roasting. For extra crunch, sprinkle the potatoes with semolina and toss to coat.
Even coating: Carefully (it may spit) toss the potatoes so that they are fully covered in the hot fat and spread out in a single layer before returning to the oven. Toss again a few times during cooking to ensure all the edges get extra golden and crunchy.
Added flavour: For a change, Gordon loves to add a little spice to his roast potatoes at Christmas – turmeric adds an earthy taste and amazing yellow colour, while chilli flakes add a little heat. Try any herbs and spices you like, just toss with the potatoes before roasting.
ABUNDANT VEG
Colourful, seasonal veg should be just as much a part of Christmas dinner as the turkey so Gordon suggests keeping it simple with classic flavour combinations.
Honey parsnips and carrots: Honey brings out the natural sweetness in root veg, so is perfect for giving a sticky glaze to carrots and parsnips. Gordon cooks his honey glazed parsnips and carrots on the hob to save space in the oven, plus recommends adding a few knobs of butter right before serving for an extra glossy finish.
Sprouts with bacon: Brussels sprouts can be a really quick and delicious Christmas side – they just need a flavour boost. Crisp, salty bacon (or pancetta) and sweet, buttery chestnuts are ideal partners with sprouts, and everything can be tossed together in a frying pan in just a few minutes. Gordon's top tip is to halve the sprouts so they soak up more flavour and add some zing with fresh lemon zest and juice just before serving. 
Spiced red cabbage: Turn a simple cabbage into a rich and hearty Christmas side dish that's perfect hot or cold with turkey, goose, duck, beef or ham by braising it slowly with butter, apple, sugar, vinegar and spices. The oven does all the hard work for you plus it can be prepared several days ahead ready to heat through on the big day.
ALL THE TRIMMINGS
Christmas Day is the one day you might as well go all in, so up your game with fluffy Yorkshire puddings and pigs in blankets.
Best Yorkshire puddings: For the ultimate rise, Gordon has two tips. First, once mixed, let the batter sit and rest for at least an hour at room temperature. Secondly, get the oil smoking hot before adding the batter to the tin – you should preheat the tin and oil for up to 15 minutes so that it sizzles and starts crisping up straight away.
Pigs in blankets: You can't really go wrong with sausages wrapped in bacon, but it's easy to add extra flavour to make yours stand out. Pouring over a glaze of honey, mustard and soy sauce will add a great salty-sweet kick, but you could easily experiment with other flavours such as fruity cranberry sauce, marmalade or mango chutney, or something a bit more tangy like balsamic vinegar, Marmite or even chilli sauce.
SAUCES – THE FINISHING TOUCH        
Fruity cranberry sauce and creamy bread sauce bring every element of Christmas dinner together, so make sure they're the best they can be.
Add spices: Both sauces suit traditional Christmas spices, try aromatic star anise, cardamom or cinnamon with punchy cranberry sauce, and add warmth to rich bread sauce with cloves and nutmeg.
Create rich taste: Cranberry sauce with port is a classic combination and perfect for Christmas, add a good glug as the sauce reduces. With bread sauce it has to be butter or cream for a luxurious finish, simply stir in just before serving.
Make ahead: Develop the flavours (and make life easier for yourself) by preparing the sauces ahead. Cranberry sauce can be made fully then reheated to serve, while you can infuse the milk for the bread sauce with the onion and spices early on Christmas Day.
So that's your perfect Christmas dinner sorted. All that's left to do is lay the table, pour the drinks, pull the crackers and enjoy a wonderful day with friends, family, and fabulous food.