Hidden Heddon Q&A with Bar Manager Michele Quarta
Wednesday 4 September 2019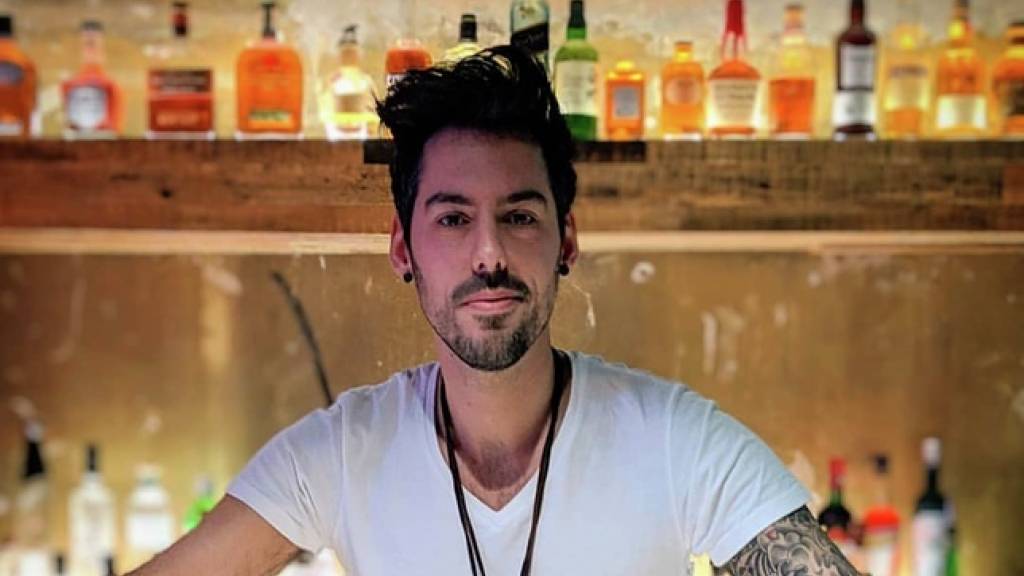 With the launch of Heddon Street Kitchen's new underground bar – Hidden Heddon – we wanted to find out more about what guests can expect in this space from Bar Manager, Michele Quarta (as well as steal some of his top-secret mixology tips!)  
Q: Hi Michele, please could you tell us a little bit about your job?
A: 'My job as the Bar Manager is focused on monitoring and maintaining the highest standards behind the bar and on the floor, supervising service, and guaranteeing perfect delivery of our guests' orders….but this is the "boring" part of it, because my job is also to create, discover, taste and experiment with new spirits, flavours, techniques and cocktails in order to guarantee a unique and amazing experience for our guests!'
Q: Sounds exciting! How did you first get into mixology & start working at Heddon Street Kitchen?  
A: 'Mixology is a superior level of bartending and I think I got there because, as I always explain to my guests, this is not just my job, but first and foremost my passion, so I can say that by studying, experimenting, trying new things and being curious got me into mixology'
'Exactly one year ago I was speaking with a friend of mine who told me that a Gordon Ramsay restaurant was looking for a Bar Manager, so I sent an email with my CV attached and few hours later I received a call from Mr. Alessio Lucchetti, my General Manager, and my adventure with Heddon Street Kitchen began!'
Q: Heddon Street Kitchen has just opened a new bar called Hidden Heddon, could you tell us why this bar is different to any other bar in London?
A: 'The location is perfect! We are talking about Mayfair London, five minutes' walk away from Piccadilly Circus.
The cocktails are the most important thing in any bar – especially at Hidden Heddon. Our cocktails are simple but complicated at the same time, they are the results of the knowledge, passion, madness and efforts of the entire bar team. Superb classics, stunning signatures and a lot of passion -everything is shaken together in this amazing "speak easy" style bar.
Our service is always 5 star, from the first step inside our guests can't forget the experience and the smile on their faces when they leave...that's why they always come back!'
Q: Hidden Heddon isn't just a bar – you also do cocktail masterclasses there. What happens during these?
A: 'During the masterclass in Hidden Heddon we encourage people to have fun and experiment, trying new spirits that they usually never drink and new flavours, but they can of course stick to the classics. We get people involved straight away with a quick interactive quiz about cocktails and spirits, then we guide them through the choosing ingredients and flavours they would like to have in their own cocktail and let them make it. Whether they shake, stir or build in the glass, it doesn't matter, for us what is important is the guest's smile after the first sip of their own cocktail…and of course all the laughs when they shake for the first time ever!'
Q: What are your favourite things about bartending and working at Hidden Heddon?
A: 'You always meet new people and you learn something new everyday'.
Q: If you had to pick a favourite cocktail, what would it be?  
A: 'My favourite drink is call Boulevardier, which is a very old-style cocktail that is strong and bitter (like me!) It's made with 30ml of Bourbon Whisky, 30ml of sweet Vermouth and 30ml of Campari. You simply stir and serve in a coupette with a slice of orange or orange peel'.
Q: The Boulevardier is your favourite cocktail, but what are your guests drinking?
A:'People like to drink what they already know and are comfortable with - a big challenge is encouraging guests to try something different with a cool and super tasty signature cocktail. The most popular cocktails we are asked to make are still the classics. Here at Heddon Street Kitchen we make a lot of Espresso Martinis and Negronis. The gin-based cocktails are also very popular – Gin is still the most popular spirit!'  
Q: And finally, what advice would you give someone who wants to become a mixologist?
A:'Think outside of the box is my philosophy!'
Discover Hidden Heddon Here.