How To Make The Best Pancakes
Friday 9 February 2018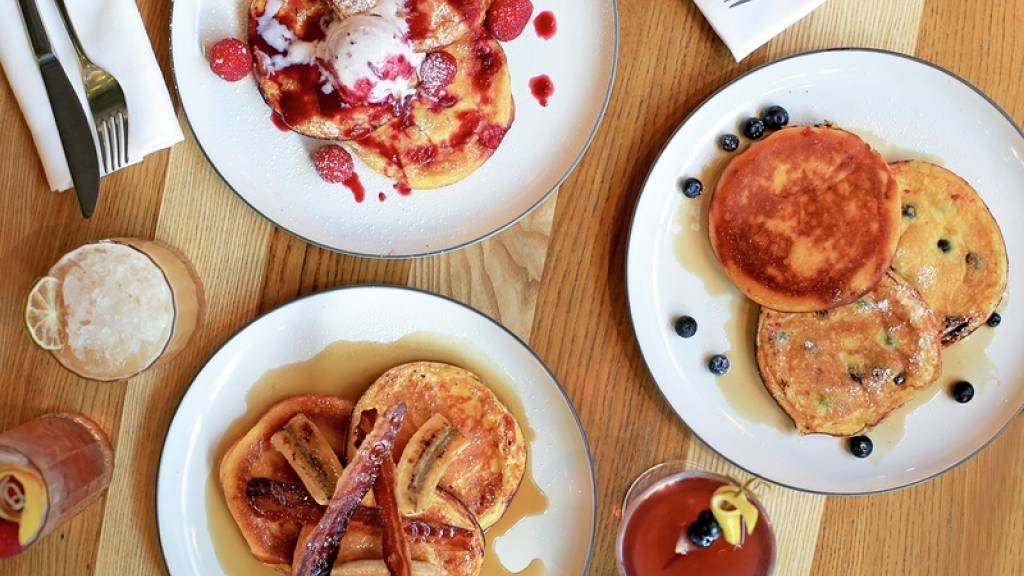 Want to make the best pancakes this Pancake Day? Bread Street Kitchen are here to help with their 5 tips for a delicious stack.
Shrove Tuesday, the one day of the year it's acceptable to dine on pancakes for breakfast, lunch and dinner. Whether you enjoy your stack sweet or savoury, Bread Street Kitchen are here to help with 5 tips to ensure your pancakes are as delicious as possible.
1. MAKE YOUR BATTER IN ADVANCE
The unfortunate part of Pancake Day is it falls on a Tuesday, meaning you're normally strapped for time if you're looking to make a batch before work or the school run.
Save yourself time in the morning by preparing your batter in advance by simply mixing together your sugar, salt, vegetable oil, buttermilk, vanilla essence and flour the night before.
To create a fluffy pancake consistency, we recommend whisking your egg whites and folding them into the traditional batter – however it's important to note that this stage, along with adding the baking soda, should not be added to your mix until it's time to cook.
For the perfect buttermilk pancakes check out our recipe here.
2. THE IMPORTANCE OF ROOM TEMPERATURE
If you have prepared your batter in advance, be sure to allow them to come to room temperature before cooking – this allows the leavening to start working once you've added in your eggs and baking soda.
Allowing your mix to come to room temperature aids the overall texture of your treats, by allowing the starch more time to absorb the liquid and the air bubbles time to disperse.
3. ENSURE YOUR PAN IS HOT
Once your mix is good to go it's time to add it to your pan and start cooking. Instead of frying using traditional oils, try clarified butter instead. Not only does it taste better but it burns slower, meaning you're less likely to burn your pancakes.
The temperature of the pan is key and should be piping hot before you add the mix. To test the temperature, add a drop of water to the pan, if it skitters across you're good to go.
4. FLIPPING
The key part of preparing the best possible pancake comes down to the flip – no pressure! When it comes to flipping, confidence is key.
We recommend aiming to turn your pancakes only once, but when you do make sure your technique is hard and fast. Whatever you do make sure you avoid the pressure to press, pushing the mix down into the pan will remove the air from the inside meaning you'll lose the fluffy consistency.
5. PREPARE YOUR TOPPINGS
The best part of pancakes is the how creative you can be with your toppings. Spice your stack up with some berries or fruit puree, you could even add this into your batter before cooking for a marbled effect.
This year Bread Street Kitchen and Heddon Street Kitchen are hosting their intoxicated pancakes – a range of traditional buttermilk stacks topped with alcoholic inspired toppings including raspberry with Chambord syrup, Jack Daniels caramel sauce served with caramelised bananas and walnuts and blueberry Finlandia sauce. Better still you can even pair your choice with a cocktail to match!
Looking for more pancake inspiration and information into where you can enjoy our delicious offerings across London? Find out more here.