The Kids Masterclass Gifts That Keep On Giving
Tuesday 18 July 2017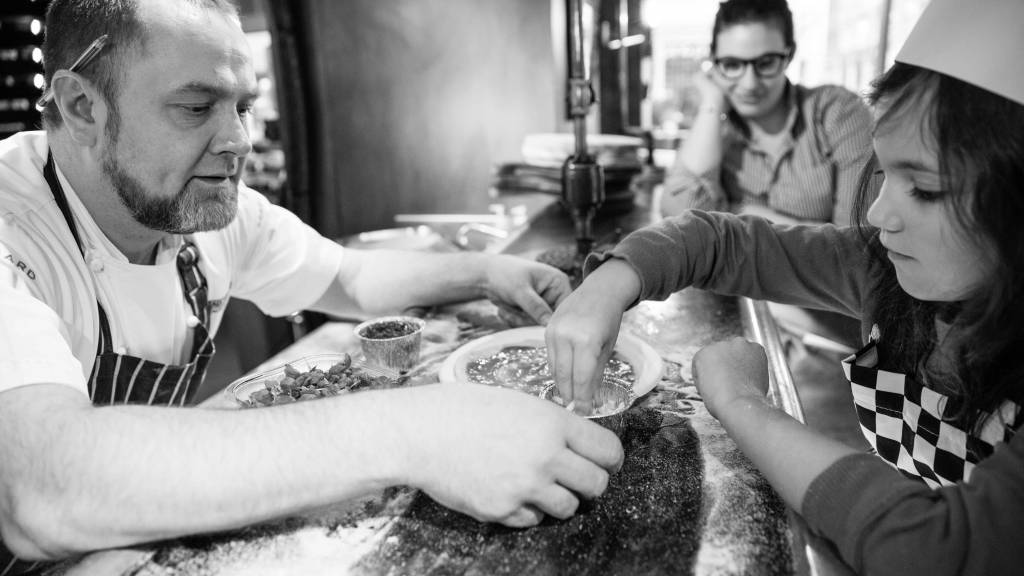 Jenni Muir finds that Bread Street Kitchen's Brunch & Kids Pizza Masterclass voucher is the gift that keeps on giving.
Every day my seven year old eats a handful of raw spinach. Sometimes twice a day.
I'm not telling you this to brag, but because it was very much not the case a couple of months ago. Gina used to refuse every green vegetable except cucumber.
Things changed suddenly, surprisingly – serenely, in fact – when we booked her into the kids pizza masterclass at Bread Street Kitchen.
While her father and I relaxed with champagne and Sunday brunch in the restaurant, she was taken to the downstairs bar, which has a wood-fired pizza oven and a counter perfect for friendly cooking demos.
There, Bread Street Kitchen's head chef Paul Shearing, who has children of his own, gave her a cute checked apron, little chef's hat and a ball of dough.
'He told me to knead it quite violently,' Gina told us later. 'That was really fun. Then I used a rolling pin and had to push it hard. After that we used a ladle to spread tomato sauce on the pizza. Then I got a choice of toppings. I chose ham and cheese.'
So far so standard, you're thinking, but here's the pièce de résistance:
'Once I'd chosen them, Paul made me taste two other things – basil and spinach. He said if I didn't, there'd be no ice-cream afterwards, so I did, and I liked the spinach.'
There's no denying Gina loved the chance to ditch us in the restaurant for a while, too, and she was so proud when her pizza arrived at the table, she quietly ate the whole thing.
My husband and I remember when City restaurants were purely for business and shut at weekends – it's a very different story today. Lots of families are bringing their children to Bread Street Kitchen for brunch or a traditional Sunday roast; it's great to head somewhere where you know the kids will not only be welcomed but entertained too.
The pizza masterclasses take place on the second Sunday of each month (booking's essential). Other weeks you'll find magicians or face painting, and usually there's an opportunity for kids to visit the kitchen and survey the ice-cream freezer with its fifteen-plus varieties.
Cajoling to eat their greens is also part of the service. 'I tell them the waitress will be keeping an eye on them,' says Paul.
There's no need to restrict family visits to Bread Street Kitchen to Sundays. Kids eat free all day everyday, with every adult main course ordered – worth remembering if you're visiting St Paul's, the Museum of London or Barbican Centre during half-term and summer holidays.
Buy Kids Masterclasses and Family Experiences online with Gordon Ramsay Gifts & Experiences.