Launching into Street Lounge with NASA Astronaut Steve Smith
Saturday 1 February 2020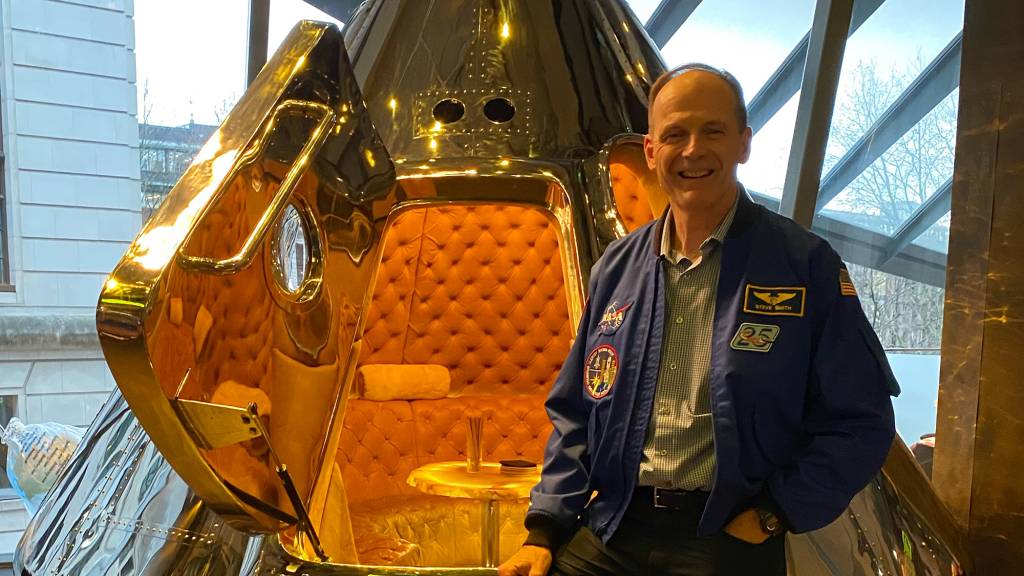 We've hosted some cool characters in our time, but the team at Bread Street Kitchen had a real blast when world renowned Astronaut, Steve Smith, visited our very own spaceship – Street Lounge. Steve is a former NASA astronaut who has taken part in four space flights, seven space walks and has covered over 16 million miles. We simply couldn't let him jet off without asking a few of our burning space questions…
Whilst we were fairly sure that Bread Street Kitchen's signature Beef Wellington wouldn't be making an appearance on the space shuttle any time soon, we did want to know what foods Steve missed the most when in space. We weren't expecting salad to be top of the list!
"We don't have a refrigerator on board and of course there's no gravity, so there are certain foods that we can't have, like fresh fruit, fresh vegetables and salad. I missed salad so much - I love salads! Foods that require gravity to stay in shape, like a taco, we couldn't have. We don't cook pizzas, and there's no alcohol on board. Those are the foods I missed!"
Thankfully gravity isn't a problem in the Street Lounge spaceship so our sharing platters of sushi, truffle arancini bites, pork belly sliders, mini desserts and cocktails will all stay put…
Last year alone, NASA received over 18,000 applications from wannabe-astronauts, but with only 11 places available and an intense training programme to complete, Steve explained how tough it was to make the cut. "You have to have a technical college degree and some work experience, and then once you're selected you're basically a university student – just training the whole time and learning about the systems that you'll have to operate, learning about geology, astronomy and all the different sciences. It's about a five-year process before you even fly". Training is both theoretical and practical – Steve described practicing wearing his 300lb space suit in a swimming pool to simulate what space would feel like.
Steve's four flights were all on the space shuttle, launching from Florida. He went to the Hubble Space Telescope several times and his last trip was to the International Space Station (where Tim Peake worked and famously completed the London Marathon in April 2016). It takes a surprisingly short amount of time to get to space – 8 minutes and 30 seconds to be precise. Taking us through the journey, Steve says, "You use the seat belts for the first eight and a half minutes, and then when the engines shut off, you're weightless so that's when you'll see us floating around. You also take your space suit off that you wore for the launch and just wear street clothes."
Once in space, the focus is on maintaining equipment and conducting scientific research. "The reason that we have the space station up there is because we do experiments and space walks to do important scientific research that helps improve lives back on Earth. Most of the science is really detailed, so you don't get to hear about it every day but the hope is that by doing that research we will make advancements on Earth, like finding cures for diseases because you can do experiments at zero gravity that we couldn't do otherwise."
An astronaut's day is very long and at the end of a 16-hour shift, it's not quite as simple as crawling into bed. Zero gravity makes sleeping a bit of an issue. "We have sleeping bags that have Velcro on them, and all of the surfaces of the spaceship have Velcro so you can sleep wherever you want. I would usually sleep on the ceiling or on the wall. It's kind of like being in a cocoon although if you don't put your arms inside the sleeping bag then all night they'll float around. There's also no gravity to keep your head against the pillow so we actually have a seat belt for our head!"
We were over the moon (sorry - we couldn't resist!) to to have Steve visit us in Bread Street Kitchen and hear about his amazing experiences with NASA.
Join us in Street Lounge for an out-of-this-world experience of your own – minus the Velcro sleeping bags.