Flower Arranging Class & Michelin-starred Lunch
Monday 20 March 2017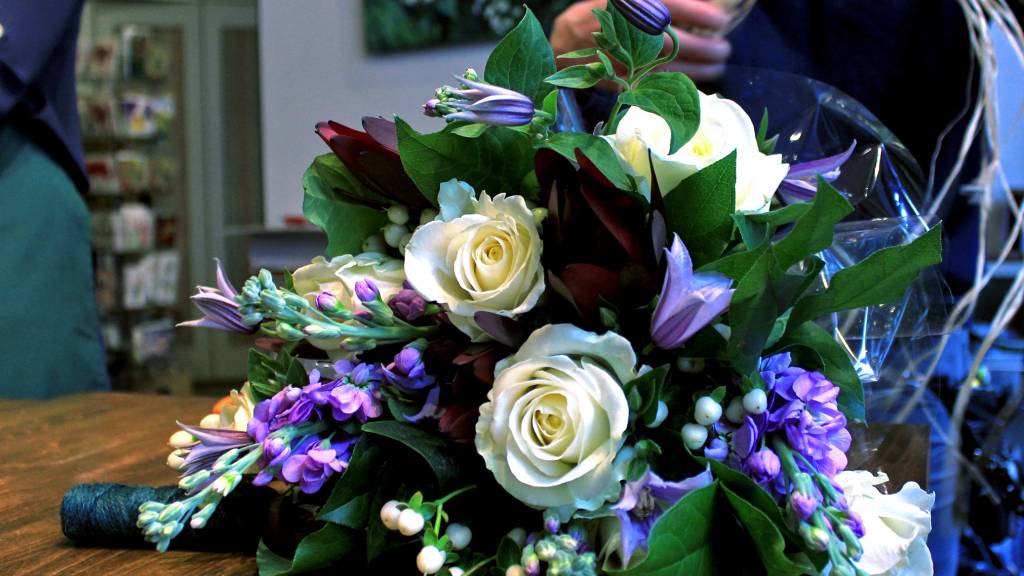 Looking for a great experience to share with a friend or loved one, give them the opportunity to take a flower arranging class with world-renowned expert Judith Blacklock. We sent Jenni Muir along to Judith's floral masterclass with Pétrus.
'When you say to yourself you're no good at doing flowers, you're probably just using the wrong size vase,' says Judith Blacklock.
She pulls out one that looks a bit like an oversized glass. '99p at Ikea. It's 20 centimetres: perfect. The only problem is you have to walk all the way through the store in order to get to them.'
It's clear we're going to be learning a few life lessons today, not just how to make a hand-tied bouquet!
Thirteen of us have gathered in Judith's stylish flower school for a morning's instruction, to be followed by lunch at Michelin-starred restaurant Pétrus. One guest is visiting London from America; others have caught the train from Stockton-on-Tees and Newcastle.
No wonder they come from far and wide: Judith is a master teacher. She has the knack of breaking complex subjects down into simple steps, and provides a steady stream of reassurance as she guides you through them.
Judith points to a simple diagram she's drawn on a flipchart. There is, she explains, a very easy way to produce a stunning flower arrangement. It's about ratios. The height of the vase should be half the height of the flowers, and the volume of the bouquet should be 1.5 times that of the vase.
Here comes that reassurance again: 'Even with all my experience – I find I can still choose a vase that's a few centimetres out, and it can spoil the whole effect.'
So maybe with a bit of practice us amateurs really will have a decent stab at this flower arranging malarkey…
A hand-tied bouquet is a bunch of flowers (and foliage!) in which the stems are on show and sit in a neat spiral in order to form part of the arrangement when displayed in a glass bowl. It looks very sophisticated – and tricky.
'But I feel I've developed the easiest way to do this,' says Judith, 'and I'm going to make sure you've got it here, in your head, before you leave. So it's like riding a bicycle.'
Sturdy stems are essential for beginners, so we need to avoid bulbs such as daffodils and tulips. Judith recommends starting with round blooms, such as roses, gerberas and peonies, which will dominate the arrangement, then work in a variety of other flower shapes.
Today's selection includes white roses, matthiola, clematis, and St John's wort. We're told how to strip the excess leaves and trim the stems, then are let loose on our own bucket of blooms. Judith and her assistant Tom come round to everyone in turn to help us refine our work.
Forming the bouquet is largely a matter of how you hold the stems and how you add each new flower to the arrangement. Anyone left-handed is given advice specific to them.
We all manage to produce gorgeous bouquets; surprisingly professional in my non-expert opinion. Next is even more fun: making those cellophane sacks of water that keep the flowers fresh and standing steady.
Our bouquets are popped into hessian carrybags for easy transport, then we head to lunch at Pétrus, a few minutes' walk around the corner, where we're welcomed with a glass of Ayala champagne and scrumptious savouries.
The experience package specifies a three-course lunch but, this being a top-class Michelin-starred restaurant, complimentary treats appear at the table to surprise and delight guests between courses. In early spring, we enjoy Jerusalem artichoke velouté with brioche and truffle cheese, and a stunning little bowl of mango curd with coconut foam and ginger and lime granita.
On the lunch menu we have a choice of three dishes for each course. There are a few Pétrus signatures – such as the parfait with green beans, grain mustard and almonds, and my fabulous dark chocolate tart with jasmine and lemon ice cream.
Judith recommends the 'Garden salad' featuring crunchy vegetables and Brie de Meaux. Her enthusiasm for the restaurant is effervescent; she wants everyone to visit the kitchen and delights in moving from table to table, chatting to participants and answering any follow-up questions.
Mid-afternoon we're all feeling wonderfully cossetted. Not only have we learnt a lot, we've been royally treated, well fed and can carry our magnificent bouquets on the tube with pride. There are few more delightful ways to spend a day in London.
The Floral Masterclass at Pétrus makes an ideal gift for someone's birthdays, anniversaries or Christmas. Our £120 gift experience includes Judith Blacklock's hand-tied bouquet masterclass, plus a three-course lunch and glass of champagne. Spaces are limited and pre-booking essential. 
To book, contact our Experiences team on 0207 592 1226 or email experiences@gordonramsay.com.