Meet Our Chef Apprentices
Wednesday 11 September 2019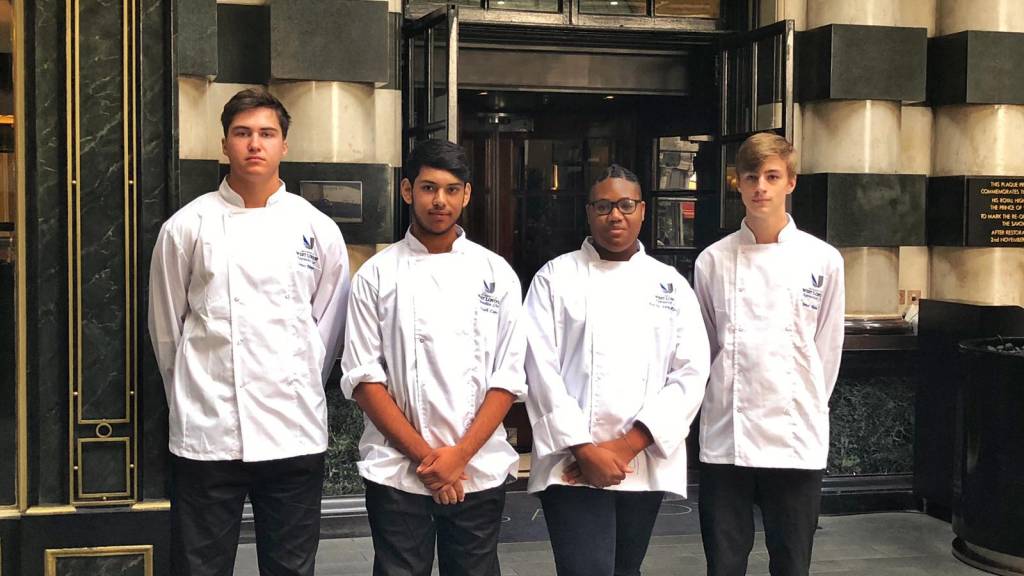 In September 2019, we welcomed four young Apprentices into Gordon Ramsay Restaurants. After impressing our chefs in the cook off and experience shifts for the Chef Apprentice Programme, Ray-jay, James, Hamzah, and Jamie donned their chef whites and began learning the ropes by shadowing in our kitchens. Over the next three years, they'll spend time honing their skills in our restaurants as well as learning theory in the lecture halls at the University of West London. Midway through their first week, we caught up with them in the D'Oyly Carte room at the Savoy Grill to find out why they decided the Apprentice Programme was for them.
'I'd rather be in the kitchen than anywhere else. It's what I'm best at, it's the most fun – much more fun than being in the classroom'
Jamie
What made you want to work in the Hospitality industry?
For Ray-jay, his inspiration came from his family. His uncle was a restauranteur, and he used to spend a lot of time in the kitchen with his mum. Hamzah also found his love of cooking from helping his mum in the kitchen and watching TV programmes about cooking with her. For James, it was watching episodes of Gordon Ramsay's Boiling Point where he learnt about the industry and completing a traineeship at Radisson Blu sparked his desire to challenge himself and progress within the kitchen. Jamie's answer was very clear. 'I've wanted to be a chef forever'. After taking part in a young chef's academy and a patisserie academy, he gained work experience in the kitchen at the Savoy Grill last year, and now he's back.
What's the first thing you ever cooked and which dish were you most proud of cooking?
Fajitas were the first thing that Hamzah remembers cooking for himself. 'I used to use the kits when I was younger, but now I've learnt to make them from scratch'. James also remembers a main dish most clearly – saying that the first dish he remembers cooking was a spaghetti bolognese with his mum. However, it was the burger that he made at the trial for the Apprentice Programme that he's most proud of. It was the first time that he had to cook whilst being watched and was proud that the dish he served went down well and got him a place in the Programme.
What made you choose the Gordon Ramsay Restaurants Chef Apprentice Programme?  
'I don't think it's easy to get into a place like Gordon Ramsay Restaurants, so the fact that we're able to start our careers here is amazing'
James
Like James, both Ray-jay and Jamie were also attracted to the programme, which is in partnership with the University of West London, because of its reputation and the big names that are behind it. Jamie is looking forward to learning and working his way up in the kitchen, and Ray-jay says 'it seemed the best way to learn at a high level. I'm most excited to broaden my whole understanding of food – I could study it at school or cook at home but there's still a lot I'm not going to know, and I'm just excited to know all of that stuff I don't know now'.
What motivates you to work hard in the kitchen?
Ray-jay and Hamzah were both clear that their motivations lie in proving themselves, and succeeding in their chosen path, even though it might be difficult. Ray-jay's dream is to open his own restaurant, which is why succeeding is so important, and he also admits that he just doesn't like failing at anything! In contrast, Hamzah had already started down a different path, to become a lawyer, before he realised that he belonged in the kitchen.
Are there any chefs you're most excited about working with?
All of the young chefs were in agreement that they'd be honoured to work with any of the chefs at Gordon Ramsay Restaurants. 'It would honestly be a privilege to work with any of them' says Ray-jay. However, there was quite a lot of excitement about the prospect of working at Lucky Cat by Gordon Ramsay – the new Asian Eating House in Mayfair. Hamzah would love to learn Asian inspired styles of cooking from Executive Head Chef Ben and the team, and Jamie would like to develop his skills in fine dining at Lucky Cat, as well as our Michelin kitchens – Petrus, and Restaurant Gordon Ramsay.
Do you have a favourite style of cooking?
For Ray-jay, this was a firm no. Whilst he has the most experience in baking at home, he tries to cook as many different dishes as he can at least once, so that he can broaden his abilities. The most recent thing he tried to cook was a souffle which, he was happy to say, rose although not quite as straight as he would have liked it!  
James is really interested in learning more about Asian cuisine, which is one of his favourite types of food to eat. He's also looking forward to learning in the pastry section, especially after enjoying making chocolate fondants at Bread Street Kitchen this week.
Hamzah also wants to learn from the pastry section because this is something he's never done before. He's really interested in South American culture and likes to try his hand at making dishes from this part of the world.
His time at the Savoy Grill, and interest in Petrus and Restaurant Gordon Ramsay means that Jamie leans towards fine dining, and he especially enjoys creating different culinary presentations. As for sections, he can't wait to increase his experience in butchery.
Meeting our Apprentices at the start of their journey and seeing their dedication and determination to succeed at such a young age was incredibly inspiring. The whole restaurant group is looking forward to seeing these chefs in our kitchens across London for the next three years and finding out where this journey takes them. If you're interested in joining the Chef Apprentice Programme in 2020, you can find out more here.