Where to celebrate Burns Night in London
Monday 15 January 2018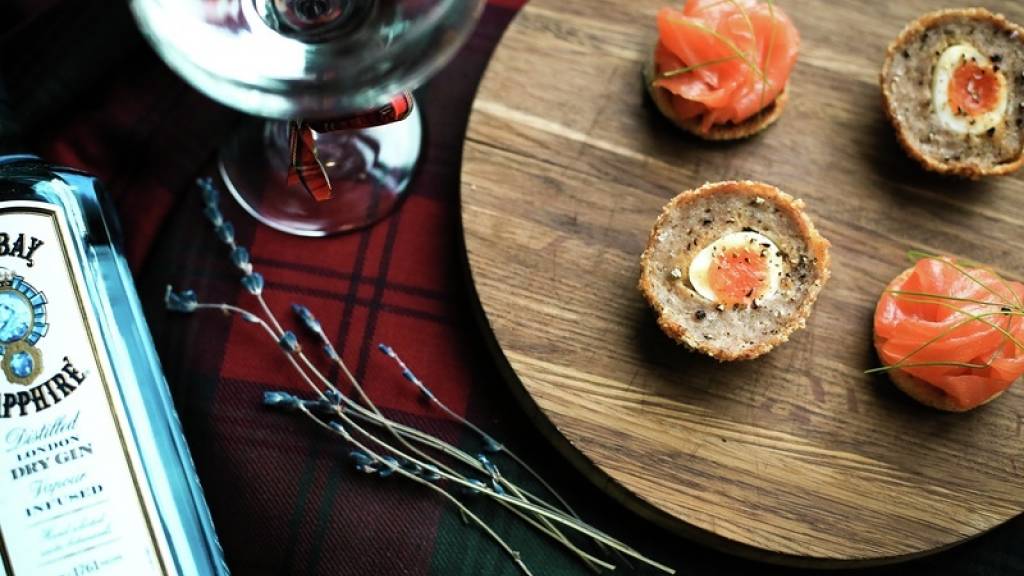 This Burns Night raise a glass in celebration of national poet, Robert Burns, and enjoy a traditional night of Scottish fare at Gordon Ramsay Restaurants. Please note, Burns Night experiences have now ended.
A night dedicated to Scottish poet Robert Burns, January 25th is an evening renowned for celebrating the life and works of the national Bard.
A traditional Burns Supper is one you'll remember, known as an occasion to gather your friends and family whilst enjoying a feast of delicious Scottish cuisine alongside a wee dram.
Whether you're looking to celebrate your Scottish roots or simply looking to cheer up a dreary January evening with a night of traditional Scottish fare – we've got you covered. 
BREAD STREET KITCHEN
This Burns Night enjoy a bespoke six-course menu crafted in partnership with Balvenie at Bread Street Kitchen, St Pauls.
Each course will be beautifully paired with a different Balvenie scotch whisky, matched perfectly using key flavour profiles and introduced by Balvenie UK Brand Ambassador and whisky specialist, Alwynne Gwilt.
Traditional dishes include haggis croquettes, smoked salmon and langoustines, heather smoked highland venison, Orkney Scallop served with crispy sea vegetables and Highland Longhorn beef served with traditional swede, pearl barley, crispy onions and mustard cream.
End your experience with a Clootie pudding custard and a selection of cheeses complimented with a wee dram of PortWood 21 year old, aged in a port cask.
An event like no other, enjoy six-courses paired with a bespoke Balvenie whisky for £95 per person.
LONDON HOUSE
Escape the cold with enjoy a delicious four-course Scottish menu at London House in Battersea.
A bonnie supper like no other, start your meal with Haggis Scotch quails egg, a Scottish twist on a classic dish as you sip on the Star of Bombay gin martini - stirred 'dry' with a light lavender hint. 
Next enjoy a warming bowl of Cullen Skink, before moving onto the main of Scottish red deer served with a helping of neeps and tatties and whisky & juniper sauce. Enjoy with Aberfeldy 12 year aged whisky, served neat with a tot of water on the side to help open the aromas of this tasty single malt. 
For dessert tuck into traditional Cranachan, made with whipped cream, honey, whisky and raspberries. End your evening with an after-dinner coffee, served with a deep-fried Mars bar or perhaps even a wee dram.
Enjoy 4 courses and a coffee for just £50 per person.
THE NARROW
For the best view of the River Thames this Burns Night, there's no place better to be than The Narrow in Limehouse.
Set over three-courses, start the evening enjoying a Bombay Sapphire martini and black pudding scotch egg to share, a hearty dish set to dispel any January blues.
Next enjoy Cullen skink and quail egg, perfectly paired with 12 year old Dewar, a balanced sweet and creamy whisky with a hint of smoke. 
For the mains, a fitting address will be given to the mighty Scottish classic of haggis, which you will enjoy with roasted partridge served with neeps and tatties, alongside a glass of 12 year aged Aberfeldy, a single malt scotch distilled in the Highlands
End your evening with traditional Cranachan with whisky mousse, paired with a wee dram of 12 year aged Aultmore, a speyside single malt scotch whisky. 
Starting at just £38 per person, or £70 to include whisky & martini pairings with each course.
YORK & ALBANY
Possibly the first cock-a-leekie soup to appear in Camden, indulge in this traditional Scottish dish amongst two other courses for an evening you're set to remember at York & Albany. 
Start your evening with Laphroaig cured Scottish salmon, scotch quail egg, perfectly paired with a glass of Bowmore 15 Year Old. Next enjoy a warming bowl of traditional cock-a-leekie soup, matched with a satisfyingly rich glass of 15 Year Old Glenfiddich Solera Reserve before starting on the main dish.
No Burns Night is complete without a helping of Haggis, served next with a helping of neeps and tatties, paired with a wee dram of Laphroaig 10 Year Old.
End your evening on a sweet note, with Scottish honey Cranachan, made with whipped cream, whisky and fresh raspberries. End your whisky flight with a tipple of Aberfeldy 12 Year Old.
Starting at just £40 per person, or £60 to include whisky pairings with each course. 
For an event like no other, be sure to join us to devour a bonnie supper at Gordon Ramsay Restaurants.