Why We Love the Espresso Martini
Wednesday 13 November 2019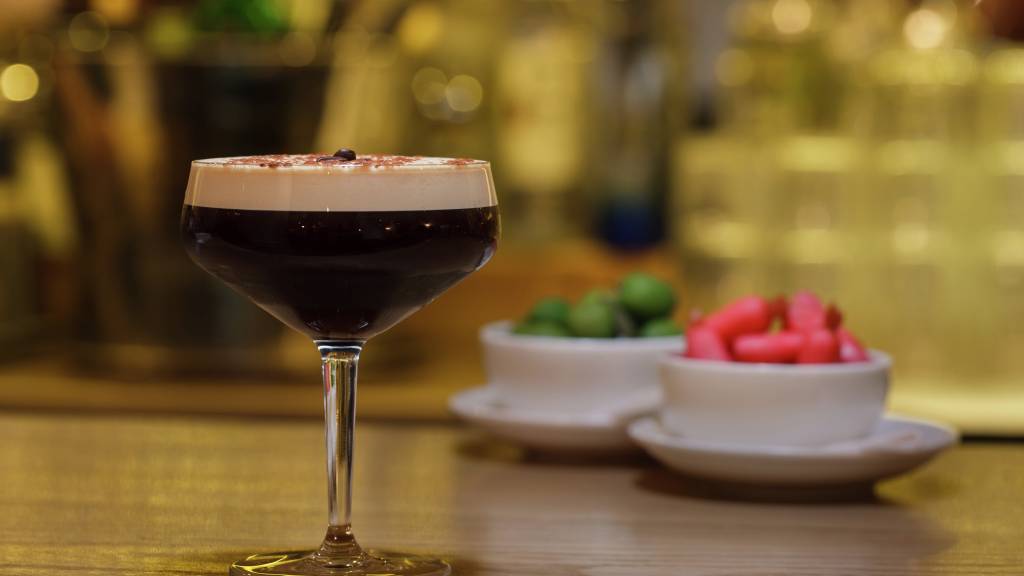 It's rich, creamy, loaded with caffeine and equally good for brunch as it is for late night partying… what's not to love about the Espresso Martini? As far as cocktails go, this one ticks all the boxes for us, so we've got several Espresso Martini recipes on our menus this winter to warm up those chilly nights and keep you dancing til dawn. 
Although now at peak popularity, the cocktail itself is older than you may think, thought to have been invented in the 1980s at the Soho Brasserie as a 'Vodka Espresso' at the request of a customer for something to 'wake her up'. It was later also known as the 'Pharmaceutical Stimulant' but somehow that didn't catch on…
Why is it called a martini then? A martini cocktail is traditionally made with gin and vermouth, neither of which feature in the classic espresso variety which has a shot of espresso, vodka, coffee liqueur and sugar, shaken until frothy and topped with coffee beans or cocoa powder for that real cappuccino finish.
It's all in its style it seems. Like the classic, it's served short and packs a punch, a drink not for the faint-hearted. The traditional v-shaped cocktail glass was also the glass of choice for many years, the wide top perfect for the maximum level of froth, although now it's often served in a rounded coupe-style glass. It's come into its own in the past few year as drinkers look for something that's both playful and elegant at the same time, a drink that's definitely for adults. Often now bars are experimenting with flavours and styles, Espresso Martini and tonic anyone?
If you love coffee, then this is the cocktail for you, and it's easy to adapt to your favourite flavours and styles. Here are our top tips for enjoying the best Espresso Martinis in London this winter…
The mocha: Grey Goose Espresso Martini at Street Lates
Let your hair down with a chocolate Grey Goose vodka Espresso Martini at Bread Street Kitchen's Street Lates. Just like you night owls, this cocktail is only out after 9pm when the DJs start playing, but it'll keep on partying into the wee hours with towering Espresso Martini displays and sharing serves to keep everyone going.
The sweet signature: Salted Caramel Espresso Martini at Street Kitchens
Indulge your sweet tooth with our signature salted caramel Espresso Martini. Developed at Bread Street Kitchen, it's so popular you can also get it right in the heart of town in the Hidden Heddon bar at Heddon Street Kitchen. Made with Bacardi Oakheart Rum as a change from vodka, this adds subtle tones of vanilla and toffee which work perfectly with our homemade salted caramel sauce… it's like pudding in a glass!
The festive twist: Gingerbread Espresso Martini at The Gingerbread Cabin
Embrace everything festive with the ultimate Christmas cocktail in the ultimate Christmas cabin. We've created a life-sized Gingerbread house in the York & Albany courtyard where you can nibble on Christmas canapés, decorate a giant gingerbread cookie and sip on a delicious Espresso Martini flavoured with gingerbread syrup.
The extra-creamy one: Bailey's Espresso Martini at Gordon Ramsay Bar & Grill
Take inspiration from Ireland with this creamy take on the martini at Gordon Ramsay Bar & Grill in Mayfair, with the addition of velvety-smooth Bailey's Irish Cream Liqueur. Let's hope you have the luck of the Irish too, better order two just to be sure…
The spiced one: The Chi cocktail at Lucky Cat
Experience something totally different with the Chi cocktail which is Lucky Cat's nod to the Espresso Martini. With cinnamon-infused vanilla vodka, a secret coffee 'shu', espresso and spiced ginger syrup for a tongue-tingling blend of sweet, sour and warming spices, you'll have to come along and try this one for yourself.
For top tips on how to make the perfect Espresso Martini, have a look at our top tips from our expert bar team along with our signature salted caramel Espresso Martini recipe.