Celebrate 'A Very French Christmas' at Pétrus
Wednesday 15 November 2017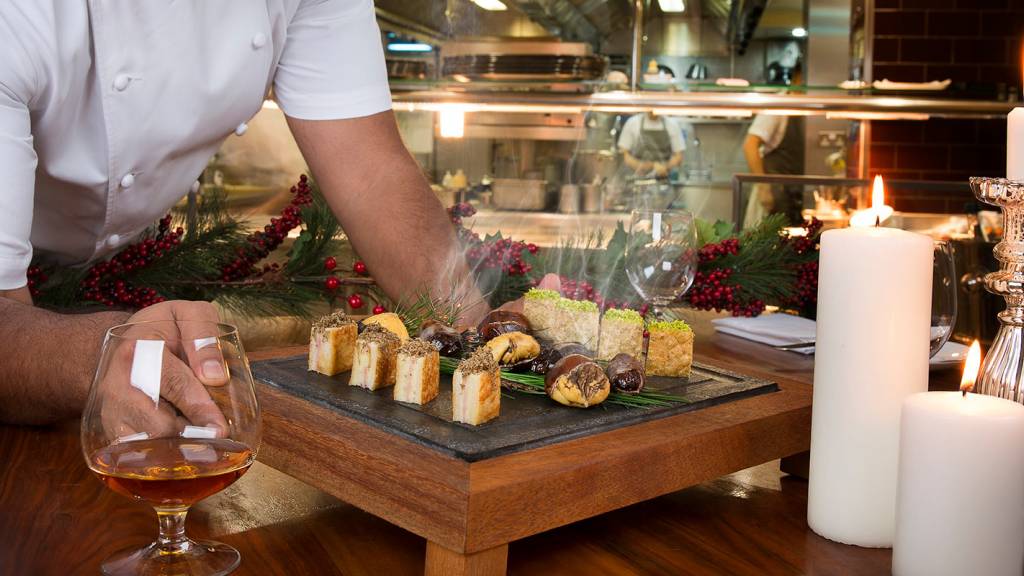 Celebrate the French way with the Kitchen Table Dining Experience at Michelin-starred Pétrus.
This December, Pétrus, the Michelin-starred restaurant from the Gordon Ramsay Group, provides the ultimate French Christmas with a very special kitchen table dining experience that brings to life the mastery of French fine dining. 
Created by Head Chef Larry Jayasekara, this theatrical family-inspired feast celebrates French cooking of the highest standard, featuring the best French ingredients and impeccable service. Launching on 1st December, the menu will be exclusively available at the Pétrus Kitchen Table, providing guests with a unique opportunity to learn about French culinary savoir-faire from Larry and his team as they celebrate the festive season in true style.
Guests are guided down into the kitchen and enjoy a Courvoisier cocktail accompanied with a selection of classic French canapés such as oysters with Chateau Toulouse jelly and croque monsieur. Available for four to eight people per sitting, this exclusive experience sees guests personally taken through a limited edition, seven-course tasting menu with wine pairings. One by one, each dish is then presented at the table by the chef responsible for creating that course, explaining the ingredients and techniques incorporated to produce the final plate.
Featuring modern interpretations on classic French dishes, such as beef tartare and Jerusalem artichoke velouté with black truffle, the main part of the festive feast culminates with a slow roasted whole capon. The bird is brought to the table and carved for each group family-style and accompanied with gratin of dauphinoise, sautéed mushrooms and a jus rôti. To finish, guests will be treated to baked Vacherin cheese with grilled sourdough and a prune and Armagnac soufflé.  
Not forgetting the legendary wine cellar at Pétrus, aptly named after one of the world's finest wines, the team have ensured that each dish on the delectable Christmas menu has been perfectly paired with a selection of fine French wines. Carefully chosen from the extensive wine list each pairing is introduced by the Head Sommelier Stephen Nisbet, who then takes guests through the tasting notes of each wine with an explanation of why they have been paired with that particular dish. 
Whether it's a gift for a loved one or an opportunity to indulge in with family of friends during the festive period, the Pétrus Christmas Kitchen Table experience provides a truly memorable gastronomic experience for enthusiasts of fine dining.
The French Christmas Kitchen Table Experience is available to book for four to eight guests, from 1st - 23rd December and priced at £185 per person and at £300 including wine pairings - view menu.
TO BOOK
Please contact our Groups and Events Team at groupsandevents@gordonramsay.com, or please call 0207 592 1373.