Union Street Café's New Italian Mangia & Bevi Lunch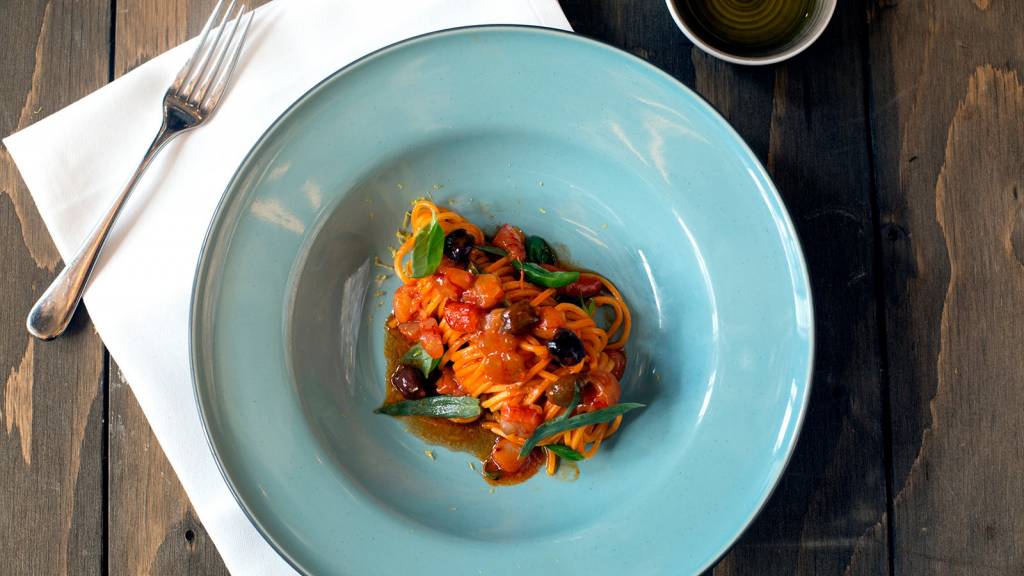 Love lasagne? Like to linger? Union Street Café's new Mangia & Bevi menu is bringing an authentic Italian Sunday lunch experience to London SE1.
'I want Sunday to be a day not like any other,' says Davide Degiovanni, head chef at Union Street Café, the Gordon Ramsay Italian restaurant in Southwark.
When devising the new Sunday lunch menu, Mangia & Bevi (which means 'Eat and Drink'), he found inspiration in his Italian upbringing.
'In Italy, we really do sit down to eat as a family at noon and sometimes at 8pm we're still there,' he says.
That's why Davide thinks it important that restaurant guests should feel they can stay all afternoon too, grazing leisurely. Dishes – from aperitivi and antipasti through to dolci and formaggi – are portioned so that you can revel leisurely in four or even five courses if you want to.
'It should feel like having Sunday lunch at my place' he says.
And to that end. Davide was very keen that a particular dish should take centre stage on the new menu.
'Sunday in Italy is all about lasagne' he says. 'But not many restaurants serve it these days, and not many prepare it authentically'.
Davide's traditional ragu – the meat sauce that is layered with bright yellow sheets of fresh egg pasta and creamy béchamel sauce to make proper lasagne – uses three different meats: pork, veal and beef.
'Our vegetarian lasagne varies according to the season,' he adds, 'whether it's radicchio and pumpkin in winter, or a summer mix of tomato, aubergine and courgette'.
Should you visit when the Mediterranean seafood lasagne's available, don't miss it!
The kitchen takes three days to make this exquisite combination, because all the components are made from scratch: silky squid ink pasta sheets, béchamel sauce made with homemade fish stock, plus a bisque. All layered with a luxurious pile of seafood including gurnard, sea bream, prawns, mussels and clams.
'We do it properly or we don't do it,' says Davide. 'It's very popular.'

Porchetta (roast suckling pig) with carrot purée and fresh peas, fish cooked on the bone, roast guinea fowl and other more family-style dishes also feature on the Sunday menu, bringing the very best in Italian comfort cooking to southeast London.
To get you in proper Sunday mood there is free-flowing prosecco for £20 per person, plus DIY Bellinis and Fantastic 4 Negronis. Then there's the fabulous wine list featuring many exciting Italian bottles, fine wines by the glass and the option to create your own wine flight.
Whether you're dining with friends or family, Union Street Café is a great choice on visits to Bankside, and is in easy walking distance of Southwark, London Bridge, Tate Modern and Blackfriars. Book a table today – it's open for Sunday lunch from noon right through till 4pm.
To reserve a table for the Mangia & Bevi Sunday lunch, contact Union Street Café
on 0207 592 7977 or email unionstreetcafe@gordonramsay.com